Further Proof Anyone Can be on TV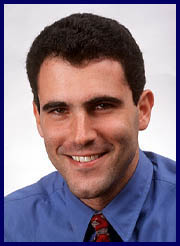 I am not one to harp on all that is bad about announcers....make fun of them, yes....but there is no need to get angry about it. Pontificating is what these men and women are paid to do and the fact that many of them are not good at it, does not mean that they are awful human beings. But at times people are so bad that you cant help but get angry....
enter Seth Davis.
Seth (a former Dukie) has one job and that is it....do the halftime show for college basketball. It isnt rocket science and it isnt that taxing. Work 12 weekends a year, do the games, have a smug look on your face and go home. While no one I know can even FATHOM why Seth has the job, the fact is that he does.....so one would assume he could do it and rest on his undeserved laurels for the rest of the calendar year. However yesterday Seth proved to us
that he cant even handle the minimal task he is given.
With only two games on tap at the 1 o clock hour, Seth showed us that he DIDNT EVEN WATCH THOSE GAMES. Speaking at halftime of the UK-Georgia game, you likely heard Seth say that for Kentucky to win, Ramel Bradley was going to have to "step up" in the second half. Of course if Seth had watched the game, he would have known that Ramel was knocked out in the first half, in the locker room attempting to know the calendar and would most certainly not be "stepping up" anything. What did Seth do to come up with this brilliant insight? He most certainly got a stat sheet....saw Ramel hadnt scored....and then gave his moronic opinion....proving the Mark Twain theory that sometimes it is best to keep your mouth shut and let the world think you may have a clue. Seth Davis you are possibly the luckiest guy in the world to have a television job. He didnt play, he didnt coach and he isnt even entertaining. The least he can do is actually watch the games he is covering. But hey, I am sure he had something better to do....