A Night in Jersey: Future Wildcat fouls out in front of Calipari, KSR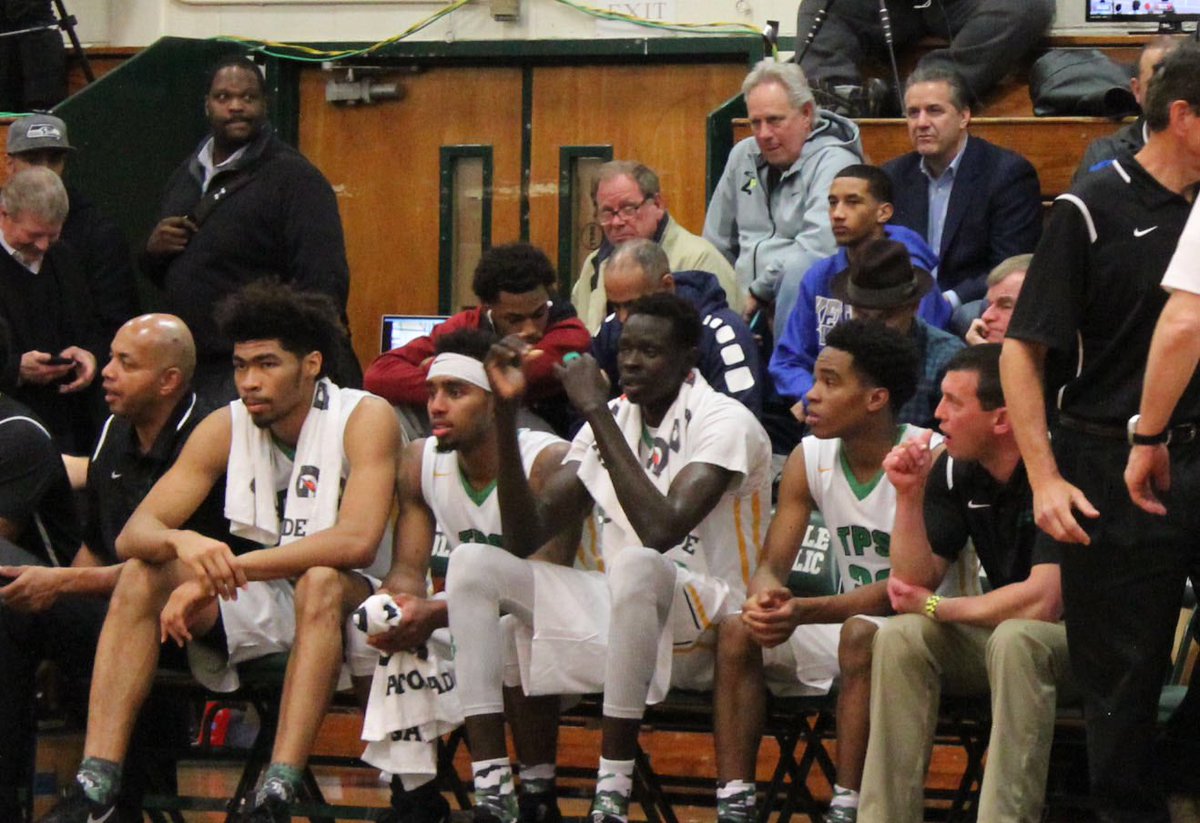 "What are you doing here?"
That is what John Calipari said to me when I walked into the Primetime Shootout at Roselle Catholic High School in New Jersey on a snowy Sunday evening. It was a fair question – and to be honest, I'm not really sure why I was there either. The plan was to go to the Primetime Shootout to interview Nick Richards, one of six future Wildcats from the Class of 2017, for our annual series of profiles on Kentucky's basketball signees. But after a month-long failure to establish any form of contact with Richards, his coaches or anyone from The Patrick School administration, getting a moment to speak with Richards was very unlikely. Piling on to my improbable odds was the fact that the Shootout's director, who did respond to my third e-mail, told me to buy a general admission ticket when I asked about media availability;
and
Richards was coming off a two-game suspension for fighting in a game the previous weekend. Needless to say, I had very low expectations for my trip to the Garden State, but, you miss 100 percent of the shots you don't take, they say. (And it's not like I was going on my own dime.)
---
The talent level at this year's Primetime Shootout was absolutely insane as it featured several of the top players in high school basketball, which explains why John Calipari and Tony Barbee were in attendance for the night session, 24 hours after coaching Kentucky to a win down in Alabama. A young man by the name of Nazreon Reid was the star of the first game Calipari and Barbee took in, the fifth game of the day at the invitational, between Roselle Catholic and Montclair Immaculate. Reid is a five-star power forward in the Class of 2018, ranked No. 14 overall in that class, and he was as dominant of a big man that I have seen in high school basketball, especially for only being a junior. He finished with 36 points (26 of which came in the second half) and 18 rebounds in Roselle's come-from-behind win on its own homecourt. Remember that name: Nazreon "Naz" Reid.
Richards v. Brown
The marquee one-on-one matchup at the shootout was also my reason for driving through a blizzard to be there: Nick Richards of The Patrick School in the primetime game against Moses Brown of Archbishop Molloy out of Queens. Brown is the No. 1 center in the Class of 2018 and he already holds offers from Kansas, Arizona, Louisville, UCLA, Florida and Maryland, among others. Duke and Kentucky are also very interested in Brown, although neither school has extended a scholarship offer just yet, and several other schools were in the building that night to watch him play. Richards, on the other hand, had little to prove as he already knows where he will play his college ball, but he and his TPS teammates, six of whom have already signed with Division 1 schools, were out to win the final game of their regular season. For a team as loaded as the first-ranked Shamrocks, the expectation is to win every game and anything short of the New Jersey Tournament of Champions championship is a failure.
As my luck would have it, Richards found himself in early foul trouble and he spent the majority of the first half on the bench. While I enjoyed watching his teammates and the sideline antics of his head coach, Mike Rice, formerly of the Rutgers abuse scandal, I did not travel to New Jersey to watch Richards sit on the pine. At least one fan at Roselle Catholic shared my disappointment in Richards' minutes. I heard someone yell, in a perfect New Jersey accent, "His coach didn't come here to see him on the bench! Put him in!"
Richards would come back in with two fouls to start the second half, only to commit more fouls and eventually foul out of the game. He finished with eight points and 11 rebounds in limited minutes in TPS's 73-59 victory.
However, in the action I did see, Richards' athleticism was very impressive. I don't know how suited his game is for the college level with what little I saw that night, but the seven-footer can definitely move and explode for someone of that size.
He showed off some passing ability, too:
The ESPN scouting report on him reads, "Richards is a high major center with great size and mobility. He is a big time finisher, rebounder and good scorer in and around the lane with excellent upside. His improvement has been steady each and every season. If he continues this ascension, his future is quite bright." I don't disagree.
A man of very few words
After the game, I followed Adam Zagoria into the Shamrocks' locker room in hopes of getting my conversation with Richards. With a little help from Zagoria and others in the media, I was able to pull Richards aside for a brief chat about his game and his future as a Wildcat.
He told me he was happy Coach Cal came out to watch him play on that particular night, but he doesn't really pay attention to when his future coach is in the building. He also hasn't spoken to Cal a lot recently, he said, because his focus is on finishing his high school season and "getting better everyday," as Cal has encouraged him to do. When I asked if he has spoken to any of Calipari's big men, past or present, he told me, "I talk to Wenyen [Gabriel] sometimes. Wenyen, that's probably it." Richards has also been in contact with Hamidou Diallo, a fellow Wildcat signee who enrolled early in the spring semester at Kentucky to get a head start on next season. "I talk to Hamidou every now and then. He likes the campus life and he likes it down there." As for moving to Lexington in a couple of months, Richards said, "I'm excited to get ready for school, workouts and getting ready for the season -- just trying to be the best player I can be."
Blue got in
It is worth noting that several Kentucky fans from around the area made the trip to see Richards play at Roselle Catholic, the former high school of one Isaiah Briscoe.
David Tulloch and his son, Ian, were impressed by Richards' defense (although I think Ian was more excited to meet Coach Cal.) I saw plenty of other members of the Big Blue Nation scattered across the gym as well, whenever they weren't crowded around Calipari. All in all, it was fun evening full of exciting high school basketball in a part of the country I had never seen. It would've been nice to see a little bit more of Richards on the floor, but luckily he'll be in Lexington soon enough. And I think you're going to like him, BBN.