KSR Today: Game of the Week, South Carolina, Calipari practice plans
We've got a matchup of the No. 1 team in 1A and the No. 2 team in 2A – a top-15 matchup overall – in this week's Kroger KSR Game of the Week.
Pikeville (1A) is set to travel to Lexington to take on Lexington Christian Academy (2A) in a matchup of undefeated powerhouses in their respective divisions. Both teams come in with 5-0 records, with the latter coming off a blowout 43-7 victory over No. 18 Lexington Catholic. LCA also has signature wins over No. 3 Madison Central, No. 8 Boyle County, and No. 2 (3A) CAL. Pikeville's list of quality wins is shorter, but still defeated the No. 4 team in 1A in Paintsville along with blowout victories over Belfry, Wheelersburg and LCCHS.
LCA is led by Drew Nieves at quarterback, who has thrown for 400 yards, five touchdowns, and one interception in two games. Wide receiver Mason Moore has racked up 268 receiving yards and three touchdowns through the air to go with 368 rushing yards and four touchdowns on the ground. Running back Xavier Brown has also picked up 385 yards and two touchdowns on the ground.
Pikeville is led by Isaac McNamee at quarterback, who has racked up 630 yards (47-70), 10 touchdowns, and two interceptions through the air. Running back Blake Birchfield has rushed for 705 yards and seven touchdowns on 86 attempts, while wide receiver Zac Lockhart has caught 26 balls for 352 yards and six scores.
Both teams are rolling and chasing state championships, but only one can remain undefeated.
Kickoff is slated for 7:30 p.m. ET at LCA. We'll see you there.
Mark Stoops previews South Carolina
Following Kentucky's close – and quite ugly – victory over Chattanooga last week, the Wildcats returned to practice looking to clean up their mistakes leading up to the team's road trip to Columbia to take on the South Carolina Gamecocks on Saturday. UK is currently a 5-point favorite in the game, which will kick off at 7 p.m. EST on ESPN2.
How did the team look in the days leading up to the important matchup? What do you need to know about the 2-1 Gamecocks?
Leading up to the team's departure, Stoops met with the media on Thursday afternoon to discuss the crowd atmosphere that is expected at Williams-Brice Stadium, his thoughts on the recruiting trail, Will Levis' growth, how the Gamecocks plan to defend Wan'Dale Robinson, and much more.
Take a look at the complete replay below:
Shaedon Sharpe = still good
Need something to get your day started off right? Look no further than the latest highlights of future Kentucky guard Shaedon Sharpe.
During a recent open run, the 6-foot-5 standout threw down some ridiculous dunks, knocked down some incredible shots, and made the competition look downright foolish at times.
Sharpe is the consensus No. 1 prospect in high school basketball, and you can see why below:
That'll do.
Calipari's practice plans are leaked (from 1994-95)
Have you ever wondered what a John Calipari practice schedule might look like on any given day? How Coach Cal has built a Hall of Fame career behind the scenes at practice leading up to what fans see in the games?
ESPN's Fran Fraschilla went through his old files this week and uncovered one of Calipari's old practice plans from 1994-95 during his time at the University of Massachusetts.
The plan shows Calipari's points of emphasis on offense and defense, a period-by-period breakdown of drills and the length of time for each, and handwritten notes. Between "UCLA" and "Mikans/Taps" during the warm-up/fundamentals portion to "follow leader" in the shooting period, it's pretty fascinating stuff.
Take a look at Calipari's breakdown from nearly 30 years ago: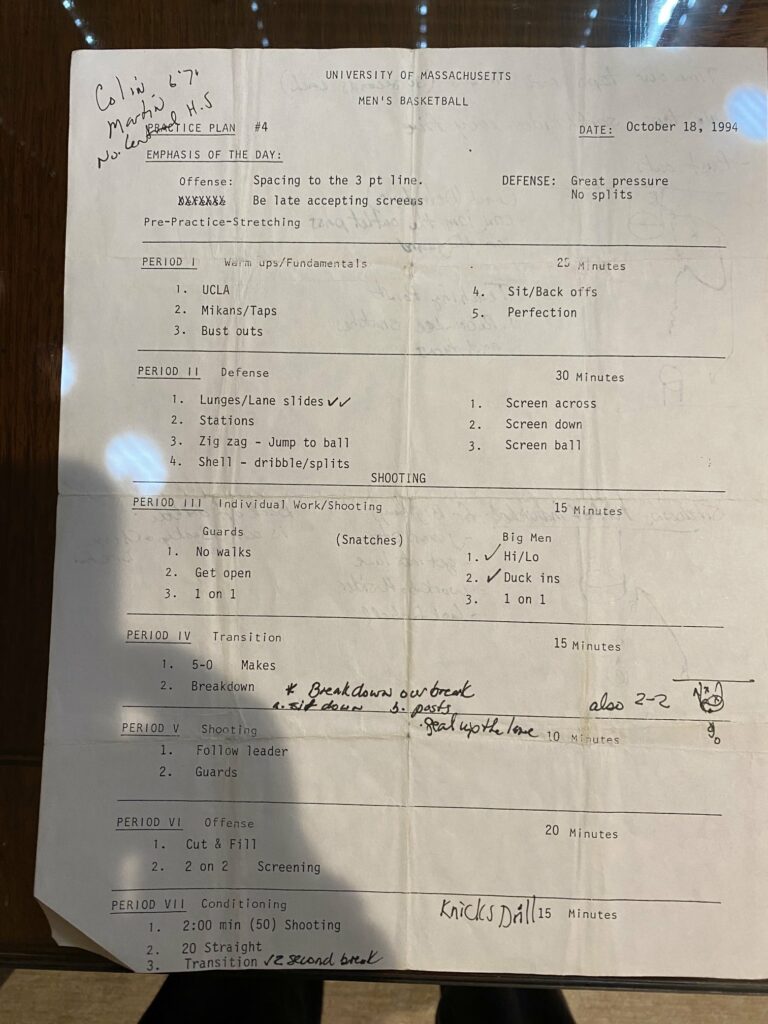 KSR in an hour
Matt Jones and the KSR crew will be back and better than ever this morning from 10 a.m. to noon ET.
Be sure to tune in.