KSR GAMEDAY: Kentucky Hosts Northern Illinois for MACtion at Kroger Field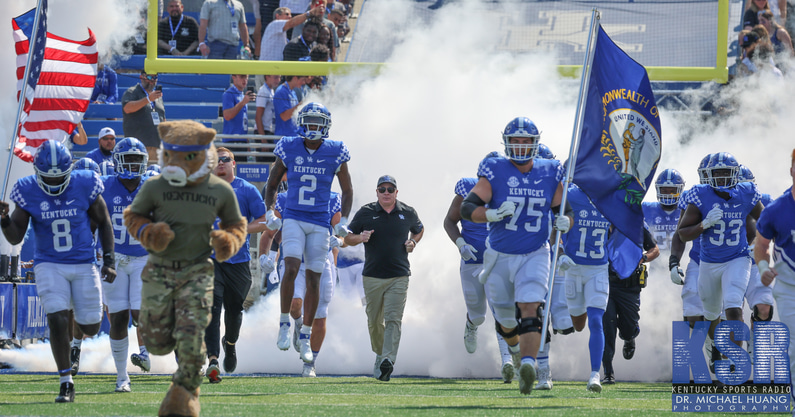 The Kentucky football team is back in action Saturday night at Kroger Field. The Wildcats will host Northern Illinois at 7 pm ET on ESPN2.
Ranked No. 8 in the AP Poll and fresh off the program's first shutout in 13 years, it certainly didn't feel like it this week at the Joe Craft Football Training Facility. Mark Stoops and Rich Scangarello cranked up the intensity in practice to push the offense to clean up its act. The Wildcats have shown flashes all year, particularly with Will Levis in the passing game, but have not played disciplined, efficient football.
"It's not a matter of are we able to do it or we're talented enough to do it. There are no excuses, we've just got to play better," Stoops said this week. "We've got to be more disciplined, but again, pay attention to detail. You know, the little things. It's always a person here or a person there that is throwing us off offensively, and we need to put that together."
All eyes will be on the offense when the Wildcats host the Huskies at Kroger Field.
A Good Day to Air it Out
But it doesn't sound like that's what the Wildcats will do. Northern Illinois ranks No. 119 in pass defense, allowing more than 284 yards per game and 9 yards per attempt. However, based on comments from the coaches this week, it does not sound like they're giving Will Levis the green light to pad his stats. Kentucky wants to get its ground game right before Chris Rodriguez returns against Ole Miss. It will be interesting to see how dedicated Kentucky is to the running game against a defense that is porous against the pass.
Kentucky vs. NIU: TV, Radio and Point Spread
After opening at Kentucky -24.5, the money is moving the line toward the Wildcats, now a 26.5-point favorite. The total is 53. The under has hit in all three UK games, while the over is 3-0 in Northern Illinois games this fall.
Kickoff is just after 7 pm ET. Anish Shroff, former NFL QB Brock Osweiler and Alex Chappell will be on the call for ESPN2. If you can't attend the game or stream the Cats, you can always listen to the Voice of the Wildcats, Tom Leach, and Jeff Piecoro.
AM: 840 WHAS, 630 WLAP
FM: 98.1 WBUL
Satellite: Sirius 121 or 203, SXM App: 966
Online: iHeart Radio
Kentucky Football Game Day Schedule
8:00 am — Kroger Field tailgate lots open
3:00 — The KSR Pregame Show on 630 WLAP
4:45 — The Cat Walk near Gate 1
5:00 — Lextran Gameday Shuttle beings
7:00 — Kickoff at Kroger Field on ESPN2
Football Weather
Even though our minds switch to fall once football begins, the calendar did not officially bring autumn to the Bluegrass until this week and it could not feel any better. Forecasts are calling for 69 degrees at kickoff, with tailgate temps in the mid-70s, setting up to be a spectacular Caturday for the BBN.
Quarterback Uncertainty for Northern Illinois
In the preseason the Huskies were picked to win their division in the MAC, but that outlook isn't as positive without Rocky Lombardi. The former Michigan State starter injured his leg while sliding last week against Vanderbilt. Northern Illinois head coach Thomas Hammock said the initial prognosis was better than expected, but his status for today's game remains uncertain.
If Lombardi cannot play, redshirt freshman Ethan Hampton will receive his first career start. Hampton was able to lead two scoring drives, but he did not complete a pass more than 10 yards downfield. The Kentucky defense can have a field day against the Huskies if Lombardi is unable to play.
Today's Kentucky Football Uniforms
Kentucky is not deviating from the traditional blue and white that kept the Cats clean in the first two home games of the season. They will stick with the blue lids, jerseys and white pants.
Week 4 College Football Schedule
Noon: Maryland at #4 Michigan on Fox
Noon: #5 Clemson at #21 Wake Forest on ABC
Noon: #17 Baylor at Iowa State on ESPN2
Noon: Missouri at Auburn on ESPN
Noon: Duke at Kansas on FS1
3:30: #20 Florida at #11 Tennessee on CBS
3:30: #22 Texas at Texas Tech on ESPN
3:30: Notre Dame at North Carolina on ABC
3:30: Minnesota at Michigan State on BTN
3:30: Indiana at Cincinnati on ESPN2
4:00: #15 Oregon at Washington State on Fox
4:00: Tulsa at #16 Ole Miss on SEC Network
7:00: #19 Arkansas vs. #23 Texas A&M on ESPN
7:30: Wisconsin at #3 Ohio State on ABC
10:15: Wyoming at #19 BYU on ESPN2
10:30: #13 Utah at Arizona State on ESPN
10:30: Stanford at #18 Washington on FS1