GAMEDAY, Presented by Liquor Barn: #17 Kentucky Hosts South Carolina
A message from our sponsor:
Kentucky-proud and locally-owned, Liquor Barn has been serving Big Blue Nation for over 30 years! Liquor Barn and Party Mart are where Kentuckians go to celebrate life.
Head to your local Liquor Barn and Party Mart store to stock up for game day or every day! It's never been so easy to shop Kentucky's favorite wine, spirits, beer, and cigar store. Download the new Liquor Barn app to order for pick-up or delivery, save your favorites, and get exclusive deals. We are now delivering in Lexington and Louisville areas. Use code GOCATS for one month of FREE delivery!*
Visit LiquorBarn.com to shop now, download the app, or see what's happening in your local store. GO CATS!
*Delivery currently available in select Louisville and Lexington areas. Promotion covers delivery fees only. Minimum order for delivery is $20. Complimentary delivery on all orders of $75 or more. Must be delivered to an address. Must be 21+ to download the app and accept a delivery. Valid photo ID required.
---
For the first time in more than a decade, a ranked Kentucky football team will host an SEC opponent at Kroger Field.  The Cats will take on South Carolina tonight at 7:30 on the SEC Network. There is not one player on the Kentucky football roster that has ever lost to South Carolina.  The Cats have won four straight games against the Cocks.  A win tonight would create the third longest winning streak over an SEC opponent in modern UK football history. Kentucky's star-studded defense -- ranked in the top 20 nationally in three major defensive categories (scoring, rushing and total defense) -- will be tasked to slow down one of the SEC's most explosive playmakers.  Deebo Samuel was a Heisman contender until his 2017 season ended early with an injury against UK.  A projected first round draft pick, Samuel ranks second in the SEC in receptions per game. Stopping a dynamic player that is used all over the field will be much easier if the Cats can get pressure on Jake Bentley.  It will not be easy.  South Carolina has surrendered only three sacks, the fewest in the SEC, and Will Muschamp will try to get it out of Bentley's hands quickly.  He's completing 68 percent of his passes, which are primarily underneath routes.  The Gamecocks are last in the SEC in explosive plays over 20 yards. Numbers aside, Kentucky's greatest strength is the Big Blue Nation.  The Gamecocks' only game on the road was at Vanderbilt, a venue incomparable to tonight's sold out Kroger Field crowd.  If the fans bring their A-game, the Cats can escape the month of September without a loss, a feat nobody in the preseason foresaw (except Charles Walker).
LET'S GO
https://www.youtube.com/watch?v=sgKHbrATzZg
The Schedule
9:00 -- KSBar opens for Breakfast
11:00 -- Baseball Exhibition at New Stadium
3:30 -- The KSR Pregame Show Begins on 630 WLAP
4:30 -- Downtown Lextran Shuttle Begins; KSBar shuttle starts one hour later
5:15 -- The Cat Walk
5:30 -- Countdown to Kickoff w/Christi Thomas, Jeremy Jarmon and Dusty Bonner
5:05 -- Lauren Mink pregame concert at the Gate 12 plaza
7:30 -- Kickoff on SEC Network
How to Watch and Listen
Tom Hart, Jordan Rodgers and Cole Cubelic are on the call for the SEC Network.  If you're stuck on the road and can't watch, there are multiple ways to listen to The Voice of the Wildcats.
AM: 840 WHAS, 630 WLAP
FM: 98.1 WBUL
Satellite: XM-192 and Sirius-113
Online: iHeart Radio
Calipari is All In
Kentucky and Duke are in the AP football poll together for the first time since 1957.  To commemorate the moment, College Gameday had Coach K and Coach Cal on the program to talk about their teams.  Of course, Coach Cal's brief appearance was much more entertaining.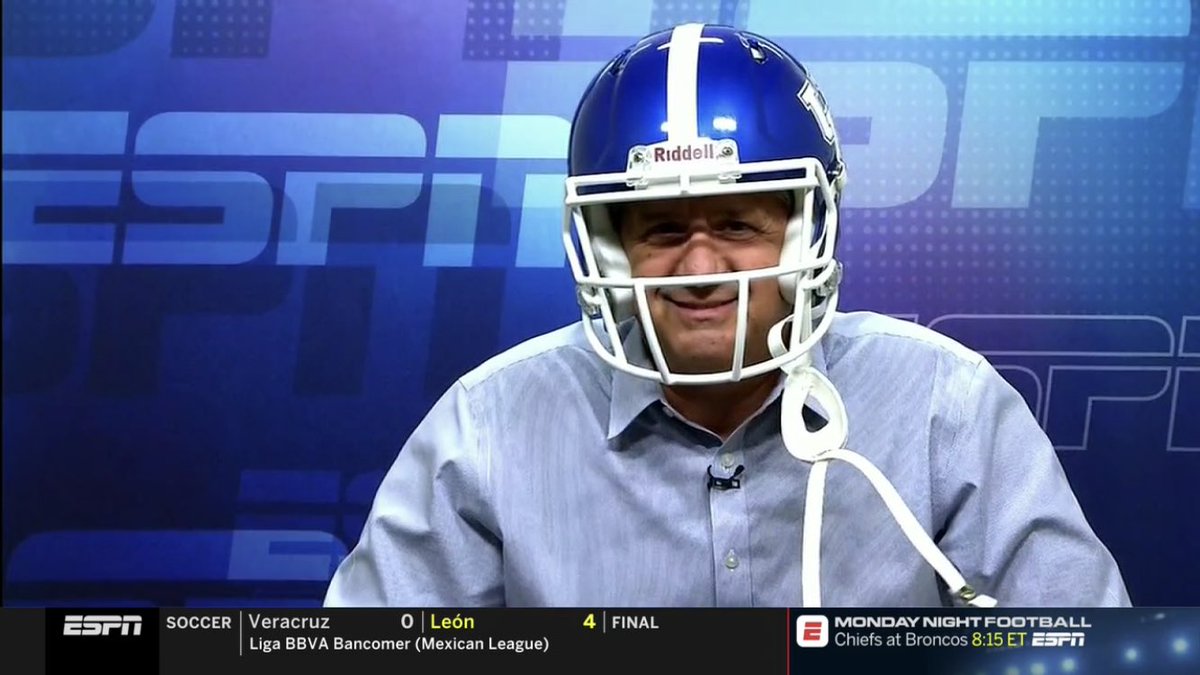 Computer Predictions
The number-crunching computers have produced varied results for tonight's game.  OddShark is calling for a 30.4-26 South Carolina victory over Kentucky.  The S&P+ system picks the Cats to win 29-24.  South Carolina is still a 1.5-point favorite in Vegas.
Arrive Early
If you're one of the 60,000+ who will be in the stands for tonight's game, make sure you get there early.  The national anthem will be performed by one of the best of the best, Kentucky's own Marlana VanHoose.  Shortly after she sings, the captains will be joined at midfield by former running back Rafael Little, today's honorary captain. [caption id="" align="alignnone" width="542"]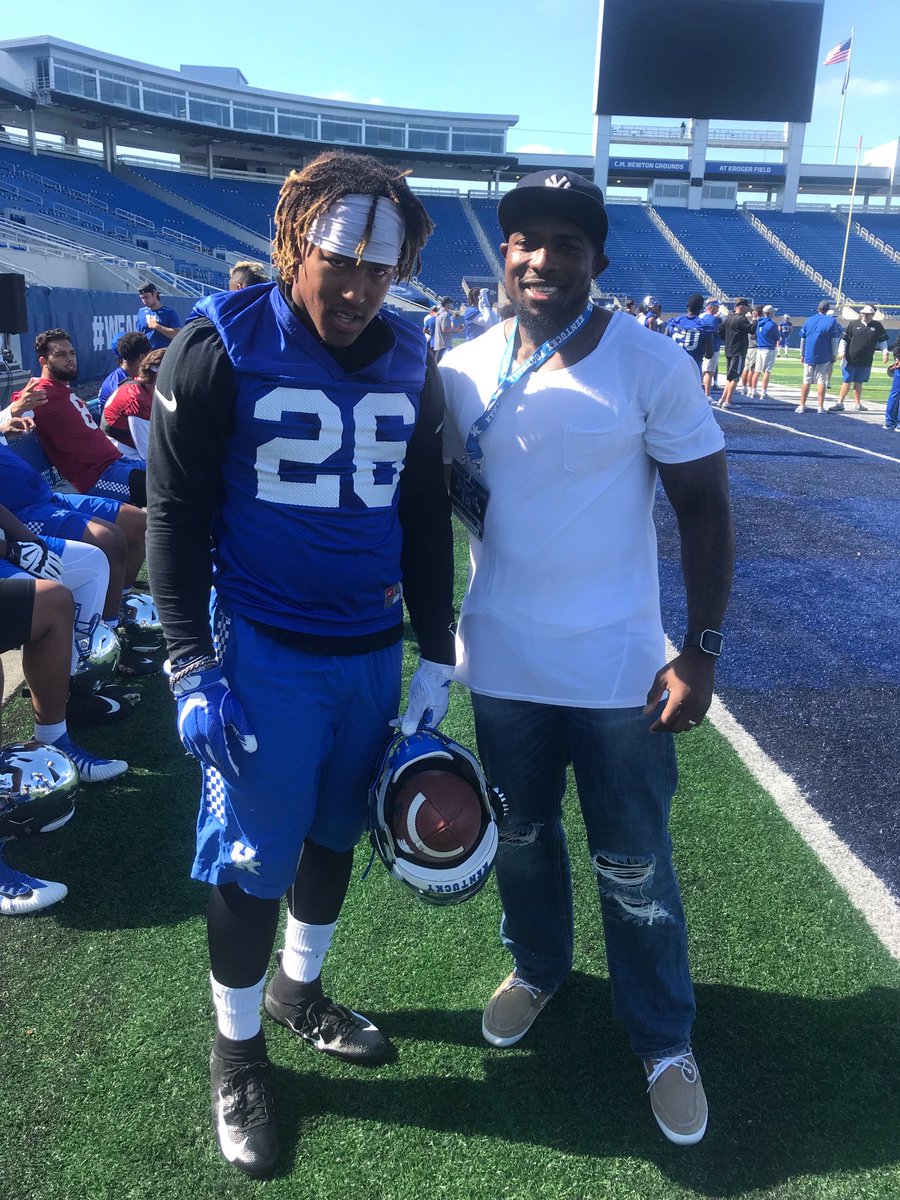 Little with the man who just surpassed him on UK's all-time rushing yards list, Benny Snell (@UKFootball).[/caption]
A Lengthy Guest List
Quite a few elite recruits were in the stands to see the Cats beat Miss. State.  Two were so impressed, they committed less than 18 hours after the game.  A few more could be convinced with a win tonight.  Four-star in-state stars Wandale Robinson and Jared Casey headline Kentucky's recruiting guest list.
A Different Halftime Show
Instead of hearing the UK marching band, we'll hear from UK's Symphony Orchestra.
Today's College Football Schedule
Noon: Syracuse at #3 Clemson on ABC
Noon: #12 West Virginia at #25 Texas Tech on ESPN2
Noon: Arkansas at Texas A&M on ESPN
3:30: Tennessee at #2 Georgia on CBS
3:30: Baylor at #6 Oklahoma on ABC
3:30: Pitt at #13 UCF on ESPNU
3:30: #18 Texas at Kansas State on FS1
3:30: Florida State at Louisville on ESPN2
3:30: Purdue at Nebraska on BTN
4:00: Southern Miss at #10 Auburn on the SEC Network
4:30: #14 Michigan at Northwestern on Fox
6:00: Florida at #23 Miss. State on ESPN
7:00: Virginia Tech at #22 Duke on ESPN
7:30: #4 Ohio State at #9 Penn State
7:30: #7 Stanford at #8 Notre Dame on NBC
10:30: #19 Oregon at #24 Cal on ESPN
KHSAA Football Scores
Bourbon County 50, Mason County 43
Butler 14, Manual 10
St. X 21, Trinity 7
DeSales 27, North Hardin 24
Campbellsville 34, Russell County 33
Gallatin County 12, Owen County 6 (OT)
Harlan County 31, Letcher County Central 27
Perry County Central 42, Pike County Central 35
Henry Clay 51, Scott County 27
Dunbar 28, Lafayette 24
Ludlow 21, Bishop Brossart 20
Paintsville 27, Walton-Verona 15
Tates Creek 32, Danville 25
[mobile_ad]