Get reacquainted guys whose names you can't chant
It's almost here, my friends.  It's a basketball extravaganza in Rupp Arena (hosted by Big Tigger) and, though you're somewhat special to me, you're not the biggest names on the guest list.  This year's list of attendees is a little light on kiddoes, but Calipari does expect all
members of the 2011 class to be on hand
.  Of course, as the good doctor will remind you, you can't chant their names.  So, in case you are a little bummed out by that, here are a couple of quick bios on the guys that you can't chant or cheer for.  At all.  Not even when they walk into Rupp or when they are walking out.
Marquis Teague
Teague is a 6'2" point guard from Indianapolis, currently rated by Rivals as the nation's second overall player.  Teague, whose brother is a point guard from the Atlanta Hawks, gave a verbal to the Cats in April.  Before taking his place in the lineage of great Calipari point guards, Teague will be a feature witness for the state in Rick Pitino's next prominent courtroom appearance, which will center around the mysterious disappearance of Shabaka Lands
Michael Gilchrist
Gilchrist has long been regarded as not only the best player in the class of 2011, but many felt he was the best player in the country as a junior.  Rivals currently has him as the third-best player in his class, which either means they're idiots, or choosing to spend his summer chasing his dream of being the nation's top-ranked Halo 3 player hurt his stock.  He is believed to have been a Kentucky lean since his conception.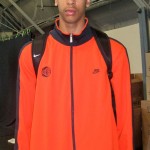 Anthony Davis
After making a late charge after the top spot in the rankings for the class of 2011, Chicagoan Anthony Davis settled in nicely at #6 overall.  The power forward was only 6'1" a year ago and was measured at a camp this summer at 6'10".  This should make him easy to spot at Rupp.  He'll be the guy who is 8'4".  He also recently cancelled a subscription to the Chicago Sun Times.
Kyle Wiltjer
It's not surprising anymore when Kentucky lands big-time recruits.  But, landing Kyle Wiltjer, who has not even visited campus yet, was one of those pleasant gifts on par with coming home from work and finding out that your wife and kids have gone away for the weekend.  And they stocked the fridge full of beer and charged up your PS3 controller.  Wiltjer brings a versatile game at the "4" spot and got familiar with the creepy middle-aged men who will now stalk him as a Kentucky player when Cougar Town star Josh Hopkins showed up to watch him commit.