Get to Know the 2017 Prospects: Jarred Vanderbilt
[Editor's note: With Vanderbilt's decision coming at noon, this is a good time to rerun this feature on him from May. I updated it as much as I could with current information.]
With what is likely to be a roster overhaul on the horizon, the 2017 recruiting class could end up being one of John Calipari's most crucial. With that in mind, KSR will introduce you to Calipari's top targets in the 2017 class over the course of the summer. I got things started a few weeks back with a profile of small forward
John Petty
, and tonight, we'll get to know forward Jarred Vanderbilt.
Vitals
Jarred Vanderbilt Forward | 6-8 | 200 lbs. Bellaire, TX | Victory Prep AAU: Houston Hoops ★★★★★
ESPN
No. 22 | 4 PF
Top247
No. 19 | 5 SF
Rivals
No. 21 |
Scout
No. 15 | 2 PF
The other contenders
Kentucky, North Carolina, Oregon, TCU And no, Vanderbilt University has not shown interest. Here's a fun fact Bluebloodtoo unearthed in the comments section yesterday: according to the 2000 census, only 1,700 people have the surname Vanderbilt, making it one of the most uncommon last names in America. I could be wrong, but I doubt Jarred Vanderbilt has any relation to the iconic Vanderbilt family, after which Vanderbilt University was named.
Background
Vanderbilt is one of the most versatile players in the 2017 class, with some services listing him as a power forward and others a small forward. He was EYBL teammates with future Cat De'Aaron Fox and has played plenty of tournaments in Kentucky, including the Marshall County Hoop Fest, Mustang Madness (McCracken County), and the Bluegrass Showcase (Lexington). For that reason, Vanderbilt was on Kentucky's radar relatively early, earning an offer from Calipari last July. Since then, he's made the most of his appearances in the Bluegrass, nearly putting up a triple double in the Bluegrass Showcase with 33 points, 23 rebounds, and 9 assists in one game. [caption id="attachment_199390" align="alignnone" width="597"]
Vanderbilt and former EYBL teammate De'Aaron Fox
(IG: jvando_2)
[/caption] Vanderbilt clearly enjoys playing in the state of Kentucky, telling Larry Vaught he loves the attention he gets from UK fans whenever he plays here. "It has been fascinating. Every time I come here they welcome you with warm arms and always support you. It is a great pleasure to play in Kentucky," Vanderbilt said. "All the time they refer to it and coming to Big Blue. I don't mind that. It is nice. It shows that they really want me here, and I like that. The fans are very passionate about basketball here." [caption id="" align="alignnone" width="300"]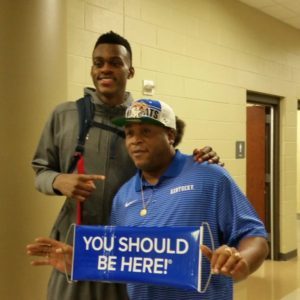 @VaughtsViews
[/caption] Larry Vaught's interview with Vanderbilt unearthed a wealth of information about his life off the court, including his 4.3 GPA, track background, and love of music. Turns out Vanderbilt used to play percussion (drums, bells, xylophone, etc.) in his middle school band, which he said helped his coordination. Neat.
[Vaughts Views]
Recruitment timeline
07/28/2015: Kentucky offers Vanderbilt
12/12/2015: Calipari and Kenny Payne watch Vanderbilt at the Bluegrass Showcase in Lexington
12/12/2015: Vanderbilt takes an unofficial visit to Kentucky for the Arizona State game
Strengths
VERSATILITY!
Rebounding and pushing in transition
Passing in the open court
Slashing to the basket
Ability to guard any position
Tons of upside
Left-handed
Easiest way to remember Vanderbilt's game? V for Versatility. From
Draft Express
last summer:
"As is the case with almost every tournament or showcase he attends, Jarred Vanderbilt was easily one of the most versatile players at the 2015 Nike Global Challenge. The 6' 8" Swiss army knife out of Houston does a little of everything on both ends of the floor and finds himself around the ball on nearly every possession."
"The 6'8" Swiss Army Knife" is an excellent nickname that might need to stick.
Weaknesses
Needs to continue to develop his perimeter jumper
Cut down on turnovers
Video evidence
https://youtu.be/fBfMKF9THUI
Social Media Profile
Vanderbilt's Twitter is pretty much what you'd expect from an elite high school basketball player: lots of pictures of himself with his teammates, famous people he's met along the way, and countless retweets of NBA highlights. Pinned at the top is this picture from 2015 FIBA Americas U16 Championship, in which Team USA won the gold medal: https://twitter.com/JVando_/status/610259121057722368 During Team USA's championship run, Vanderbilt played and started in all five games, averaging 9.8 points, 7.8 rebounds, 2.4 assists, and 1.8 steals a game. He's also pretty proud of this picture with Kobe Bryant: https://www.instagram.com/p/4iGbUfntTr/?taken-by=jvando_2 And Kevin Durant (and Miles Bridges): https://www.instagram.com/p/4kT6-JnteV/?taken-by=jvando_2 And James Harden: https://www.instagram.com/p/84P37UntZn/?taken-by=jvando_2