Get to Know the 2017 Prospects: John Petty
The spring recruiting season is underway, and over the next several months, KSR will be introducing you to Kentucky's targets in the 2017 class. Tonight, we'll start with the first player in the 2017 class to get an offer from Kentucky, five-star small forward John Petty.
Vitals
John Petty Shooting Guard/Small Forward | 6-7 | 180 lbs. Huntsville, AL | J.O. Johnson ★★★★★
ESPN
No. 10 | 1 SG
Top247
No. 23 | 6 SF
Rivals
No. 17
Scout
No. 19 | 3 SG
The other contenders
Petter has offers from Kentucky, Alabama. Auburn, Florida State, Kansas, Texas Tech, and Vanderbilt, but the Cats and the Crimson Tide have shown the most interest.
Background
Petty recently admitted to
AL.com
that, even though he grew up in Alabama, he grew up a Kentucky fan. "Kentucky's been my favorite school since I was nine," Petty said. "I just love the school period. Academically, sports wise, period, all that. That's just been my school since I was nine." Those words are even more encouraging when you watch the clip: https://youtu.be/WksizdibcS0 ...and when you look at his Twitter page, which we'll discuss a little later. Petty was recently named Mr. Basketball in Alabama after averaging 19.9 points, 7.3 rebounds. 4.1 assists, 1.8 blocks, and 1.8 steals for J.O. Johnson. He also led the Jaguars to their second straight 5A State Championship. The ties to Kentucky don't end with Petty's childhood; Petty's high school coach Jack Doss is a friend of Calipari's going back to Cal's Memphis days and also knows Kenny Payne from back when Payne was a high school star in Mississippi. It probably won't surprise you that Doss is also a Kentucky fan. "So it's kind of a family bond there,"
Doss said in an interview with the Herald Leader in March
. "My wife loves [Payne] to death. She adores Coach Cal. And I've always loved their program. Even when I was growing up as a teenager, I was a big Kentucky fan." I like how this is sounding.
Recruitment timeline
4/26/2015: Calipari watches Petty play at the EYBL event in Lexington
5/05/2015: Kentucky offers Petty
10/16/2015: Petty visits Kentucky for Big Blue Madness
12/06/2015: John Calipari watches Petty at the Marshall County Hoop Fest
4/16/2016: John Calipari watches Petty at the EYBL event in Brooklyn
4/18/2016: Avery Johnson visits Petty
4/19/2016: John Calipari visits Petty
Not included are the numerous times Calipari's visited Petty at his high school in Huntsville.
Strengths
Long and athletic
Very aggressive going towards the basket
Great passer, able to push the tempo
Decent jump shot, particularly from mid-range
Makes the extra effort on defense
Rebounding
Team-first attitude
In regards to the latter, Petty embraces the challenge of playing alongside other elite players, yet another sign he could pick the Cats. From an interview with 
the Herald-Leader's Ben Roberts
 in December:
"He's just honest," Petty said of Calipari. "He tells me he'll have a lot of great talent coming in, so you have to fight for your position at Kentucky. And that's no problem. I like to compete. I'm a competitive person. "I'm a team person. So if I went somewhere like that, I wouldn't mind. … I'm all about the team. It's never just me. I wouldn't mind going to a team with a lot of standout athletes."
Petty's final strength? His hair, which makes De'Aaron Fox's mane look tame: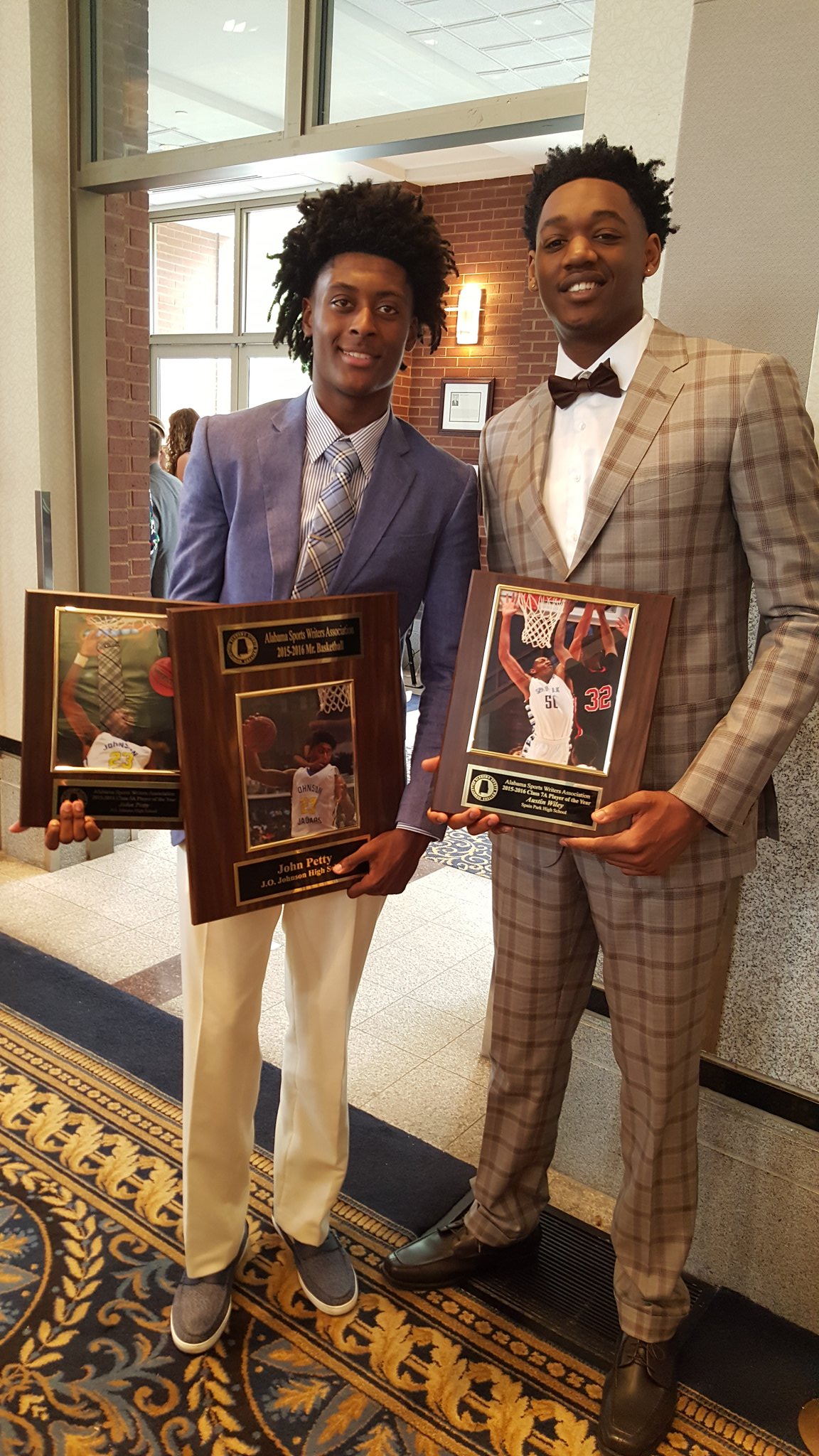 This is a reference that maybe 0.003% of you will get, but his hair reminds me of Italian rapper Caparezza's, seen here in cartoon form in the classic 2005 hit, 
Jodellavitanonhocapitouncazzo
: https://youtu.be/GaXuMC_GHEE What can I say, I watched a lot of MTV Europe in the fall of 2005.
Weaknesses
Struggled in his first outing with his new EYBL team, "We All Can Go"
Needs to continue to develop his jump shot
Not consistent from three-point range
Video evidence
https://youtu.be/Ue8buZzzs3w
Social Media Profile
In this day and age, the best way to gauge what a recruit is like off the court is looking at their Twitter account. What does Petty's say about him? He really loves: 1) retweeting other tweets; and 2) Kentucky. Case in point:
He even retweeted De'Aaron Fox's recent post about his next stop being Lexington:
Yeah, I'd say that's pretty promising.
Likelihood to commit:
Very Likely
And it may happen sooner than you think. When asked, Petty said he didn't know exactly when he was going to commit, but "it's coming soon."
"It's coming soon. I really don't know any exact day or time yet, but I can feel it coming. It's coming."
Maybe today's in-home visit will help spur things along?