Glasgow defeats Taylor County 31-20 (Kroger KSR Game of the Week)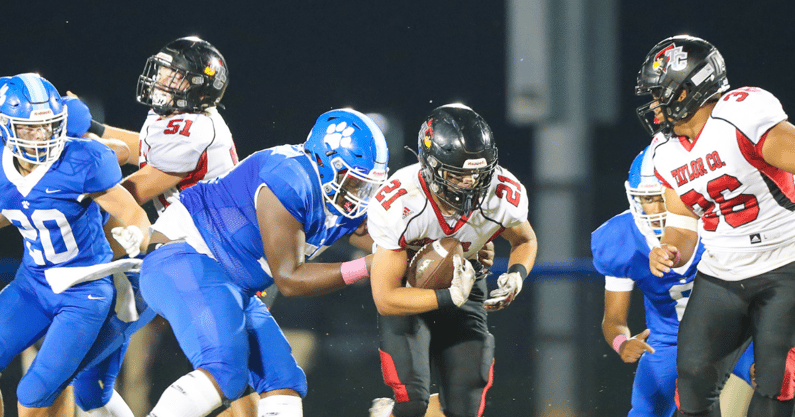 Some games are just bigger than others. The Kroger KSR Game of the Week featured two top-five, 3A teams in a key district matchup with postseason ramifications. The forecast called for torrential rains but the inclement weather held off for most of the evening. No. 2 Glasgow hosted fifth-ranked Taylor County in a game that featured two of the classification's top rushing offenses. As expected, a trio of talented running backs starred. Taylor County's Peyton Smith entered the contest ranked first in 3A with 1,058 yards and 15 touchdowns. He did not disappoint. The freshman finished the contest with 244 total yards and a score. His running mate Kaden Smith racked up 126 yards and three touchdowns. Glasgow's Keiran Stockton totaled 117 yards and three touchdowns. 
Glasgow won the toss and deferred to the second half. The Cardinals opened the first quarter leaning on its run game out of the wishbone formation. Its opening drive was stalled by a holding call. Glasgow took over at its own 25 led by freshman quarterback Easton Jessie who went on to complete five of six passes for 102 yards, and three touchdowns. Andrew Phillip's 34-yard run gave the Scotties a 1st and goal at the 7 but they failed to capitalize following a 7-yard tackle for loss, a dropped touchdown pass, and a 30-yard missed field goal.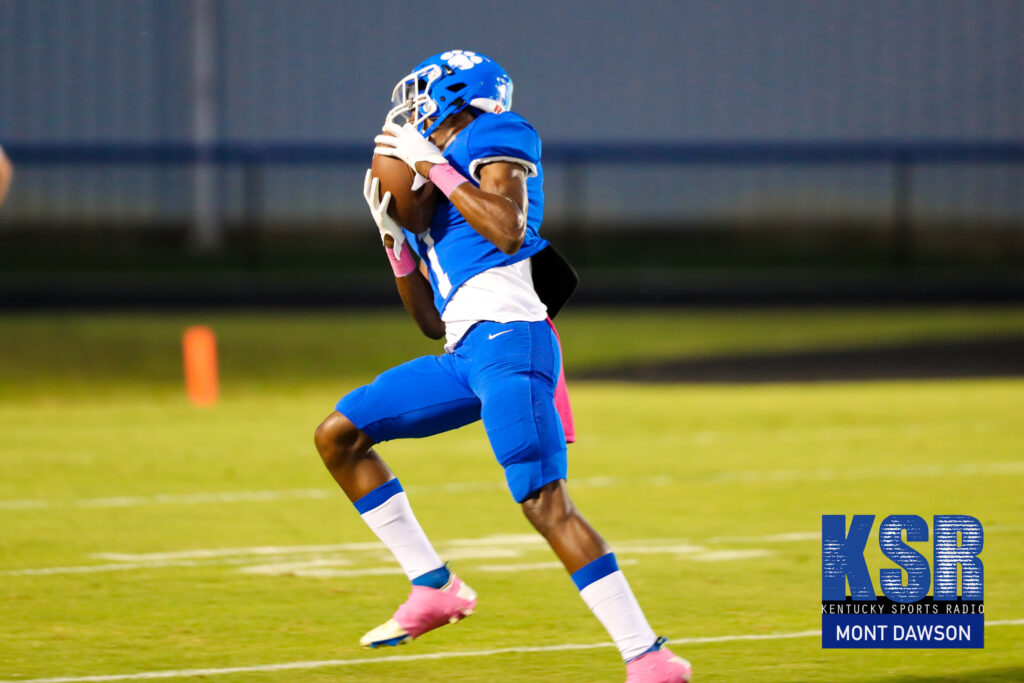 Taylor County's second possession was again limited by a holding call. An errant punt snap followed which provided Glasgow with excellent field position on the 36-yard line. The Scotties ran two plays to advance to the eight to end the first quarter. Hunter Scott took a pitch eight yards for a touchdown to give the Scotties a 7-0 lead with 11:13 remaining in the first half. Peyton Smith then returned Glasgow's kickoff 65-yards to the Scottie's 10-yard line. Kaden Smith rambled 10-yards for a Cardinal touchdown to tie the game 7-7. Both defenses held ground before going to the locker room tied 7-7 at the half. 
Second Half
Glasgow opened the game up in the third quarter after scoring a pair of touchdowns in three minutes of play. Easton Jessie connected with Corbin Wells for a 19-yard touchdown pass that extended its lead to 13-7 after a failed PAT. Taylor County attempted a reverse on the ensuing kickoff return. The result was a catastrophic turnover on its own 14-yard line. A Cardinal personal foul moved the football to the six before Keiran Stockton punched it in from two yards out. The two-point attempt failed giving Glasgow a 19-7 lead.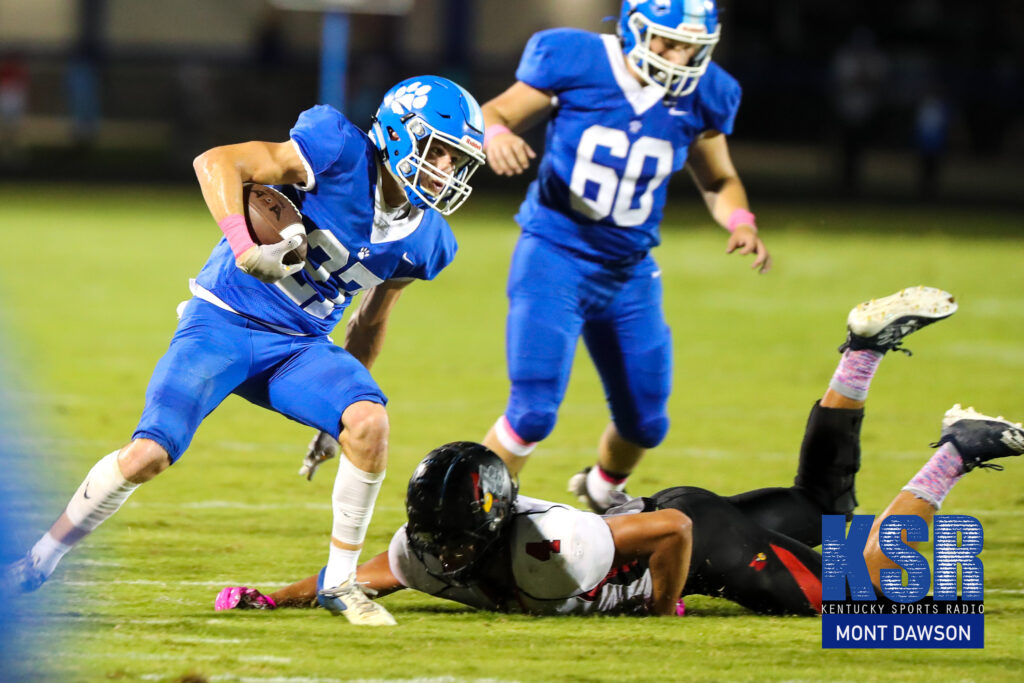 Taylor County quickly answered. Facing a 4th and 15, quarterback Gavin Oliver found Peyton Smith on a screen pass for a 45-yard touchdown. Oliver went on to complete eight of thirteen passes for 135 yards and two touchdowns. The third quarter ended with Glasgow leading 19-14. Taylor County rolled the dice again after going for it on 4th and 15. The hook and ladder failed to reach the sticks. Glasgow took over on downs and kept the football for 5:26. The drive ended with a two-yard touchdown run by Keiran Stockton to extend its lead to 25-14 with 4:26 remaining in the game. 
Quarterback Gavin Oliver efficiently executed a two-minute drive that ended with a twenty-yard touchdown reception by Kaden Smith. The two-point conversion failed. The Cardinals booted an on-side kick which was recovered by Glasgow with 2:30 on the clock. Keiran Stockton found the end zone again after sprinting 46-yards for a touchdown that capped off a two-play, 54-yard drive for the Scotties. John Carter Myers intercepted an Oliver pass in the end zone with 0:36 in the fourth quarter to give Glasgow a 31-20 win.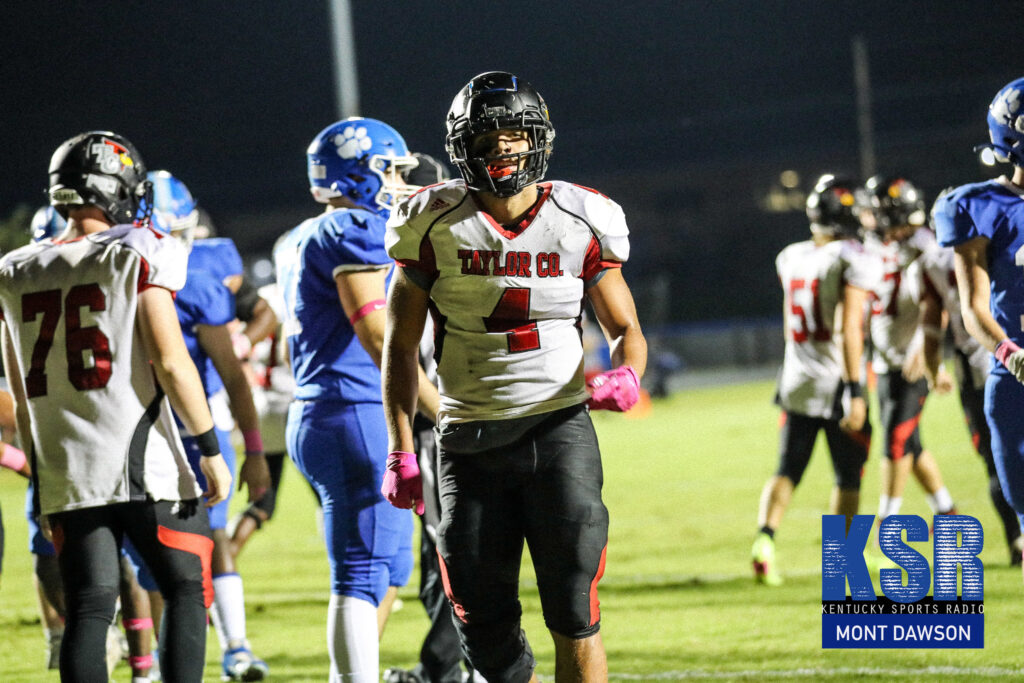 Taylor County ran 56 plays for 248 yards but was hampered by three turnovers and ten penalties. Glasgow accumulated 307 yards including 205 on the ground. 3A appears to be wide open. These two teams could see each other again in the playoffs. 
Check out photos of the action from Mont Dawson:
A Message from Kroger
We're excited to tell you about something new from our friends at Kroger. Did you know Kroger is America's largest grocery chain that started over 135 years ago? They are doing something they've never done before: bringing fresh groceries right to you with a new service called Hometown Pickup. 
That's right, for those of you in Cynthiana, Midway, Eminence, Bedford, McKee, Dry Ridge, Carlisle, Eubank, Georgetown, Mt. Vernon, Jackson, Frenchburg, Irvine, Mt. Olivet, and Paris, Kentucky you can now order all your groceries online and pick them up at a central location in your hometown. No more long drives into the city to get fresh food for you and your family. Now THAT is truly Fresh for Everyone. Thanks, Kroger. 
Learn more and place your first order at Kroger.com/hometown.