Glasgow vs. Taylor County: Kroger KSR Game of the Week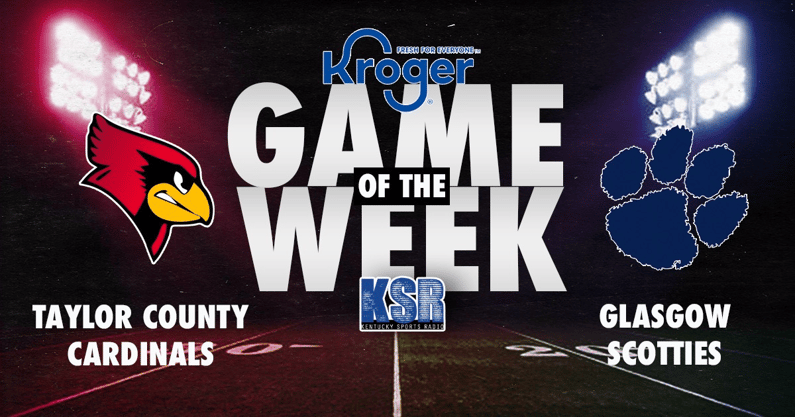 The Kroger KSR Game of the Week stays in western Kentucky for the second week in a row this Friday, featuring two of the top dogs in 3A—Taylor County at Glasgow. Kickoff is set for 7 p.m. CDT.
You can find all you need to know about these two squads ahead of Friday's big game here:
Glasgow
KSR State Ranking: No. 24 (No. 2 — 3A)
Record: 6-1
State Championships: N/A
State Runner-Up: 4 (1982, 1999, 2000, 2011)
Last Season: 7-3
Coach: Jeff Garmon
Key Players:
John Myers, QB — 21-34, 449 yards, four touchdowns
Hunter Scott, RB — 41 rushes, 473 yards (11.5 per rush), six touchdowns. 15 receptions, 222 yards (14.8 per catch), four touchdowns
Taylor County
KSR State Ranking: No. 5 — 3A
Record: 6-1
State Championships: N/A
State Runner-Up: N/A
Last Season: 7-2
Coach: Sam Marple
Key Players:
Gavin Oliver, QB — 21-38, 501 yards, four touchdowns, five interceptions
Peyton Smith, RB — 114 rushes, 1,058 yards (9.3 per carry), 15 touchdowns
Keeshon Smith, LB — 72 tackles (20 solo), 10.3 per game
Glasgow vs. Taylor County Preview
The last time these two district rivals played opposite of one another, Glasgow took the victory in round two of the 3A playoffs 14-0—something the Cardinals have not forgotten. That was nearly one year ago and both teams have been focused on making this season the best it could possibly be for themselves.
With both teams sitting at 6-1, this grudge match will likely decide the district championship despite two weeks remaining in the regular season. Both teams have had great seasons thus far and with a win on Friday can stake their claim as a legitimate threat to knock off No. 25 and 3A frontrunner, Christian Academy Louisville.
Glasgow has won six straight after dropping their season opener to No. 12 Woodford County 56-0—which seems like a bad loss, but the Yellow Jackets have smoked nearly every opponent they've faced this season. Taylor County's 36-19 loss to a still-undefeated Green County comes as the Cardinals only losing effort as well.
Taylor County boasts one of two 3A running backs to amass over 1,000 yards on the ground this season in Peyton Smith. His 15 touchdowns rank second in the scoring category in his division as well. Glasgow will definitely have their hands full with Smith at the helm.
For Glasgow, however, they feature a balanced offensive attack that runs through Hunter Scott, a dual-threat running back/wide receiver that has 695 all-purpose yards on the season and 10 total touchdowns.
Bottom line: Glasgow has to stop the run and if they can, the Cardinals' already one-dimensional offense has no players they've been able to consistently rely on this season. The only problem for Taylor County is the fact that no team has been able to stop Smith at all this season.
KSR's Predictions:
Barkley's Prediction: Taylor County 28, Glasgow 24
Troy's Prediction: Glasgow 38, Taylor County 28
Jude Howell's Prediction: Glasgow 31, Taylor County 24
Drew Franklin's Prediction: Glasgow 26, Taylor County 24
A Message from Kroger:
We're excited to tell you about something new from our friends at Kroger. Did you know Kroger is America's largest grocery chain that started over 135 years ago? They are doing something they've never done before: bringing fresh groceries right to you with a new service called Hometown Pickup. 
That's right, for those of you in Cynthiana, Midway, Eminence, Bedford, McKee, Dry Ridge, Carlisle, Eubank, Georgetown, Mt. Vernon, Jackson, Frenchburg, Irvine, Mt. Olivet, and Paris, Kentucky you can now order all your groceries online and pick them up at a central location in your hometown. No more long drives into the city to get fresh food for you and your family. Now THAT is truly Fresh for Everyone. Thanks, Kroger. 
Learn more and place your first order at Kroger.com/hometown.