Go Inside the Booth with Travis Stone, Churchill Downs Track Announcer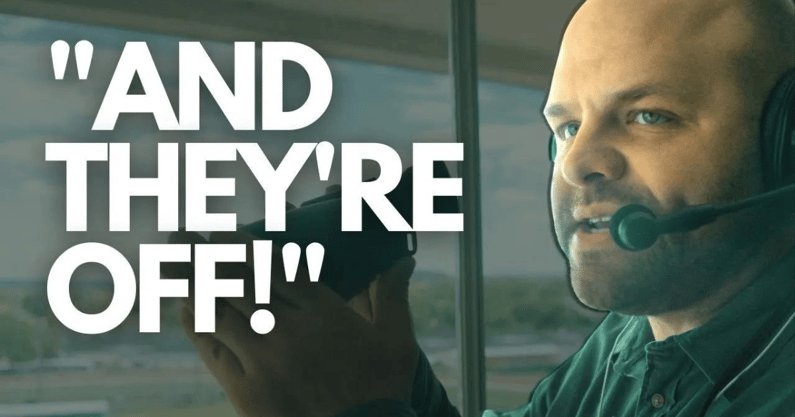 You've heard his voice accompany the victories of two Triple Crown winners. Now see how Travis Stone operates on a daily basis in the crow's nest at Churchill Downs.
Ahead of Kentucky Derby 149, Kentucky Sports Radio made the trek to the seventh floor of the clubhouse. The frills you typically see this close to the Twin Spires are non-existent. A neighbor to the race stewards, Travis Stone's office makes a dorm room look spacious. Bags of Ricola lean against a copy of "The Art of Voice Acting," near a treasure trove of relics he's collected over the years from the historic racetrack.
Markers of every color in the rainbow are on his stand. He uses each to illustrate the silks of every horse in the race he's calling. He puts his cheat sheet on a coat hanger that has been twisted to easily hang around his neck. With binoculars in hand, he calls it like he sees it through the powerful lenses.
"I've seen horseshoes fly off with these things," Stone shared.
The voice of Churchill Downs began his burgeoning career with a bang. As a 30-year-old, he called American Pharoah's win in his first Kentucky Derby. This week he's preparing for another epic 20-horse showdown beneath the Twin Spires. He shared how he believes the race will unfold.
"There's going to be two or three horses for sure toward the inside that are going to go, meaning the jockey is going to push for speed. There's a couple from the outside that are probably going to go — maybe not quite as certain of those — so I'm expecting three or four of them gunning for the lead early, which means the pace is probably going to be quick. It's hard to envision this pace being slowed down unless two or three riders decide to change tactics," said Travis Stone.
"So it's going to be a quick pace, which is going to set up a lot of movement on the far turn. I think Tapit Trice and Forte are going to benefit greatly from it, because it's going to be really fast-paced, they're going to come from off of it. As long as they get good trips, they're probably both going to run their race. Angel of Empire too could be the other one."
He's still putting the finishing touches on his final race prep, so Kentucky Sports Radio shared some ideas on how he can punctuate the Run for the Roses with a call for the ages, like, "Winning is his Forte!"
Subscribe to the KSR YouTube Channel for press conferences, interviews, original shows, fan features, and exclusive content.
This video is brought to you by NYRA Bets. Experience the excitement of the Kentucky Derby with NYRA Bets. Join now and get a $25 free bet just in time for the Derby. Plus, new members can earn up to a $200 deposit bonus with promo code KSR25. Bet on any track, anywhere, anytime. Sign up at NYRABets.com for your free $25 bet and $200 deposit match!
Discuss This Article
Comments have moved.
Join the conversation and talk about this article and all things Kentucky Sports in the new KSR Message Board.
KSBoard