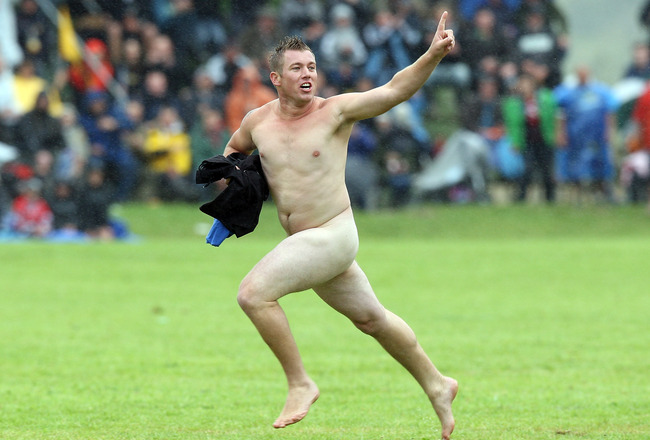 No, not that kind of streaking…
We haven't seen a lot of wins the past few years on the gridiron here the commonwealth. Historically, Kentucky football has been "that team" that is known for long, grueling, painful losing streaks to teams, and sadly, we still live in that day and age. Here are just a few streaks that the Cats are still in the midst of, and that everyone in Big Blue Nation would probably cut off a limb in order to break.
–673 days since the Cats have beaten a BCS team. When was that? November 26, 2011 against the Tennessee Volunteers in the last game of the 2011 season. That's also the last time that Kentucky has beaten a team in the SEC.
-1,173 days since the Cats have beaten a ranked team. This was on October 16, 2010 when Kentucky upset the 10th ranked South Carolina Gamecocks 31-28. The closest game against a top 25 school since then was last season against Georgia when UK only lost by five.
–9,815 days since Kentucky defeated Florida. Yeah…it's been a while. We know.
–995 days since UK last appeared in a bowl game. This was in January of 2011 when Kentucky fell to Pittsburgh in the BBVA Compass Bowl. We can all agree that bowl doesn't really exist though.
–1,408 days since Kentucky has won a conference game on the road. The Cats took down the Georgia Bulldogs on November 21, 2009 in Athens 34-27. Randall Cobb and Derrick Locke led the way. Wow…doesn't that feel like forever ago? Joker Phillips went his entire tenure as head coach without winning a SEC road game. UK will have another chance this weekend at South Carolina, you ready Spurrier?
Conclusions from all of this? This program won't be fixed in a day, or in a season. It's going to be a slow, methodical process, very similar to the slow, methodical losing streaks UK has going against them right now.
@WilderTreadKSR