Governor's Cup result will define offseason storylines for both teams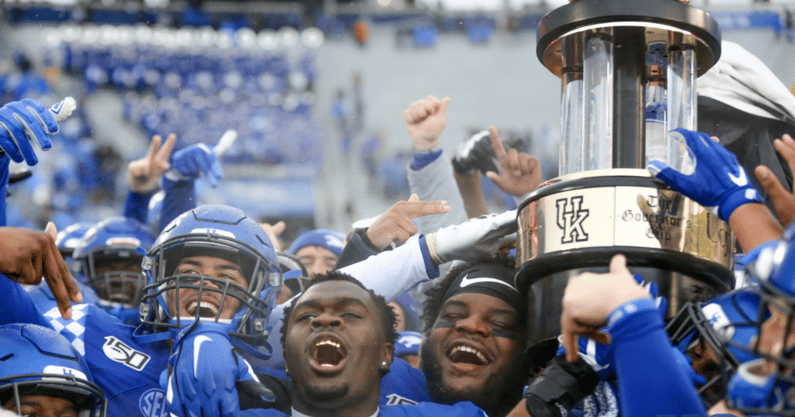 The Governor's Cup has found its rightful place on the calendar. All great college football rivalries should be played on Thanksgiving weekend.
The bottom line is that it just means more when the team you hate the most is the final opponent on the schedule. The result of the game has a much bigger impact because the winner and loser will both have to deal with offseason storylines created in the 60-minute football game between the state's two Power Five programs.
In 2021, there appears to be more at stake for both parties. Let KSR tell you why this game is significant to both sides of the rivalry.
Great season on the line for Kentucky
Entering the 2021 football season, it was all about fixing the offense for Mark Stoops and his program. The Wildcats went out and made a change at offensive coordinator while addressing holes in the offense with three impact transfers and getting a pair of super seniors back into the fold.
Through 11 games, those answers look to be fixed as Kentucky is averaging 31.6 points per game and is No. 21 nationally in yards per play. The Wildcats have a 1,000 yard running back and wide receiver. Penn State transfer Will Levis is giving the program its best quarterback play since 2010.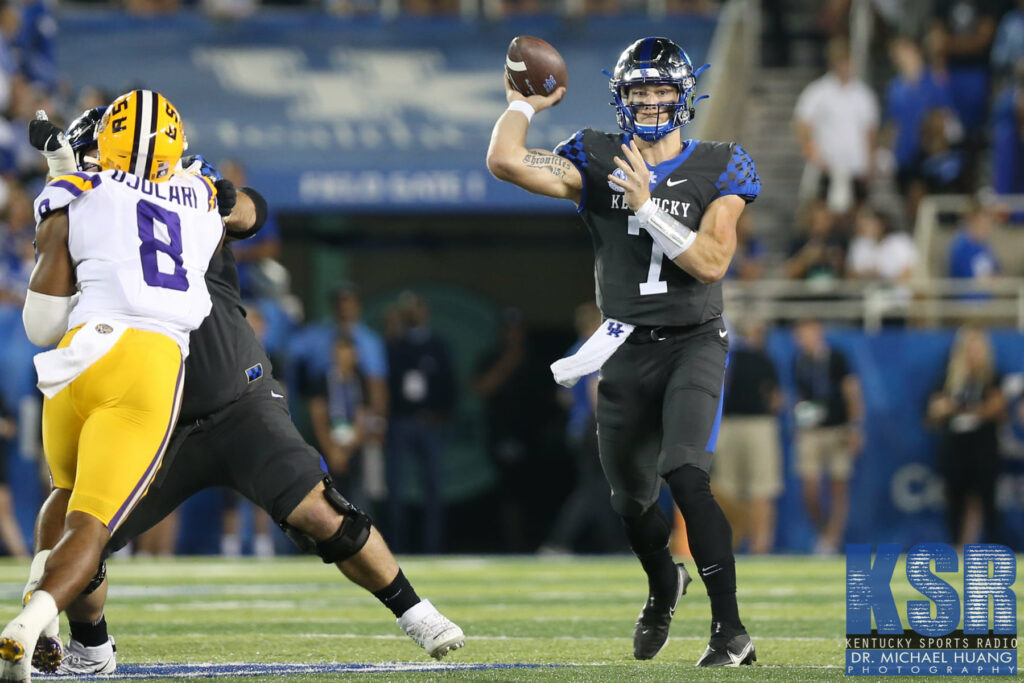 Overall, Kentucky has accomplished the overall mission for the program heading into the year. However, a manageable schedule and a two-deep littered with seniors made a special season possible if the offense got rolling.
The Wildcats accomplished that by getting off to a hot 6-0 start. However, a depleted secondary was picked apart by three good quarterbacks as the Wildcats dropped three straight SEC games. Some issues might have been fixed against Vanderbilt and New Mexico State, but that won't be proven until this weekend.
A victory gives Kentucky a shot at 10 wins and another Florida bowl trip most likely. A loss gives Kentucky a pair of defeats to its two biggest rivals in the last month of the season as a huge what-if feeling could surround the program.
Long-term Kentucky should be fine as long as the coaching staff seals up a strong 2022 recruiting haul, but the program will lose all momentum built if the Wildcats cannot knock off Louisville and lose the Governor's Cup.
There's also the coaching carousel buzz that appears to be surrounding Mark Stoops that could throw a wrench into things.
Scott Satterfield is still looking for signature win
In six years at Appalachian State, Scott Satterfield won 51 games with three double-digit win seasons and three consecutive Sun Belt titles to end his tenure in Boone. During his stay, the outside zone offense gave defenses all kinds of issues, and App State took both Tennessee and Penn State to the wire on the road while being 3-0 in bowl games.
Satterfield was one of the hottest coaches in college football, and Director of Athletics Vince Tyra got Louisville what appeared to be one of the best hires of the cycle. Yet, the 48-year-old is still searching for his first signature win after 35 games at Louisville.
The Cardinals had a terrific first season under Satterfield. With low expectations, UofL finished 8-5 with promising victories over Wake Forest, Virginia, and Mississippi State. However, the best and most talented teams on their schedule hammered the Cards.
In year two, COVID-19 arrived, and Louisville had 24 turnovers in 11 games. The team would finish 4-7 with zero wins against teams with winning records. Despite the lack of success, Satterfield and his representatives aggressively went after the open South Carolina gig and failed.
In year three, Louisville was hammered by Ole Miss in the opener but helped salvage the season with huge consecutive victories against UCF and Florida State. The Cardinals traded blows during their ACC schedule before facing Clemson in a huge home contest. Despite outgaining the Tigers and winning the turnover margin, Louisville fell to Clemson after a turnover on downs inside the five. The Cards again responded to close ACC play, but Satterfield is still looking for that big win to put on his resume.
The third-year head coach will get another opportunity on Saturday night.
Louisville is a team that appears to be much better than its record with one of the best quarterbacks in college football. Leaving a season at 6-6 with that would be a significant disappointment. However, a home victory and securing the Governor's Cup on senior day over your biggest rival who has owned your program both on the scoreboard and off the field in recruiting over the last three years could be just enough to buoy Satterfield's coaching tenure into a potential huge season in 2022.
A loss would knock the head coach down a few pegs and could find him in hot seat territory if quickly if things don't start well in 2022.
Rivalry week matters
Entering Week 13, a lot is on the line for both programs. Kentucky has a chance to knock down their rival again and secure another strong season as the coaching staff continues to raise the program's recruiting ceiling. Louisville has a chance to get its first signature win in 2016 and close some ground with their rival who had appeared to be pulling away from them over the last two years.
The Governor's Cup is in its rightful place as the last game of the season. The winner will grab bragging rights and momentum as college football heads into the postseason.
Let chips fall where they may.