Grant Hill and Jason Kidd's Tuesday News and Views
The National Basketball Association bid adieu to two of its greats when
Grant Hill and Jason Kidd announced their retirements
. Hill announced his retirement over the weekend, followed by Kidd's departure from the game Monday afternoon. The two 40-year-olds
entered the league together in 1994 and shared Rookie of the Year honors
that season. Together, they combine for 17 NBA All-Star game appearances. There was a time, toward the end of the Jordan era, when it appeared Grant Hill would become the face of the NBA. After leading the all-star voting as a rookie -- the only pro athlete to accomplish that feat in any of the major sports -- Hill was the heir apparent to MJ's throne; he even led the all-star voting over Jordan in 1996, his second NBA season and Jordan's first season back after baseball. But injuries kept the Pistons point forward from reaching his full potential and he spent the last decade of his career as more of a veteran role player, a shadow of his former self, on three different teams. His numbers drastically declined and Grant Hill the superstar was no more. To put it in perspective, when Hill suffered his first injury in 2000, he had a total of 9,393 points, 3,417 rebounds and 2,720 assists. Only Oscar Robertson, Larry Bird and LeBron James eclipsed those numbers after their first six seasons in the league. Jason Kidd, on the other hand, was one of the league's best at his position for 19 seasons. He is second all-time in assists and steals; third all-time in triple-doubles; and, surprisingly, third all-time in three-pointers made despite entering the league with an inconsistent outside jumper. The five-time All-NBA first team selection won a championship in 2011 with the Dallas Mavericks and will one day be inducted into the Hall of Fame. If you're talking about the game's best point guards, Jason Kidd is certainly in the discussion. With all that said, Grant Hill and Jason Kidd never accomplished one thing until tonight: They're KSR's Tuesday News and Views honorees. What an achievement and a fitting finale to their incredible careers. Let's get to it...
 First and foremost, we need to address Gregg Doyel's first appearance as host on KSR tomorrow. Somehow, someway,
Doyel booked Rick Pitino, John Calipari and Dan Dakich for Tuesday's show
. We knew handing the reins over to Gregg would make for must-listen radio, but we had no idea he'd pull off the unthinkable by getting Pitino to make an appearance on the KSR airwaves. Not to mention, Dakich despises all things Matt Jones and KSR, so it'll be interesting to see what angle Doyel takes with him, too. Luckily, John Calipari will be on to save the show and steal the spotlight from whatever negativity the other two may spew. It's going to be a fun one, one way or another.
 Be on the lookout for new Wildcats on campus this week; 
Julius Randle is scheduled to arrive in Lexington Tuesday
to begin life as a UK student. A little bird told KSR that Dakari Johnson, Derek Willis and Dominique Hawkins will also move in this week. The other four members of the class will be on campus in a few weeks. It's going to be a fun summer in the Joe Craft Center.
 In UK football news, it was announced on Monday that
Kentucky's season opener against Western Kentucky will kick off at 7:00 p.m. ET
at LP Field in Nashville. That gives Big Blue Nation plenty of time to tailgate and enjoy all that Broadway has to offer in the hours leading up to the game. It was already going to be a fun weekend no matter what time the game kicked off, but now it's reached a whole new level of fun for the official launch of the Mark Stoops era. See you there.
 File this one under Things-You-Never-Thought-You-Would-Read:
Kentucky is in a recruiting battle with Alabama for two of its top targets in the 2014 class
. First, Matt Elam, the defensive tackle from right here in the bluegrass, is believed to be down to Kentucky and Alabama, and he took a visit to Tuscaloosa on Monday. He posed for a photo with this miniature Nick Saban figurine during the trip: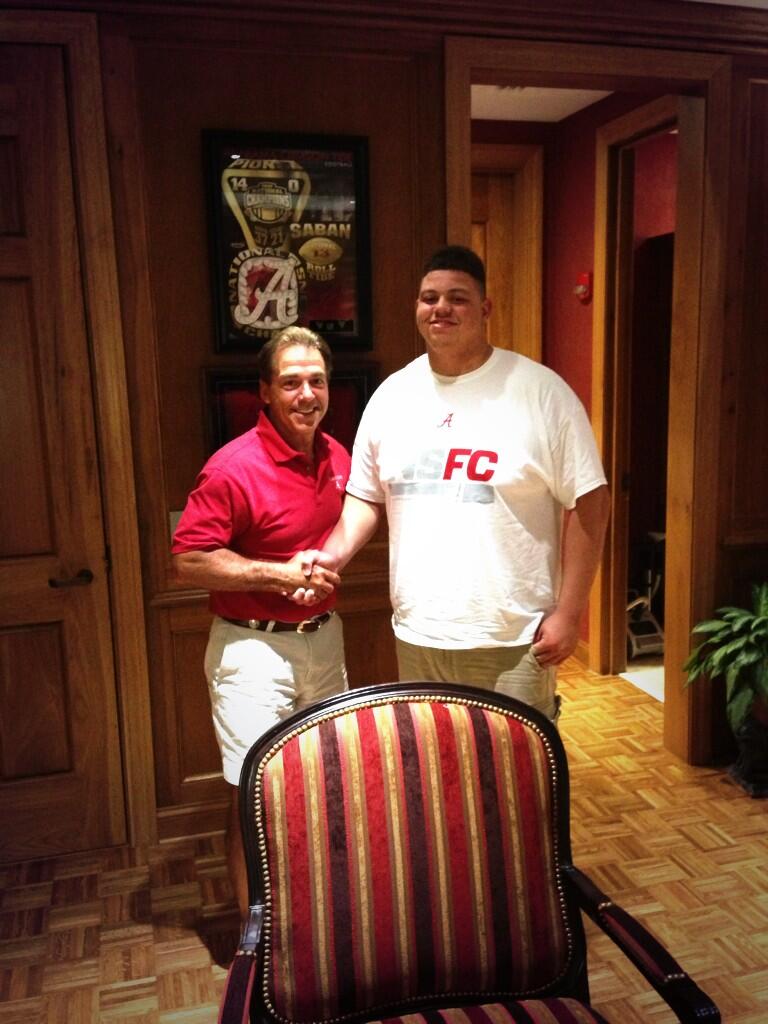 Also, Derek Kief, the wide receiver from Cincinnati, plans to visit Alabama next weekend and he has the Tide high on his list. Keif is also receiving interest from Ohio State, Notre Dame and every other school with a football program, but Kentucky is still squarely in the mix.
 As if you need more proof that Drew Barker is the best kid ever, the folks behind the Nike Elite 11 gave him a shout out on Twitter for being
the first to submit his paperwork for camp
. Barker received the invite over the weekend.
 What has John Calipari been up to, you ask? He spent Monday night at the Henry Iba Awards, rubbing elbows with
Adrian Peterson, Bob Stoops and Eddie Sutton...
The Henry Iba Awards were held at the Tulsa Renaissance Hotel and Convention Center Monday night. Cal was accompanied by his good friend, Mr. Joe Craft.
 The Miami heat covered, therefore
Floyd Mayweather is five million dollars richer
. All is right in the world.
 A big
congrats to Josh Teater
for qualifying for the U.S. Open on Monday. Teater qualified for the British Open a week ago, so it's pretty safe to say he's on a good run this year. We can't wait to see how he does at Merion in 10 days. That'll do it for now. Go Cats.