Greg Sankey channels Bob Dylan to encourage COVID-19 vaccines
[caption id="attachment_359781" align="alignnone" width="2560"]
(Jimmie Mitchell/SEC)
[/caption] For the first time in two years Greg Sankey kicked off SEC Media Days from behind a podium in the Grand Ballroom of the Wynfrey Hotel in Hoover, Al. Obviously, the circumstances surrounding the league are much different than the last time Sankey spoke to the media in-person, sharing the news that the 2020 SEC Tournament was canceled. Monday afternoon the commissioner addressed the changes around the NCAA and the COVID-19 pandemic as the league plans to return to normal in the fall of 2021.
Potential COVID-19 Forfeits
When the SEC shifted to a 10-game all-conference schedule in 2020, a makeup week was baked into the schedule, giving teams a little wiggle room if positive COVID-19 tests and contact tracing pushed rosters below the mandatory minimum. If the game could not be rescheduled, it was ruled a no contest. There's no makeup week in 2021 and there may not be "no contests." Sankey will ask SEC universities to remove the roster requirements and play all games this fall as scheduled. "That means your team needs to be healthy to compete," Sankey said. "That will not be rescheduled."
Vaccine Campaign
How does a team make sure they have a deep enough roster to play each Saturday? Get vaccinated. Sankey reports that
six of the 14 SEC teams have 80% of their roster vaccinated
. "It's not a political football," Sankey said. "Let me be clear to our fans, to our coaches, to our staff members, and to our student-athletes: COVID-19 vaccines are widely available. They've proven to be highly effective. And when people are fully vaccinated, we all have the ability to avoid serious health risks, reduce the virus' spread, and maximize our chances of returning to a normal college football experience and to normal life. "With six weeks to go before kickoff, now is the time to seek that full vaccination." [caption id="" align="alignnone" width="1200"]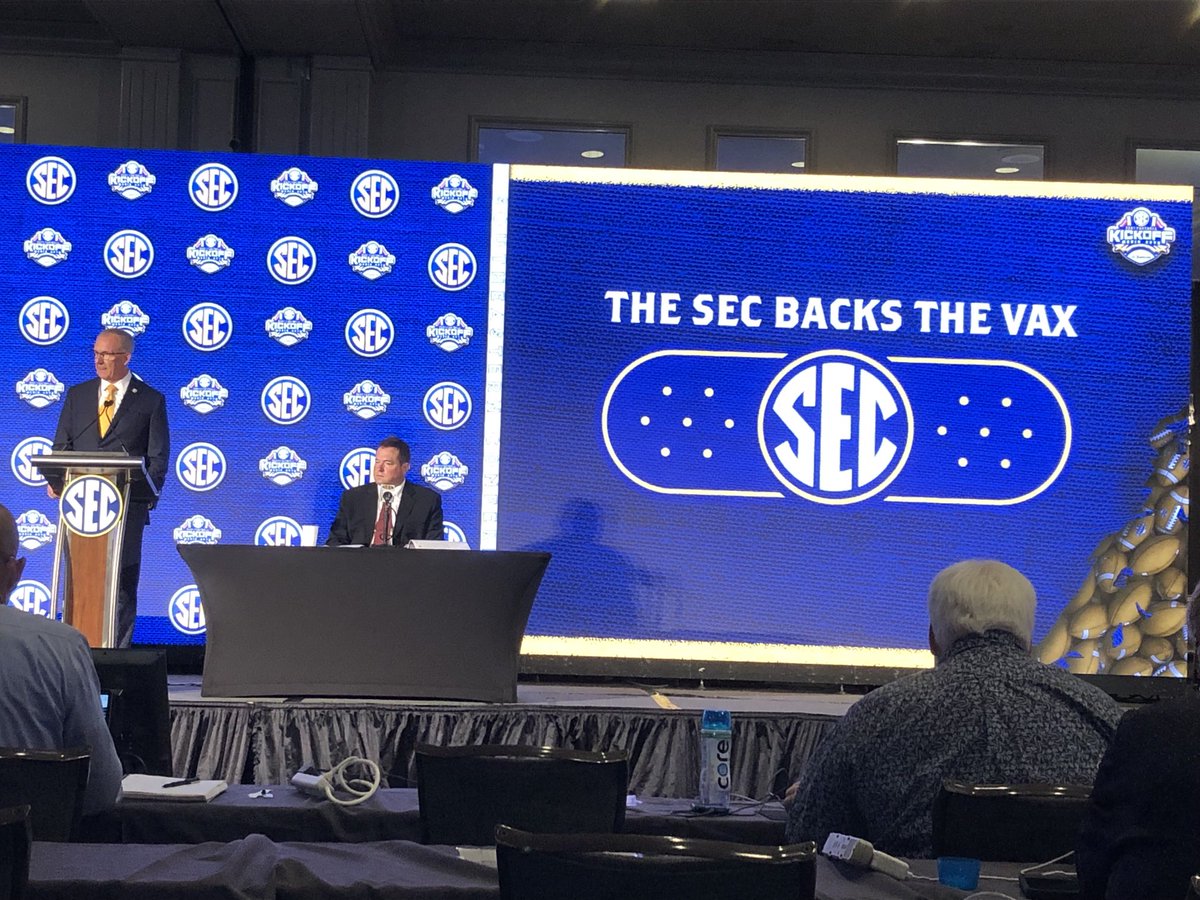 @JoeGoodmanJr[/caption]
Earlier Kickoff Times
The "SEC on CBS" era is coming to an end in 2024 after ESPN obtained the rights to exclusively carry all of the league's football games. (The deal with CBS could be bought out early, but Sankey gave no indication that it will come to fruition.) There are some disadvantages for fans, like that the games vs. FCS teams will be carried on ESPN+, but there is one significant advantage for travelers. Instead of waiting to announce kickoff times until two Mondays prior to the contest, once ESPN takes over kickoff times will be revealed in the summer. This might not seem like a big deal, but this will significantly help folks make early plans ahead of SEC road trips.
By the Numbers
-- 185 athletes opted out in 2020 -- 105 athletes ruled Medically Exempt received financial benefits -- 9 SEC National Champions in 2020 -- 12 National Players of the Year came from the SEC -- 69% of players that entered the transfer portal are still looking for a new school -- 80 current and former SEC athletes will compete in the Olympics
As for the Olympics, Sankey stressed the important role college athletics play in making Team USA the most dominant country in the Olympic Games. More than 75% of all American Olympic athletes have college experience, providing an important rung in each athlete's developmental ladder. "Our national college sports system makes that happen," Sankey said. "If you change college sports, you change our Olympic development and support system in this country."
Calling Out Congress
Every state in the SEC has a different NIL law in effect. After watching the NCAA pass on creating nationwide rules on name, image and likeness, Sankey called on the United States Congress to take action. "We need a federal solution," he said. "We understand it's difficult to gather the support for such federal legislation. However, congressional action is necessary if we're going to provide every student a clear, consistent, and fair opportunity to benefit from their name, image, and likeness."
No, the Power Five is not "Breaking Away"
Mark Emmert
said earlier this week
that NCAA is moving to de-centralize how college sports operate. It should put more power into the hands of people like Sankey, but it does not mean that the SEC will join the other Power Five league to form a different coalition. "I do think we all have to be mindful of the reality in front of us, and as I noted, when President Emmert spoke about the need for change and reimagining the national office role, the conference role, and the campus role, that doesn't speak to your question (about breaking away from the Power Five), but it does speak to we're going to have to administrator this differently."
Shout Out to Bob Dylan
Every year you expect to see certain things at SEC Media Days -- Dan Mullen's fancy shoes and hard-hitting questions from Bob Holt, to name a few. This year the commissioner threw us a curveball, using Bob Dylan as the theme to his address. The times may be a-changing, but that sure was a-corny. https://twitter.com/AdamLuckettKSR/status/1417160255667118080?s=20