Halftime: South Carolina leads Kentucky, 10-7
Kentucky is down by a field goal to South Carolina at halftime in a rowdy Williams-Brice Stadium under the SEC Saturday Night lights. The Gamecocks took control at the very beginning, forcing a three-and-out on Kentucky's opening drive, and then scoring the game's first touchdown. However, Kentucky responded when down 10-0 and we have a ballgame at halftime in Columbia.
Crazy Atmosphere
South Carolina pulled out all of the stops to amp up the Cockpit before kickoff, even bringing in the creator of "Sandstorm"–a Finnish DJ named Darude–for a celebration of the worst song in sports. Darude's music and soul patch really got the crowd going in the beginning.
South Carolina's Quick Strike
As noted up top, South Carolina scored on its first offensive possession with a 69-yard drive ending in a touchdown pass to Xavier Legette for 13 yards. Spencer Rattler completed seven of eight passes on the 11-play march down the field for six.
South Carolina added a field goal on its next drive to go up 10-0. Kentucky's D'Eryk Jackson made a crucial third-down pass breakup to keep Legette from catching a second touchdown pass, forcing the Gamecocks to settle for three.
Kentucky's Response
Down by 10 in a hostile road atmosphere, Kentucky fought back rather than lay down. Devin Leary drove the offense 12 plays in 75 yards, resulting in a touchdown toss to Barion Brown to tighten up the early deficit on the scoreboard.
Leary Took Another Shot
Backup quarterback Kaiya Sheron took snaps against South Carolina for a second straight season after Leary suffered a cheap shot in the second quarter, resulting in a 15-yard penalty on the Gamecocks.
Leary was evaluated on the sideline and then quickly returned to lead another Kentucky drive. Unfortunately, the drive ended with Leary throwing an interception in the end zone.
Dane Key's Fumble
Kentucky had another good drive going when the offense gave up the ball on a second straight drive, this time a Dane Key fumble. Key picked up 16 yards into scoring territory before losing the ball at the South Carolina 34.
The teams ran out the clock until halftime, bringing us to our current score of 10-7.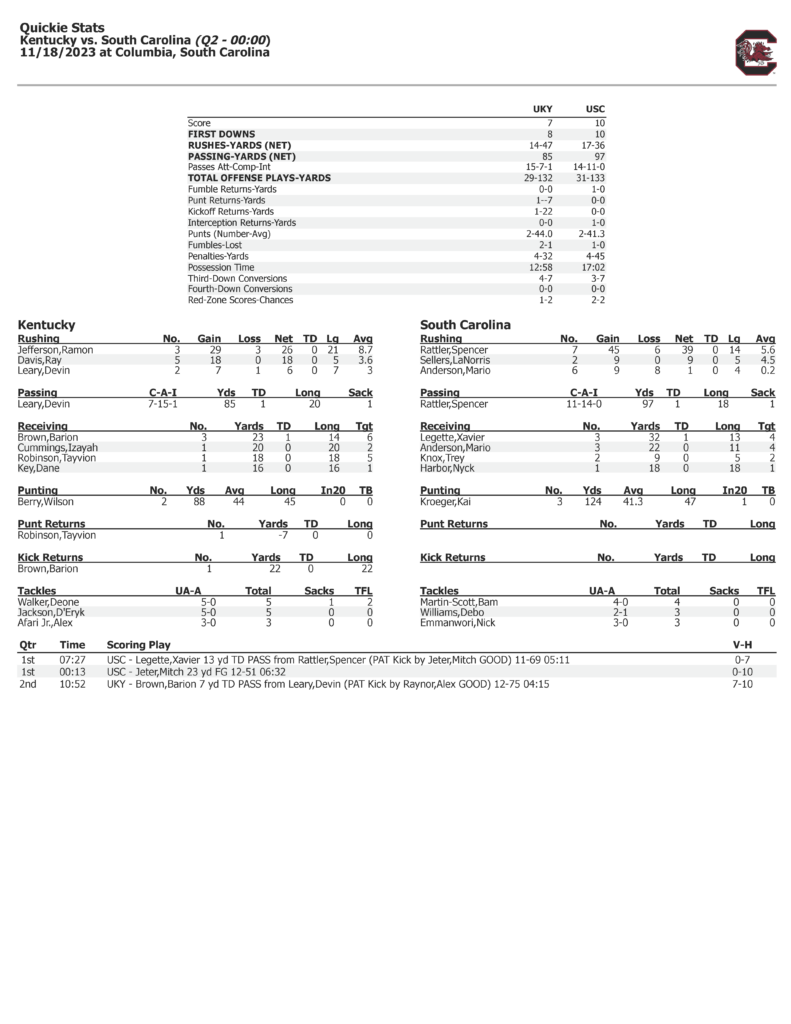 Discuss This Article
Comments have moved.
Join the conversation and talk about this article and all things Kentucky Sports in the new KSR Message Board.
KSBoard