Harrison Twins Helping Cal On The Recruiting Trail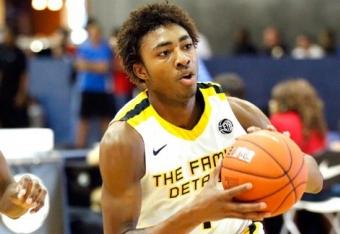 Cal hangs out with Jay-Z, Julius Randle hangs out with Beyonce. It makes too much sense. 
The Harrison Twins choosing to spend their "4 years" at Kentucky is one of the biggest recruiting coups in recent memory. Not very often do you get 2 Top-5 ranked players to commit on the same day. Rarer than even that, is getting 2 Top-5 players who happen to be identical twin brothers. With the twins on board to go along with Top 100 in-state kid Derek Willis, Kentucky and Calipari are piecing together what could be the greatest recruiting class in the history of college basketball.
According to Zagsblog's "source", which is the most overused word in sports these days, the Harrison's are reaching out to Julius Randle and James Young to join them in Lexington in 2013. Although Zagoria tries to enhance his source's credibility by saying they "correctly predicted the Harrison's wanted to play at Kentucky" which narrows it down to just about everybody that follows recruiting, it's always good to hear when future 'Cats are taking a stake in the future of the program. Julius Randle is thought to be a Kentucky lean now after earlier rumors that Randle did not want to play with the twins were refuted by he and his family. James Young, the #7 overall player in the class, has slowed his recruitment considerably since the summer when many thought it would be any day that he would pull the trigger for the 'Cats, but the general consensus still remains that Kentucky is the favorite.
The "source" goes on to say:
"Them playing with James YOung, that's good for James," the source said.

"They want it to be their team. They want it to be everybody followed us [to Kentucky]."
Needless to say, this basketball season comes first, but it's hard not to get excited about the future of Kentucky basketball, especially with the added bonus of 2 extra recruiters to help Calipari out, because if there's anything that John Calipari needs help in, it's recruiting.
–@WillTottenKSR