Has the perception of Kentucky changed with five-star recruits?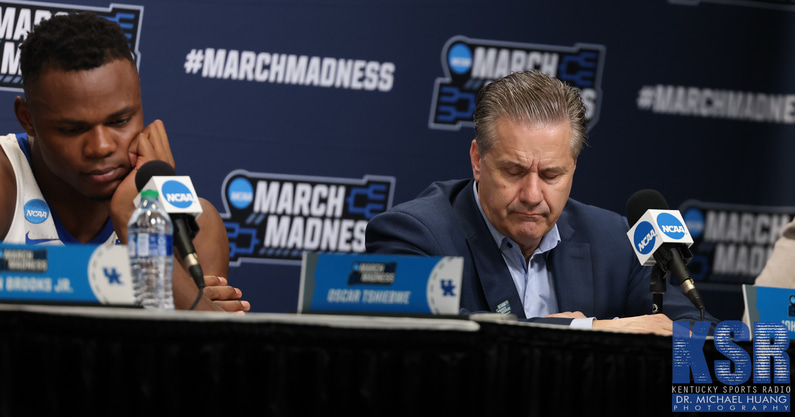 Between 2009 and 2015, Kentucky went to five Elite Eights, four Final Fours, two title games and won one national championship. In that span, John Calipari hand-picked his favorite five-star recruits, including three future No. 1 draft picks and ten top-10 selections.
From 2016 to 2022, the Wildcats have been to two Elite Eights with three top-10 draft picks. The stars have certainly come through — Jamal Murray, De'Aaron Fox, Bam Adebayo and Shai Gilgeous-Alexander are all max-level players in the NBA — but recruiting just hasn't been the same. After signing the No. 1 recruiting class in six of Calipari's seven first years at Kentucky, the Wildcats have finished with the top class just once since — and that was in 2020, the year UK finished with a 9-16 overall record and missed the NCAA Tournament.
Following up the worst season in program history with an opening-round loss to 15-seed Saint Peter's has sparked an eruption of frustration, uneasiness and impatience within the fanbase. UK Athletics Director Mitch Barnhart even went out of his way to say the current product isn't acceptable, saying the Wildcats needed to return to "championship-level performance."
"Our responsibility is to make those deep runs and create those great memories in a good way, in a positive way for our program and our fan base, to hang banners in Rupp Arena. We all want that," Barnhart said. "If anybody knows anything about our program as a whole, that's what we are designed to do. We have built the foundational pieces of Kentucky Athletics and specifically Kentucky basketball to, layer upon layer, give us an opportunity to celebrate championship-level performance.
"So we need to return to that. Our fans deserve that."
The results between the first half of Calipari's time in Lexington (2009-15) and the second (2016-22) are clear, but why? What's changed? And more importantly, how can Kentucky get back to the top of the blue blood foodchain?
To get a better idea on where things stand with UK on the recruiting trail, I asked three McDonald's All-Americans their thoughts on the Wildcats. Growing up during the peak of Calipari's success in Lexington, has their perception of Kentucky as the gold standard of college basketball changed from then to now? What about the other high-profile five-star prospects they interact with on a day-to-day basis? If so, why?
Jaden Bradley is a consensus top-25 prospect who was once seen as a heavy Kentucky lean. The Wildcats ultimately pushed for Skyy Clark — who has since decommitted — and Cason Wallace in the senior class, pushing the 6-foot-3 point guard elsewhere. He ultimately signed with Alabama, a clear fit for the speedy ball-handler.
His stance on Kentucky? Still quite positive.
"Kentucky is definitely a great program, blue blood school," Bradley told KSR. "They always get the top recruits in the nation. And Coach Cal, he's a great coach. That's a program that will be good for a very long time."
Jarace Walker is a player Kentucky expressed late interest in, but never pulled the trigger on a public scholarship offer. Contact was there, but nothing ever came of it with the top-10 prospect. Instead, UK signed five-star forward Chris Livingston on the wing, while Walker ultimately chose to play his college ball at Houston.
Walker acknowledged that things have taken a dip the last two years, following up a poor season with a historic loss. Still, though, Kentucky deserves respect as a top-notch program, one that continues to put elite talent in the NBA.
"Kentucky itself is a great program with a great coach," Walker told KSR. "They've been putting people in the league for years now. I feel like the perception is still there. A couple off seasons or off years doesn't really change the whole dynamic of the program. I feel like Kentucky is still a high-level program that should definitely be respected still, for sure."
Mark Mitchell chose a blue blood program — just a different shade of blue. The five-star, top-15 prospect ultimately signed with Duke over offers from Kansas, Missouri, UCLA, North Carolina and Arkansas, among others. Like Walker, Mitchell received early interest from Kentucky, but never received a scholarship offer.
Oddly enough, UK was the 6-8, 215-pound forward's favorite school growing up. As time went on, though, he "grew out" of his love for the Wildcats, keeping an open mind throughout the recruiting process. That open mind would lead him to Duke, joining the Blue Devils' top-ranked recruiting class that also includes top-three prospects Kyle Filipowski, Dereck Lively II and Dariq Whitehead.
"Well, that's a different one. I mean, yeah, I think (the perception is the same)," Mitchell told KSR. "Growing up, I personally was a Kentucky fan. I think as you grow older, you grow out of certain things. Not that I wasn't a Kentucky fan anymore, I just opened my mind up a little bit. But I think it still has that appeal."
In Mitchell's opinion, top-ranked recruits are simply doing their own thing now. It's nothing against Kentucky or its pitch, it's just kids wanting different things. UK will still get top recruits, there's just more competition, with talent spreading out across the country to even the playing field a bit.
"I think people are just going in different ways a little bit now," the Duke pledge told KSR. "But I think Kentucky will still always be Kentucky. What Cal does over there is really good for that program. I think they'll always be a blue blood of college basketball."