Having Wan'Dale Robinson is not enough for Kentucky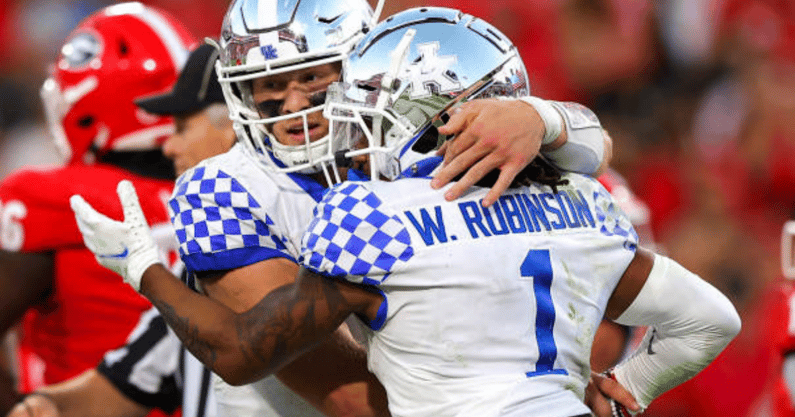 We found out this weekend that relying on Wan'Dale Robinson to singlehandedly beat the No. 1 team in the nation might not be the finest idea.
A recurring theme over the last few seasons has been the lack of offensive production and the lack of playmakers that the 'Cats throw out on the field every week. Because of this, Mark Stoops absolutely had to make the drastic culture shift and bring in Liam Coen to bolster creativity on offense.
You could argue that Coen schemed up a game plan that had the ability to defeat Georgia on Saturday. Creative play calling and some tricks out of his bag put the Wildcats in a favorable position to move down the field. Coen has reinvigorated this offense and helped get UK to 6-0 for the first time since colonization was still a practical method of international affairs.
We're quickly finding out though that you still need to rely on the players to execute what is sent in from the sideline. Kentucky still needs to get more playmakers.
Wan'Dale Robinson is doing it all
Seriously though, where would this team be if Wan'Dale didn't just happen to be from Kentucky? Everyone expected that he would be a difference-maker for this offense. I don't think anyone was ready for the superstar that came to Lexington. And to think, Scott Frost wanted this guy to be a running back, absurd.
Robinson was mostly his usual self in Athens. He finished with 12 catches for 39 yards–which in itself makes absolutely no sense–and one touchdown. He could've had more too if he didn't drop a couple of key balls. We can excuse him for that however when he literally is the only reliable option through the air that this offense has. He sits at third in the SEC now in receiving yards and has five touchdowns. Lynn Bowden could only dream of doing those numbers in a Kentucky uniform.
Wan'Dale has been everything and more since arriving on campus last spring. He's been the superstar receiver that the 'Cats have for so long been looking for. But we're just now starting to see that even with Wan'Dale Robinson, Kentucky is going to need more if they want to make the jump to an elite program in the SEC.
Everyone else needs to step up
Can't really do much when your team drops the ball seven times, many of those coming in first down territory. Will Levis may have played his best game as a Wildcat so far. Which was ruined by the continuous sub-par play from the receiving core outside of Wan'Dale Robinson.
"We need some guys to step up, other than Wan'Dale," Stoops blatantly admitted after the loss."Hopefully we'll get Josh [Ali] back here soon but we need some guys to step up and compete and make some tough catches, or make some routine catches. It wasn't very good tonight."
Robinson has 49 catches this season, the entire team as a whole has 123. The next highest receiver is Josh Ali with 17 catches for 248 yards and a few too many fumbles. It was still a blow to lose Ali to injury even with his up-and-down play so far. The main two tight ends have combined for 20 catches this season, and the third might be out for some time. It's just not enough when you go up against the elite teams in the country. It can't be much longer until teams just game plan to just take Wan'Dale out and force everyone else to make a play. The odds are Kentucky won't be able to adjust properly yet.
When does this change?
I'm not at all trying to undervalue what Kentucky has done this year on offense. What we've seen from Coen is light years ahead of what has been thrown out at Kroger Field for some time now. The addition of Wan'Dale Robinson and a new, creative play-calling identity has completely shifted the focus around Kentucky football. It's no longer if we can compete with the top teams. We're now starting to enter an era of Kentucky football where it's more about what the 'Cats need to do in order to win these battles.
It's year one of the system and Kentucky got off to their best start in school history. It's working and results are coming out of it; still though, everyone needs to remember that this is a long process. Odds are that Wan'Dale jumps to the NFL next season, Kentucky is going to have to hit on a lot of recruits or transfers in order to build a receiving core that can keep you afloat on offense in the SEC.
There's some hope that this can still come from within the program right now. Keaton Upshaw and Dekel Crowdus haven't seen the field yet this season, with those being two of more valuable players when it comes to the future. They still have a plethora of freshman receivers waiting in the wings who could potentially make an impact. They're also in the run for some pretty significant receiving talent still in high school, particularly Lexington's own Dane Key.
It's frustrating right now to watch, we get it. Kentucky has a superstar in their hands and then a whole bunch of unknowns who really haven't wanted to become known as of yet. This is still a long process, the coaching staff needs to focus on getting some more legit playmakers if they really want to compete. But for now, just enjoy, this is still the best Kentucky season the state has seen in generations.