Heat need more from Tyler Herro to reach NBA Finals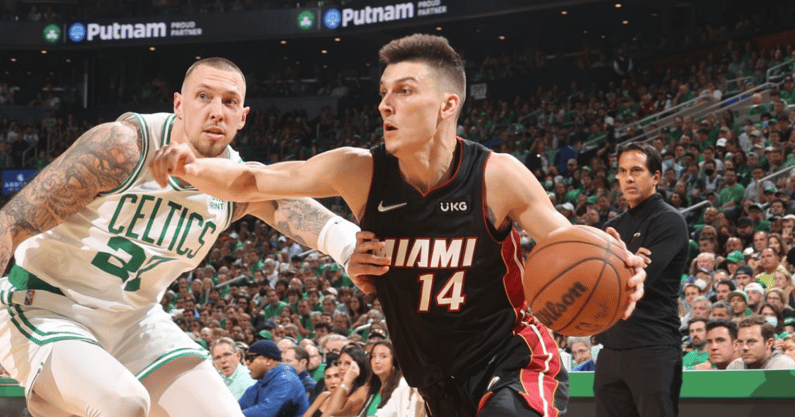 The Miami Heat took a 2-1 series lead in the Eastern Conference Finals over the Boston Celtics on Saturday night. With no Jimmy Butler in the second half, Bam Adebayo led the Heat's supporting cast the rest of the way. It was Adebayo's best game this postseason after being a no-show in Games 1 and 2.
With the Heat spread thinly on the injury front, they need solid showings from 6th Man of the Year, Tyler Herro, to help get them over the edge. The only issue is this postseason hasn't been the former Wildcats' best stretch.
Herro averaged 20.7 points, five boards and four assists en route to being named the NBA's top bench player this season. He did so on career-high percentages from the field at 44.7% and three at 39.9% as well. While he does it from a reserve role, Herro plays starter minutes, finishes games, and is a key cog in Miami's machine. Whether it be the moment or more focused defensive pressure, he hasn't lived up to those numbers in the postseason so far.
In 14 playoff games, Herro's scoring has dropped to 13.3 points per game. It's been on poor efficiency as well — 40.9% from the field and 20.7% from three. He has made just one of 14 three-point attempts this series against Boston for an average of 7.1%. Herro was benched down the stretch of Game 3 for Victor Oladipo and Max Strus after shooting 4-15 for the night, including 0-6 from deep, in 20 minutes.
Herro is still young while trying to perform in the playoffs as a primary scoring option. The Celtics also provide a significant challenge as an elite defensive group. The problem is Herro has already been an elite option during his very first playoff run. He averaged 15.9 points per game during Miami's run to the NBA Finals in the bubble in 2020. During that run, his best series came against these Boston Celtics with 19.2 points, 6.3 rebounds and 4.8 assists on 52.3% shooting. That included a 37-point outing in a pivotal Game 4 win.
On Friday's episode of ESPN's First Take, former NBA players Kendrick Perkins and Amar'e Stoudemire called out both Adebayo and Herro to step up in this series. Stoudemire took it a step further beyond Herro's performance and questioned his overall mindset.
"Where's his focus?" said Stoudemire. "He wants to wear the shades, he wants to have his back out, he wants to do the gun show and all this entertainment stuff, but where's the focus on basketball? He had a great run in the bubble but ever since then it's like where's the 'hero'?"
Adebayo answered the call in Game 3. Herro did not. After taking a series lead and stealing back home court, the Heat have the momentum heading into Game 4. With injury concerns already there for Butler, Kyle Lowry and PJ Tucker this series, they'll need a consistent, big-time effort from Herro alongside Bam in order to get them to their second NBA Finals appearance in three seasons.
Game 4 tips off from Boston on Monday at 8:30 p.m. EST on ABC.