Henderson County DL Saadiq Clements using speed to separate himself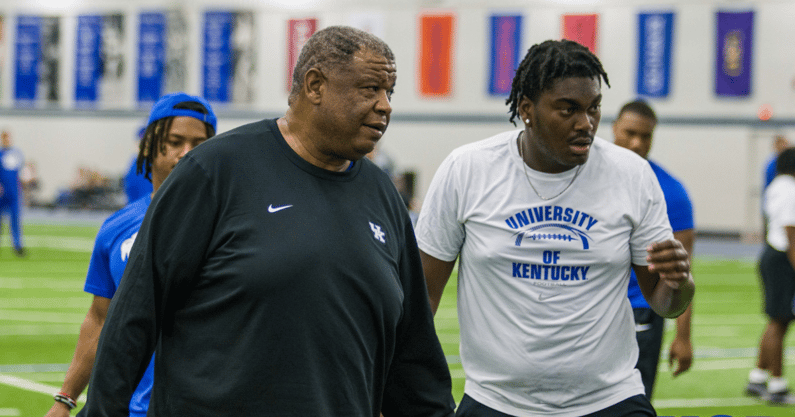 He's 6-foot-3, weighs 280 pounds, and runs faster than anyone to come through Henderson, KY, in recent memory. Saadiq Clements isn't going to boast about his Divison I offers or brag on his production. He's just a humble kid from Western Kentucky with a ceiling too high for anyone to see.
Clements is a junior (class of 2023) at Henderson County, suiting up on the defensive line for the Colonels and head coach Josh Boston. 2021 has been a significant year for Clements, as he's picked up scholarship offers from several Power 5 programs, including the University of Kentucky. Through five games played this season, Clements has already racked up three forced fumbles for Henderson County.
He's a physical specimen with tantalizing potential. How many kids his size can run a 4.7-second 40-yard dash? How many defensive linemen can outrun the team's running back? It's still early in his recruitment process, but Clements is more than deserving of his three-star ranking.
He'll have a chance to prove that rating in front of a large crowd on Friday night for the Kroger KSR Game of the Week. Henderson County will put its 5-1 record up against 4-2 Apollo at 8 p.m. EST.
Kids with the potential of Clements don't come through Henderson very often, and the community is embracing him accordingly.
"Very humble kid. He doesn't brag about himself, he doesn't necessarily want the highlights and things like that," Coach Boston told KSR on Friday. "He's a kid that, growing up, he's always been a kid that everybody kinda looked at. Knowing from the time he was in 1st, 2nd grade, how much bigger he was than everybody. The speed that he had at such a young age, for such a big kid…so there's been a lot of eyes on him in this community ever since he was that age. He's a kid you don't have very often with his size and speed."
Henderson is no stranger to sending kids to play football for Kentucky, but it doesn't happen all that often. Mason Wolfe, who played in 37 games for the 'Cats as the offensive line's top reserve, had a fantastic career and filled his role to perfection after graduating from Henderson County in 2014.
But Wolfe wasn't all that highly-touted out of high school. Kentucky was his only Power 5 offer. Clements, on the other hand, currently holds offers from UK, Louisville, Indiana, Memphis, Purdue, Middle Tennessee State, and Eastern Kentucky. More will surely come as he continues to shine on the gridiron.
"He's probably the highest touted recruit that's come through here in a long time," Boston said of Clements.
But here's the thing with Clements–he prefers to stay out of the spotlight, for right now at least. EKU offered him in January before UK did the same a month or so later. Since then, his recruitment has seen a boom.
However, if you scroll through his social media, you wouldn't really know it. His Twitter account has 10 total tweets, seven of which are pictures of schools that have offered him. That's not by design or anything, though. That's just how Clements is. In fact, it was the Kentucky coaching staff that asked Clements just to make a Twitter so he could post his offers and boost popularity in the recruiting world.
"He (Saadiq) didn't even have a Twitter account," Boston said. "That was something that, when UK offered him, they asked him to share it on Twitter. I had to sit down with him and make a Twitter account with him. Most of these kids they've all got the social media and stuff like that. He didn't even have a Twitter account. Now if you go back and look through his Twitter account, it's nothing but him sharing his scholarships."
Clements doesn't even like to talk about his college offers with his coaches. Still a high school junior, he's enjoying the process and loving the game of football.
"He's not talking about any of them, not leaning one way or the other," Boston said about which schools Clements likes the most. "Just as they come, accepting them, being very humble. He doesn't say much. You're gonna hear yes sir, no sir."
Not only was he born in Kentucky, but Clements' father played football at both EKU and Morehead State during his athletic days in the 1980s. On top of that, UK Football is off to a historic start, something that recruits have quickly begun to take note of. The connections are there for a rising star such as Clements.
Kentucky has been on Clements since he was a freshman entering the high school ranks. He was already the biggest kid his age on the field and just as fast as his veteran peers. Kentucky's quality control assistant, Mark Perry, got a first-hand look at what was budding over in Henderson before anyone else did.
"They had came out the year before. Coach (Mark) Perry did," Boston added. "(Perry) came out and I pointed him out and said this kid is only a freshman. He looked at him and was like 'he's only a freshman?' He got on their radar then. Once UK offered, everything else started picking up."
The development has not slowed down for Clements since Perry came out to see him for the first time. Clements ran a 4.64-second 40-yard dash on a hand clock at Henderson County before Kentucky recorded him at 4.70 on a digital clock. No matter how you slice it, his speed is elite for his size.
"At such a young age, he was as fast as the running back," Boston said. "But he was the biggest lineman of all the kids. Out of all the kids, he was the biggest kid. But he was as fast as the running back. That's why I was saying when he was such a young kid, everybody kinda thought wait a second, this is different, we don't have people like this."
The class of 2023 in Kentucky is absolutely loaded with talent and Clements should be included among that bunch. He won't be under the radar for much longer.