How does an All-UK lineup in the NBA stack up against the Golden State Warriors?
[caption id="" align="alignnone" width="676"]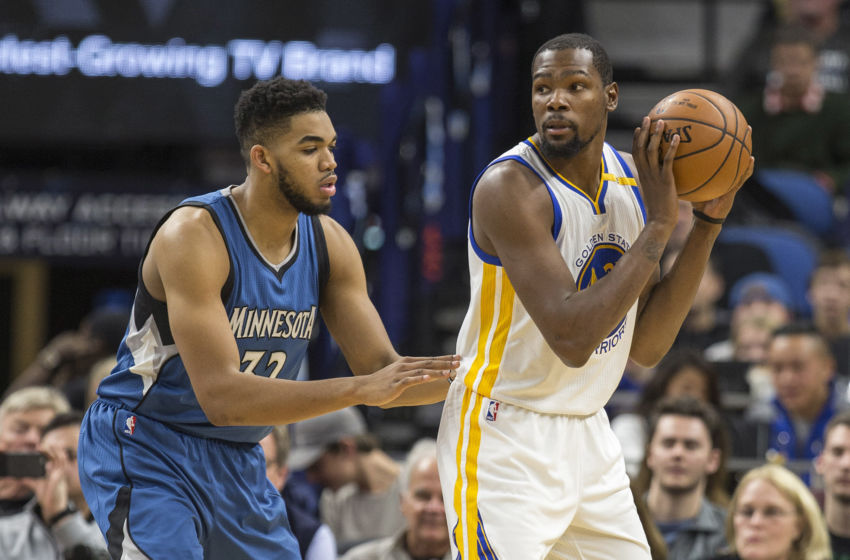 Mandatory Photo Credit: Jesse Johnson-USA TODAY Sports[/caption] A few weeks ago, UK deputy athletic director DeWayne Peevy told KSR listeners he had been in contact with the Golden State Warriors in an effort to get the team to Rupp Arena. His idea?
An All-UK vs. Golden State matchup for the annual Kentucky Alumni game.
At first glance, the idea seems like a blowout in the making, especially considering this Warriors team is considered arguably the greatest team in NBA history. When you break down the numbers, however,
Kentucky's superstars match up extremely well against the Warriors.
We saw the Warriors run through the NBA Playoffs like a knife through butter, losing just one game in 17 contests en route to their second championship in three years. But what would it take for an All-UK roster to take down the mighty Warriors? Let's break down the potential matchups:
John Wall vs. Stephen Curry
Wall: 6'4, 215 lbs. Seven years of experience. Curry: 6'3, 190 lbs. Eight years of experience. Traditional statistics comparison:
Advanced statistics comparison:
Wall is considered one of the fastest, most electrifying guards in the NBA. Curry, on the other hand, is the greatest shooter the league has ever seen. Curry finished last year with an astonishing true shooting percentage of 62.4% compared to Wall's 54.1%. Both very impressive, but Curry's numbers ranked among the top five in NBA history. The former Davidson guard also had a higher overall offensive rating, 118.1 compared to 111.2. Off the dribble, catch and shoot, spot up, etc., Curry can destroy you from deep in every way imaginable, being ridiculously efficient in the process. It's no secret, however, that Wall's biggest struggle in both college and in the pros has been his shooting beyond the arc. For his career in Washington, Wall has shot just 32.1% from deep, while Curry is a career 43% three-point shooter. But if you've watched Wall play - and you have - you'd know that's not where his bread is buttered. The former Wildcat star lives and breathes transition basketball, along with isolation baskets at the rim in half-court sets. The Wizards score 1.28 points per possession in the half-court offense with Wall as a facilitator and 1.5 points per possession in transition (1.13 points per possession with Wall alone.) 
Washington has finished in the top-four of fastbreak points scored per game the past two years almost entirely due to Wall's presence as both facilitator and scorer. 
Though Curry is the better scorer and more efficient shooter, Wall actually creates more points for his team on a daily basis. 
Wall creates 27.1 points per game from assists alone
, compared to Curry's 15.5. When you factor in Wall's 23.1 points per contest on top of his points created through assists, his total comes out to a whopping 
50.2 points per game
. Curry's? 40.8 total points created per game. Advantage: John Wall. Wall does commit more turnovers and gets fairly sloppy at times, but he still has a better assist to turnover ratio than Curry. A lot of this has to do with Wall having to put the team on his back and do the majority of work on his own, while Curry can play more relaxed with his All-Star peers taking pressure off his shoulders. The big debate right now between Wall and Curry involves defensive ability. Wall is the better athlete with better length, and averages more steals and blocks per game than Curry. Curry, however, is a tactician on the defensive end and allows just 100.9 points per possession compared to Wall's 107.3. When it comes to on-ball defensive intensity, Wall is considered elite and is known for making clutch stops when his team needs it most. Curry does an excellent job of playing the passing lanes and excels in help-defense situations, but the former MVP doesn't compare in one-on-one/isolation situations, where Wall thrives. https://www.youtube.com/watch?v=lHY3t5S8CyQ Curry is the most gifted shooter of all time, but Wall's ability to create for his teammates makes this matchup a draw.
Devin Booker vs. Klay Thompson
Booker: 6'6, 225 lbs. Two years of experience. Thompson: 6'7, 215 lbs. Six years of experience. Traditional statistics comparison:
Advanced statistics comparison:
One of Booker's biggest NBA comparisons coming into the league was Thompson, and now they have the chance to go head-to-head in the superteam matchup. Both players are similar in size, similar in athleticism, and have similar skillsets. Hell, both players put up almost identical numbers last season, only Thompson was slightly more efficient. The main difference?
Experience.
As the latter half of the Splash Brothers in Golden State, Thompson has carved out his role as a catch and shoot player. The star shooting guard has the ability to weave through traffic to find even the slightest bit of open space to catch a pass and launch it from deep, a skill he has nearly perfected. With Curry's presence, he is rarely asked to put the ball on the floor and create his own shot, but has shown the ability to if need-be. Booker, on the other hand, is the star of the show in Phoenix and has the ball in his hands like one. He's still considered a two, but the former Wildcat has transitioned to more of a combo guard with the ability to bring the ball up the court, thriving both on-ball and off. His teammates rely on him to create his own shot, both driving to the basket and from beyond the arc. His shots per game have jumped from 11.4 to 18.3 in just one season, and he's also taking over two more free throws a game, as well. The most significant statistic?
Booker's usage has increased, going from 23% to 28.4% in his second year, but his true shooting percentage, effective field goal percentage, 3PT%, FT%, and overall offensive rating have all either stayed the same or increased.
Oh yeah, and
Booker casually broke the Suns' franchise record for scoring 70 points in a game this season
against the Boston Celtics. Just the sixth player in NBA history to do so, no big deal. On defense, however, Thompson currently has a major edge on Booker. In the advanced analytics, Thompson gives up just 100.9 points per 100 possessions, while Booker gives up 110 points per. The 6'7 guard is usually tasked with defending the opposing team's most talented player due to his impressive length and never-ending stamina, and he usually produces. It has been reported that Thompson ran 77.6 miles on the defensive end throughout last season, yet he never seems to get tired. The scariest part?
Opponents shot 41.5% on Thompson last year, nearly 4% below the league average
. He's not going to rack up blocks or steals to stand out on any All-Defensive team, but he's going to be a pest on that end of the floor. As for Booker, most NBA analysts would consider the former Kentucky star's defense to be mediocre, at best. When opposing offenses set screens on him, Booker often gets caught in traffic and rarely catches back up to the shooter. He has a tendency to get bullied by stronger guards, especially toward or around the basket. In transition, he has shown some impressive spurts of success, but he has a lot of issues in the half-court set. With his length at guard, the defensive potential is there, but he's definitely going to be more offensively-driven throughout his career. Shooting wise, Thompson is more efficient, but Booker has already proven to be an elite scorer with ridiculous upside. On defense, Thompson thrives while Booker has a lot of work left to do. https://www.youtube.com/watch?v=Cuh9OzWcCEs
Thompson takes this matchup, but the difference isn't significant enough to make a massive difference in the game.
Karl-Anthony Towns vs. Kevin Durant
Towns: 7'0, 250 lbs. Two years of experience. Durant: Listed 6'9, actually 7'0, 240 lbs. Ten years of experience. Traditional statistics comparison:
Advanced statistics comparison:
The NBA is going away from a traditional one-through-five lineup, transitioning to the "positionless" basketball John Calipari has come to love.
The idea of Towns playing the three seems like a wild idea, but it's actually the perfect recipe for slowing down former Kevin Durant.
Towns had one of the most effortless transitions to the NBA we've seen in recent history. He came in the league as the No. 1 selection in the NBA Draft and became the first unanimous Rookie of the Year in history, averaging 18.3 points and 10.5 rebounds per contest to go with 51 double-doubles in his first year. He was just the 26th rookie in NBA history to average 18 points and 10 rebounds per game. In a game against KD's Thunder team two years ago, Towns switched onto the former Texas forward and not only held his own, but thrived. His polished offensive moves, physicality, and length weren't like any ole rookie, and it forced Durant to go into his bag of tricks to establish dominance. Durant won the first matchup, but he showed enough to make the former MVP tip his cap out of respect. After the game, Durant told reporters
"(Towns) is going to be a Hall of Famer in this league."
This past year, Towns averaged 25.1 points per game, identical to Durant's numbers, on 54.2% from the field and 36.7% from three. In the final Wolves-Warriors matchup of the year where the two players matched up throughout, Towns finished with 25 points and 18 rebounds, while Durant put up just 22 points and eight rebounds. The biggest problem with players defending Durant has been his ridiculous length. He's listed at 6'9 by the Warriors, but after heavy criticism and photo evidence of him being taller, he's since admitted to actually being  7'0 tall with a 7'5 wingspan. Even elite defenders with similar size like LeBron James struggle guarding Durant, as evident by the nightly blowouts in the NBA Finals. Towns, on the other hand, matches that length on defense, and returns similar ability to shoot the ball on offense. Durant is more athletic and has proven to be a better ball handler, but Towns has the footwork and lateral speed to stay in front of the Warriors star to defend a jumper or make a play at the rim. Durant is certainly the better player, but Towns has proven time and time again he is more than capable to return the punches right back in this matchup. We've seen Durant for years; we know exactly who he is as a player.
For Towns, we're just getting started.
https://www.youtube.com/watch?v=FZ_rRKCXpaY Durant maintains the edge right now, but there's no doubt in my mind Towns will surpass him in the next few years.
Anthony Davis vs. Draymond Green
Davis: 6'11, 255 lbs. Five years of experience. Green: 6'7, 230 lbs. Five years of experience. Traditional statistics comparison:
Advanced statistics comparison:
Similar to Towns, Davis exploded onto the NBA scene immediately as one of the most versatile bigs in the league. With the ability to bring the ball up the floor, shoot from mid-range and beyond the arc, and dominate in the post on offense, teams were nervous. When it came to Davis' defense, his ridiculous length and shot-blocking ability absolutely petrified opponents. Since then, Davis has turned into one of the NBA's biggest and brightest stars, holding a spot in the MVP race the past two years and almost certainly a candidate to win the award in the near future. He has developed a brand of his own and has become one of the most sought-after players in the league, as he's capable of scoring 30 points and 15 rebounds on a nightly basis. According to the Washington Post, advanced statistics prove that Davis is "one of the game's most-efficient player whether he is working out of the pick and roll (1.13 points per possession), in the post (0.98 PPP), or going one-on-one against a defender (1.03 PPP)." In the history of the NBA, only three players have averaged 27 points, 12 rebounds, and two blocks a game, with Shaquille O'Neal (2000-01) being the most recent.
Davis just did that
. Green, however, is also one of the league's top players and has the ability to produce triple-doubles at will. When he's not scoring, he can get you the clutch rebound, assist, block, or steal you need to win a game. As easy as it is to hate on the guy for his on-court antics,
Green is an absolute winner and goes to war for his teammates each night
. Green is a pest on defense and can guard just about every position on the floor, but Davis is a whole different animal on both ends of the floor. His length allows him to score over anybody in the league both facing away from the basket in the post and toward it on face-up jumpers. He's polished, he's athletic, and he has the motor to compete against anybody. With his versatility, Davis also has the ability to switch onto Durant without skipping a beat if Towns is struggling. He has shown the ability to defend all forward positions, and can even hold his own against larger guards for shorter periods of time. https://www.youtube.com/watch?v=Hb-sijqow5E Anthony Davis is an All-NBA, All-Defense, All-Star, and Inspector Gadget-like MVP candidate all mixed into a single eyebrow. He's like a science experiment gone incredibly right. Green is a great player, but Davis takes this matchup by a significant margin.
DeMarcus Cousins vs. Zaza Pachulia
Cousins: 6'11, 270 lbs. Seven years of experience. Pachulia: 6'11, 275 lbs. 14 years of experience. Traditional statistics comparison:
Advanced statistics comparison:
This would easily be the most overwhelming matchup of the game, as Cousins is considered one of the NBA's most dominant big men since Shaquille O'Neal, and Pachulia is, well, just Pachulia. Cousins averaged 27 points per game last season on a true shooting percentage of 56.2% and effective field goal percentage of 50%. In the past few seasons, Cousins has worked on extending his range, shooting five threes per game in 2016-17 at a rate of 36.1%. Not the best, but impressive for a guy not known for shooting in his first half-decade in the league. In the paint, however, Cousins shot 56.4% from the field, filled with some of the most polished post moves the basketball world has ever seen. The Warriors rarely go with a true center for extended minutes, with Durant and/or Green usually playing both "big" positions in small ball situations and Iguadola running the three. With a frontcourt of Towns, Davis, and Cousins, however, the Warriors would have their hands full and need to throw in some legitimate size to counter. Pachulia's statistics are bloated on this Warriors roster due to easy baskets, and even still, they aren't anything special. The ball rarely goes through Pachulia, with the majority of his baskets coming on layups and dunks. Pachulia would likely rotate in with JaVale McGee and David West to compete with Kentucky's size, but the talent separation is massive from anything Golden State has to offer down low. In this game of Boogie vs. the Warriors last season, Pachulia was injured and did not participate, but you can see how easily Cousins was able to dismantle Golden State's front line. https://www.youtube.com/watch?v=uBusBSDqaqs Pachulia (or whoever the Warriors decide to start at center) doesn't stand a chance.
Significant edge to Boogie Cousins here.
Bench:
Kentucky: De'Aaron Fox, Jamal Murray, Willie Cauley-Stein, Malik Monk, Julius Randle, Michael Kidd-Gilchrist, Tyler Ulis Golden State: Andre Iguadola, Nick Young, Omri Casspi, Shaun Livingston, David West, Damian Jones, JaVale McGee Iguadola and Young are impressive bench pieces for the Warriors, but they aren't enough to move the needle. Iguadola has been a Finals hero in recent memory, but his game isn't what it used to be. He made a career out of high-flying dunks and superior athleticism, but he's now seen as a defensive specialist and the fifth or sixth scoring option. Michael Kidd-Gilchrist may not be an offensive powerhouse, but he can shut down Iguadola's offensive production, while any of Monk, Fox, and Murray can shut down Young. Beyond Iggy and Young, Golden State's bench takes a significant nosedive in talent. Offensively, Kentucky's bench would light up the scoreboard on all three levels. Tyler Ulis and De'Aaron Fox have the ability to drive to the basket and score with ease, or pull up for mid-range jumpers if given space.  Michael Kidd-Gilchrist is the perfect slasher for this roster, creating several buckets at the rim. Malik Monk and Jamal Murray, two of UK's greatest shooters of all time, can float beyond the arc and hit all the open threes they can handle. Willie Cauley-Stein provides the Wildcats a unique defensive-minded big with unbelievable athleticism, while the newly-upgraded Randle acts as an enforcer in the paint to grab rebounds and give the corpse of David West all he can handle on offense.
The Wildcat bench destroys Golden State's, and it isn't even close.
Salary Cap (2017-18)
The most significant part of all of this?
This team would be 100% eligible to compete in the NBA under the salary cap restrictions. 
The 2017-18 salary cap, though several million less than the anticipated cap, is still set at $99.09 million. The combination of these former Kentucky superstars finish just over that threshold, but still remain in good standing with the NBA. John Wall- $18,063,850 Devin Booker- $2,319,360 Anthony Davis- $23,775,506 Karl-Anthony Towns- $6,216,840 DeMarcus Cousins- $16,784,031 Bench: Michael Kidd-Gilchrist ($13,000,000), De'Aaron Fox ($4,609,200), Jamal Murray ($3,355,320), Willie Cauley-Stein ($3,704,160), Malik Monk ($2,904,480), Julius Randle ($4,149,242), Tyler Ulis ($543,471), other vet minimum contracts.
Total cap hit: $99,425,460.
Though the total cap number is above the $99.09 million limit, teams are allowed to go over the cap to sign rookies and re-sign their own players under the Bird Rights provision. Teams that go significantly over the cap must pay a hefty luxury tax fee, but this Kentucky roster's tax bill would be slim to none. And even if it was massive, any competent owner would fork over the extra money to keep this gem of a team together. Also, you can always sign players for the veteran minimum, so if guys like Terrence Jones, DeAndre Liggins, Rajon Rondo, Darius Miller, Doron Lamb, etc. want to join in on the fun, they are more than welcome to.
Consensus:
While the Warriors possess four of the top twenty players in the NBA, the All-Kentucky team provides the perfect mix of superstars, seasoned veterans, and up-and-coming studs. With a relatively balanced starting lineup between both teams, things would look relatively even to start the game. After some of the bench players from both teams entered the game, the Wildcats would take over and never look back.
Moral of the story, not only would an All-UK lineup have a chance to defeat the Golden State Warriors, I believe they'd come out on top more often than not.
Follow me on Twitter:
@JackPilgrimKSR