How good actually were Georgia and the SEC East this year?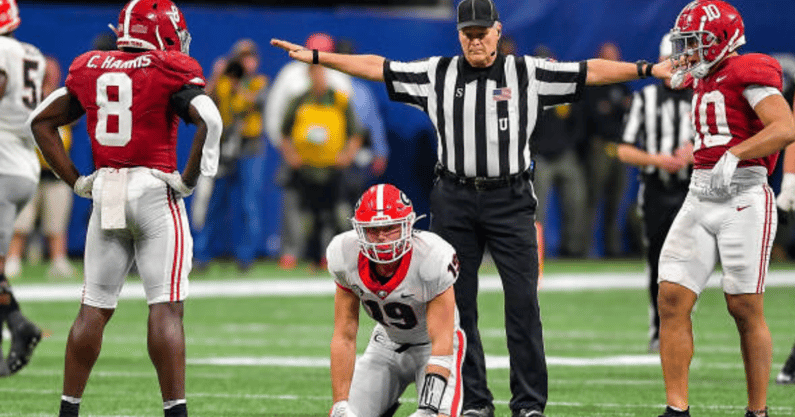 One game. All it took was one game against *checks notes* seven-time national champion Nick Saban for everyone to swiftly abandon a Georgia team that was heralded as one of the best defenses in college history just a week ago. One SEC record performance from Bryce Young and suddenly Georgia and the SEC East was dubbed a bunch of frauds by anyone and everyone on Twitter.
Why did everyone jump to this conclusion?
I think there are a few things that went into everybody's immediate reaction to Georgia's stunning embarrassment in Atlanta on Saturday. For one, people went straight to look at the SEC East standings as the clock was ticking down and they realized they were looking at the wrong shade of blue.
So often people are expecting to see Florida right behind Georgia as fake contenders. Instead, their eyes were forced to gaze on a UK logo as the second-best team in the league. To the average viewer who likes to speak as if they know what's going on, Kentucky is a basketball school. If Kentucky is second in the East? Oh boy, the SEC East must've really stunk.
The whole lesson from Any Given Sunday was that the best teams don't always necessarily win every time they play. It took Bryce Young having the game of his life and Stetson Bennett forgetting how to play quarterback to make this game possible. Honestly, if you take out just two of the many ridiculous pass plays from Jameson Williams and John Metchie, this game would have looked far different.
I'll just be straight up on this one, people are clowning Georgia today because the internet is full of haters. It's way more fun to hate on something and get into an amusing debate with a random person for an audience on the internet.
Georgia was far and away the best team in the country all year. People online, with actual brains, are trying to say that the Bulldogs played a joke schedule and shouldn't have been taken seriously. They literally started off the year by beating Clemson. Yes, Clemson wasn't their usual self this year (still finishes 9-3), but you're seriously going to use Dabo Swinney's failure this year along with the failure of some other SEC East programs as an indictment on Georgia? C'mon.
But seriously, was the SEC East that bad?
If you want to look strictly at records and make your ultimate decision from there, sure. The SEC East stunk. Kentucky finished second in the East with a 9-3 record overall and a 5-3 record in the SEC. The last time they did this, they went on the beat Penn State in the Citrus Bowl.
Taking a step back and using any sort of reasonable thought, the SEC was still a class above everyone else. SEC East teams went a combined 21-3 this season against non-conference opponents. This stat obviously disregards Vanderbilt as we're still not entirely sure if their football program isn't just a front for some illegal operation.
Tennessee had more than enough problems that allowed the rest of the college landscape to revel in their misery the past few years. If you look at their team this season, they were not as bad as their record displayed. They got off to a rough start with Hendon Hooker. Somehow they flipped some switch that allowed them to be one of the best offenses the rest of the way.
Unfortunately, they did beat Kentucky in Lexington. Even though we remember it as the mustard game, they were close with Ole Miss who is a top-10 team. Even Josh Heupel was getting tweets about going to Oklahoma for about an hour.
Florida is one of the few teams that deserve all the hate and vitriol from college fans in the SEC East based on their preseason projections. Emory Jones was gifted the Heisman before the season for some unknown reason without showing anything yet. His failures, along with the odd nature of Dan Mullen, made for an abysmal year at Florida. We'll give the internet that one.
What about the basement dwellers?
What else did you expect from the trio of South Carolina, Missouri and Vanderbilt? Vandy is just legit bad, and as I said, I have serious concerns that they aren't even a real football program. Missouri underperformed this year; Connor Bazelak was supposed to be a good quarterback but failed. South Carolina was starting a grad assistant to begin the year. It was a mess at the bottom of the conference.
Yet still, South Carolina and Missouri had winning records against non-conference opponents. Even if the best of those wins were against Eastern Carolina.
Did the SEC East look bad this year? You could say that. Did Georgia run through the entire league like it was more of an inconvenience for them than anything else? Absolutely. That doesn't mean you have to believe the trolls who immediately look towards the dumpster of the SEC East as to why Georgia lost. Georgia lost because Alabama is a really, really good team. So are the Bulldogs. Odds are high that teams meet again in the playoff, and I would not expect to see the same type of result again.