How He'll Be Remembered: Karl Towns
Over the next several weeks, we'll be profiling each of the seven Kentucky players going pro. Last week, Drew kicked things off with a profile of Willie Cauley-Stein, and next up in the rotation is Karl-Anthony Towns. 
---
On the radar early
Karl Towns first popped up on our radar nearly four years ago as an eighth-grader. Karl--then known as Karl Towns, Jr.--was already playing on the U17 Dominican Republic team for Orlando Antigua's twin brother, which meant he inevitably crossed paths with John Calipari, who began coaching the DR National team in the summer of 2011. Both a basketball and baseball star, Karl was already 6"10", had a 4.0 GPA and interest from Kentucky, Florida, Texas, and Oklahoma. Almost a year later, Calipari's recruitment of Karl Towns really ramped up and
we got our first quote from Karl about Kentucky via Adam Zagoria
. "Kentucky's a great school. I already took a nice visit down there. I think the school is just amazing. It's just seeing how the future unfolds for me." Karl played for Calipari and the DR National Team in the summer of 2012 and spent some more time in Lexington training with his squad. Unlike 99% of elite high school basketball players, Karl never played on the AAU circuit, choosing instead to spend his time playing with and against professionals on the DR National Team, a decision that would mold him on and off the court for years to come. After an impressive summer, Towns was named Scout.com's #1 player in the 2015 class in July 2012. In October 2012, Karl visited for Big Blue Madness, where he got his picture taken with fellow recruits and--unbeknownst to them at the time--future teammates Trey Lyles and the Harrison Twins:
Karl becomes a Cat
https://youtu.be/3XA0gqnT1bM On December 4, 2012, Karl Towns finally committed to Kentucky and reclassified to 2014. We were all excited then, but if we had known just how awesome Karl is, I bet we'd have the same reaction as his mother in that video. A few of Karl's comments from that day:
On UK fans: "I feel like if (UK fans) were to trip and fall and start bleeding, no blood would come out; just basketballs would come out of the cut."
Why he chose Kentucky: "I just felt the most comfortable there and they have a great kinesiology program, which is what I want to study. That had a lot to do with my decision."
First impressions of Coach Cal: "I thought he was going to be really loud and really crazy and I was right on both."
This was just the start "Karl being Karl."
The Gatorade National Player of the Year speech
https://youtu.be/vJK_B7DEI7M In March 2014, Karl was named the Gatorade National Boys Basketball Player of the Year and in July, he accepted the award at a ceremony in Los Angeles. At this point, we knew Karl was a phenomenal player, but his acceptance speech showed he's a phenomenal person as well. Karl became emotional as he spoke about the sacrifices his family made to help him achieve his dream, including his father working multiple jobs and building Karl his own backyard basketball court, complete with a rim Karl Sr. shaped by hand. If that speech doesn't make you a little emotional too, I don't want to know you.
Those feet
Karl wears a size 20 shoe, the largest ever by a Kentucky basketball player. Karl's feet became celebrities in their own right, with fans everywhere requesting "shoefies." I couldn't resist in the Bahamas:
And again during a boring media opportunity in Louisville:
Coming through in the clutch
Early on, Karl asserted himself on defense as a blocking machine. He and Willie locked down the post, and as the season progressed, Karl developed some go-to offensive moves, including his hook shot, which saved Kentucky against Notre Dame down the stretch. When in doubt, the Cats went to Karl, who helped drag them to 38-0 by going 8-8 from the field in the second half. Calipari said they tried to do the same thing in the second half against Wisconsin, but the passing lanes just weren't there. Karl is a perfectionist and the best example I can remember of that is after Kentucky beat Hampton in their first game of the tournament. Karl had an impressive stat line--21 points, 11 rebounds, and 3 blocks--but instead of being happy in the locker room afterwards, he was noticeably frustrated with himself for missing a free throw. "Big thing for me is I missed a free throw which was very disappointing for me," Karl said. "I'm going to have to sleep with that." What 19-year-old 7-footer says that?
His charity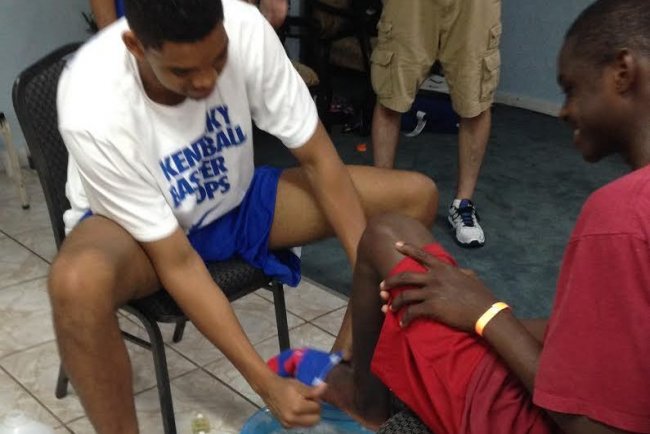 There are a lot of great stories about this team's work in the community, and this one from the Bahamas is no exception. While washing local children's feet as part of a community service activity with Samaritan's Feet, the team ran out of a certain size sock, which meant one child wouldn't receive a pair. According to UK assistant media relations director Deb Moore, Karl took off his own new Captain America socks to give to the child, placing them carefully on his feet. Awesome.
His theatrics
I like to think of Karl as a drama kid trapped inside a 7-footer's body. On and off the court, Karl is not afraid to express himself, something he says his parents encouraged from the start. In fact, Karl's teammates used to call him "Karl Kardashian" because he was so dramatic. For instance, remember when he flexed after shutting down Montrezl Harrell at the Yum Center? Or his shimmy vs. Texas A&M? Or his confetti bath at the SEC Tournament? Or, regrettably, his technical for hanging on the rim at LSU? I won't bother sharing that one, but Calipari was so pissed about it that three seconds later, he cheered after LSU made a huge three:
I would say Karl was done with the theatrics after that one, but about an hour later, we were treated to...
His Photobomb
Karl snuck behind John Calipari during a postgame interview at LSU and gave us this unforgettable photobomb, which sparked a series of photobombs by the entire team. There were so many fun moments this season, but Karl's photobomb ranks right at the top. Right next to...
His imaginary best friend, Karlito
We first found out about "Karlito," the little man on Karl's shoulder, in mid-February when John Calipari told reporters that Karl often turns his head to the side and mumbles to himself during games. "He's such a great kid, he doesn't want to talk back to you, so he turns his head to the side and talks to that little man on his shoulder," Coach Cal said of Towns' imaginary friend. "After he started doing it, I said, 'Who are you talking to?' And I can't remember which of the coaches gave it the nickname: 'He's talking to Karlito.'" From there, Karlito took off, to the point that we were all kind of tired of it a few weeks later; however, that didn't stop the national media from picking up on the story during the postseason, and Karl being Karl, he politely answered each question about Karlito. Karlito even signed...
His handwritten letter to the BBN
We've seen a lot of great players go through the Kentucky basketball program, but I'd argue that Karl has a special bond with the Big Blue Nation. From the minute Kentucky began recruiting him, Karl talked about the importance of the fans at Kentucky and it became clear over time that it wasn't just a line players say--he truly means it. Whether it was changing his name so his initials were KAT, becoming best friends with random UK fans in the Bahamas,
storming the court at the Calipari Fantasy Camp
, or writing forty drafts of a handwritten goodbye letter to the Big Blue Nation, it's clear Karl "gets" what it means to be a Kentucky basketball player. Back to that letter. Whereas most of his teammates posted a picture on Instagram or a message on Twitter to Kentucky fans, Karl told KSR listeners he felt obligated to go one step further, writing a series of handwritten letters to the fans, the coaches, the players, and the university. Here's his letter to the BBN: When asked why it was so important to him to handwrite the letters, Karl simply said of the fans, "They deserve the best of me."
(Confession time: I started writing this entire post by hand and was going to scan it to put on the site, but my handwriting--once really good if I may say so--has gotten so bad over the years that it was nearly illegible. This is what technology has done to us.)
If you haven't yet, be sure to listen to Karl's entire interview on KSR:
The #1 pick?
The best part about Karl is, if everything goes right, he may get the future he deserves. Right now, most mock drafts have Karl going first in the NBA Draft ahead of Jahlil Okafor, and there's a good chance that #1 pick could belong to the New York Knicks, Karl's hometown team. Can you imagine a better player to rebuild a historic franchise around than Karl? I can't.