How Kentucky Beats Ole Miss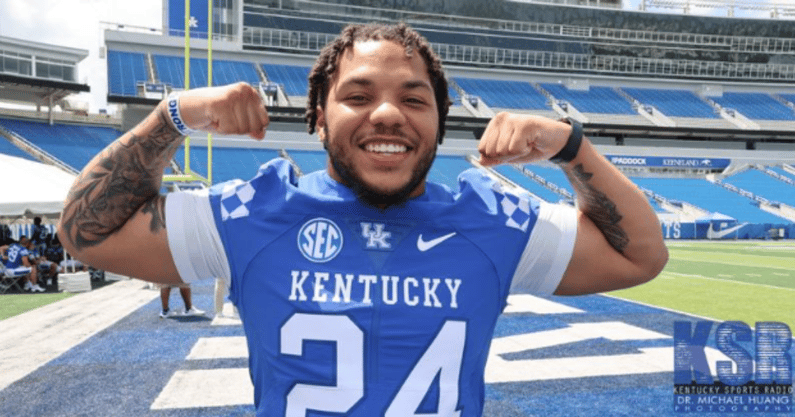 Saturday could be considered as "Opposite Day" when No. 7 Kentucky takes on the No. 14 ranked Ole Miss Rebels. The Wildcats have traditionally relied on a run-first offense and a stingy defense during its 15-3 recent run of success. 2022 has been different. Mark Stoops features an explosive passing game led by superstar quarterback Will Levis and multiple big-play pass catchers. The 'Cats have produced 48 pass plays of 10-plus yards and 16 catches that exceed 20 through four games. UK's newfound explosion was highlighted after Levis tossed touchdown passes against Northern Illinois that covered 49, 69, and 70 yards. 
Ole Miss was a track meet on grass a year ago behind the arm and legs of quarterback Matt Corral. 2022 has been a different approach from different players, many of which came to Oxford via the transfer portal. The Rebels run the football well over 60% of their snaps and are ranked first in the SEC after rushing for 281 yards per game. Lane Kiffin still likes to go fast, but the run has surpassed the throw on his call sheet. The Rebels' defense has been terrific, giving up just 312 total yards per game. Let's get into specific goals and expectations. 
OFFENSE
All-SEC RB Chris Rodriguez Jr. is back. Those words are music to the BBN's ears. The senior could serve as a remedy to UK's run-game woes. The Wildcats enter Saturday averaging 2.4 yards per carry and 81.5 rushing yards per game. C-Rod averages over six yards per rush. 
25 allowed tackles for loss is another concerning number that Rodriguez Jr. may help to improve. Will Levis has been magical. Ole Miss understands that and will go all out to pressure the QB in the pocket. Kentucky has given up 16 QB sacks, which ranks last in the SEC. I fully expect the Rebels to create havoc and pressure in the pocket. UK will counter by making Ole Miss pay on the back end against man-to-man coverage. 
Ole Miss deploys a 3-2-6 defense. This scheme features up to four safeties on a single snap and is somewhat odd. It also has been highly effective. The Rebels are allowing just 3.2 yards per carry and 119 yards on the ground per game. Opponents have passed for 192 yards per outing but are only scoring 10-points per game, which is good enough to be ranked 6th in the nation. This scheme is intended to create confusion and havoc while not giving up the home run shots through the air.
Here are Kentucky's offensive goals for Saturday. 
Let 24 be 24
C-Rod is back. He's also mad and eager. Rodriguez Jr.'s performance could serve as a gauge of the offensive line's progress. This is based on his excellent vision and understanding of how to set up and read blocks. Both traits have been questionable during his absence. Matt Jones set his over/under at 80 yards for C-Rod. If he exceeds this number, the 'Cats win. 
Protect Levis 
As stated above, Levis has been sacked 16 times through four games. Some of those have been on the signal caller. Others have been one-on-one losses. Regardless of the how, opponents have thrown the kitchen sink at the young Big Blue Wall. I'd fully expect that to happen on Saturday. Two or fewer QB sacks is the goal here. 
Six Points in the Red Zone
This game could be won or lost in the Red Zone. Ole Miss has been great inside the 20. UK has not. The Rebel offense has scored touchdowns on 90% of their trips. UK's mark is 53%. The Wildcats can't settle for field goals and must score six points on 70% of their trips inside the 20-yard line. 
DEFENSE
Much like previous seasons, Brad White is producing another Top-5 SEC defense. The 'Cats are giving up 108 yards on the ground. Opponents have rushed for 3.7 yards per carry. These numbers will be tested against Ole Miss. Kiffin's offense is averaging 281 rush yards per outing. Quarterback Jaxson Dart averages 174 yards in the passing game. 
Running back is a positional strength for Ole Miss. Freshman Quinshon Judkins leads the team by averaging 107 yards per contest, which ranks second in the league. TCU transfer Zach Evans is questionable for Saturday's game which all but assures that he'll be in the lineup. Evans has scored four touchdowns and averages 91 yards per game. Dart has yet to light it up in the passing game but has a group of pass catchers that are talented. They're led by Jonathon Mingo's 21 yards per grab and Mississippi State transfer Malik Heath's 13 catches for 257 yards. USC transfer TE Michael Trigg has a world of potential but is averaging only seven yards per reception. Louisville transfer Jordan Watkins is another key contributor. Here's what UK has to do in order to win the game. 
Bend but Don't Break
It's unrealistic to expect the 'Cats to shut down the Ole Miss run game. There will be yards and first downs that are gained. The Rebels have been excellent in the Red Zone by scoring 19 touchdowns in 21 trips. UK has to force the home team into field goals by lessening that number to 60% or fewer. 
Set the Edge
Dart is effective in the RPO game. There will be a bunch of shiny lures that are intended to deflect eyes and put edge defenders in can't-win situations. Jordan Wright is playing but JJ Weaver is not. His absence will limit the Wildcat defense. The 'Cats have to be strong and sound during Dart's first and second reads.  
Tackle
Judkins and Evans are powerful runners. Getting both to the ground will be a challenge. Missed tackles against Ole Miss have resulted in touchdowns or explosive plays. Dart is also shifty. UK has tackled well in 2022. Saturday needs to be their best effort of the season. 
SPECIAL TEAMS
SEC road games are incredibly difficult to win. Two factors most always decide these contests: special teams and turnovers. The major objective for Saturday is to play clean in the third phase and not lose hidden yards.
What Does All This Mean? 
Kentucky's season starts in Oxford. The 'Cats survived four games without Chris Rodriguez Jr. and boast a perfect record. UK is also the more seasoned team after beating Florida in The Swamp and has faced a tougher schedule that included the two programs that are favored to win the MAC. Ole Miss's slate has been less daunting. The Rebels defeated Troy, Central Arkansas, Georgia Tech, and Tulsa. 
There will be multiple factors that could lead to a Kentucky win. It's mandatory that the 'Cats win the turnover margin and be clean in the third phase. The Red Zone could play an important role in deciding the contest's outcome. Both defenses are upper-echelon SEC units. Will Levis will be the best player on the field. This, and the return of Rodriguez Jr., gives Kentucky the edge. 
Buckle up, this should be a physical game with a great deal on the line.