How Kentucky Beats Southern Miss
[caption id="" align="alignnone" width="850"]
Mark Zerof | USA Today
[/caption] We're only days away from the most important football game of the year. Why is it the most important? Easy answer, because it's the first game on the schedule. Last night, 
Tyler Thompson wrote a fantastic article about Saturday being the most critical game of the Mark Stoops era.
While all games are significant, a win over Southern Miss would greatly boost fan morale and act as a tangible indicator of the program's progress. An opening game loss would be devastating on many levels and accompanied by an overabundance of negative ramifications. For the record, I've stated many times that Southern Miss is better than South Carolina and Missouri. USM vs. Vanderbilt would be a toss-up. This is not your average opening day opponent. Beatable, absolutely.
USM should be respected; however, don't be logo fooled as the Golden Eagles are formidable and led by a dynamic veteran quarterback.
Let's take a look at 3 factors that will help Kentucky's chances to win the football game:
  [caption id="" align="alignnone" width="534"]
(Photo: Jim Brown-USA TODAY Sports)
[/caption]
OFFENSE
-- 60% completion percentage would mean an increase of 7% from 2015.
Necessary schematic implementations and pass catcher progress could lead to a higher passer efficiency rating for Drew Barker. If UK completes 60% or higher, then Southern Miss will be forced to respect the pass and prevent it from stacking the box in order to slow down JoJo Kemp, Boom Williams, and company. -- 
No turnovers
is every coach's best case scenario. In a football game that could go back and forth on the scoreboard or decided by who has the football last, a turnover could potentially lead to a two-touchdown deficit. Eddie Gran has claimed that his offense has a propensity for protecting the football.
Ball security will be vital on Saturday.
 -- 60/40 run-pass ratio
is the optimal percentage to beat a team like Southern Miss. The best way to stop, or at a minimum, slow down QB Nick Mullens is for him to stay on the sidelines. The BBN wants and craves a NASCAR offense that snaps the football every 10 seconds. That won't be realistic on Saturday as Mark Stoops will be required to manage the clock as much as he manages the team. USM has explosive offensive players at each skill position. An effective ball control running game will be central if UK is to start the season 1-0. *An add-on to this factor is that
Kentucky must rush for 200 yards or more.
No matter if its by committee or a single running back dominates,
UK has to win the running game.
An operative rushing attack assists in clock management which in turn will lower the number of offensive opportunities for Nick Mullens. The USM defensive line averages 251 pounds. Kentucky will have a significant line-of-scrimmage size advantage. It will need to benefit from quality offensive line depth and increased competence.   [caption id="" align="alignnone" width="746"]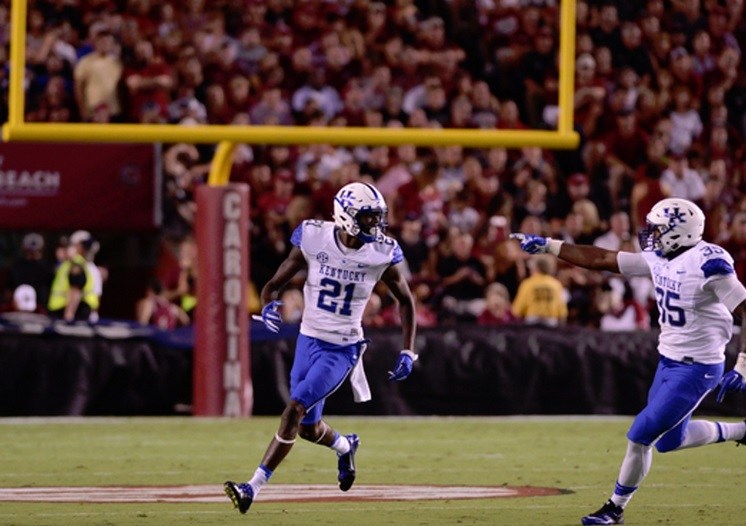 Photo by UK Athletics
[/caption]
DEFENSE
-- 120 or less rushing yards.
USM averaged 83.8 rushing yards per game in its five losses from a year ago. While QB Nick Mullens grabs headlines and is the focal point of concern, the common denominator in USM's 2015 losses was the lack of a production on the ground.
RB Ito Smith is a game-changing athlete who excels as a runner, pass catcher, and kick returner. Limiting the most controllable (rushing) will hamper USM's strategy.
-- 3 quarterback sacks would be preferable for DJ Eliot
. How and where those sacks will come from will be a point of contention for a defense that managed a mere 17 QB sacks in 2015. Both USM offensive tackles will be making their first start on Saturday. Kentucky edge rushers will have the experience and dexterity advantage. All three of the defensive keys to the game could focus on QB Nick Mullens.
However, the best way to beat a great quarterback is to limit those around him.
Have no doubt, Mullens will have shock and awe completions. However, limited offensive drives and a consistent pass rush will only enhance UK's chances.
-- 35% on 3rd down conversions
which would be well below its 47% average in 2015. This data is difficult to validate due to a new offensive coordinator. Forcing punts in change of possession downs normally leads to a win.
SPECIAL TEAMS
-- No explosive plays for the Golden Eagles.
As mentioned above, Ito Smith is a dynamic kick returner. Coverage teams must be aware of where number 25 is on the field at all times. Historically, Southern Miss has attempted a high number of special team's trick plays. A new coaching staff skews this estimation.
-- Average 41 yards or more per punt
is asking a great deal from a first time punter. Regardless if its Grant McKinniss or Brian Kirshe, UK has to increase its field position standing from a year ago when it ranked near the bottom of the SEC.
-- Increase punt return yardage
. Last season's average of 6.8 yards per return led to the majority of offensive drives starting on the wrong side of the 50 yard line. That number has to increase to 12 plus yards on Saturday.
We are oh-so-close to kickoff. One way or the other, reality is coming soon.