How Kentucky Football's schedule shakes out against SEC opponents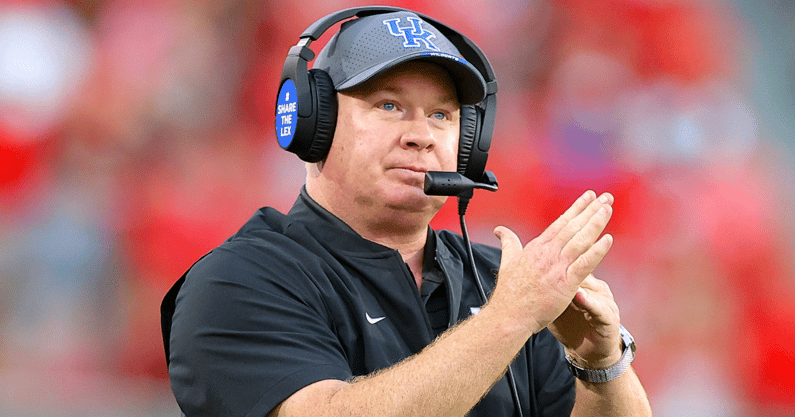 Now that the NBA Draft has passed, it's time to fully prep for college football season.
Coming off one of the more successful seasons in program history, Kentucky football will look to keep its momentum going as it hits the decade mark under the leadership of Mark Stoops.
UK will likely see a number next to its name when the fresh batch of rankings appear in the coming weeks, and for good reason. As stars like Wan'Dale Robinson and Darian Kinnard exited the door to the NFL, Stoops and Co. replenished in multiple positions and are once again primed to contend at the top of the SEC East.
As is the standard in the Southeastern Conference, a gauntlet of some of the best teams in the nation will await the Wildcats on a week-to-week basis. Missouri and Vanderbilt will be there, too.
The east obviously pales in comparison to the counterparts in the SEC West, but the top half of the pack will be as grueling as any set of opponents in the country. Luckily for Kentucky, the schedule may end up shaking out in a more favorable position, allowing the 'Cats to catch some teams at better times throughout the season.
Week 2: Florida in Gainesville
Kentucky has now taken two of the last four matchups against the Gators, and that's really the only good way to spin-zone the Wildcats' track record when taking on UF.
Florida's trajectory as a program is arguably up in the air, and it can no longer hold the streak over the heads of Big Blue Nation. The streak was broken inside Ben Hill Griffin Stadium in week two of the 2018 season, of course. Catching Florida early once again this season may be a good thing for UK.
The Gators have no cupcake in week one, as they will host the defending Pac-12 Champions, Utah. The Utes could possibly carry a top-10 ranking into Gainesville and will have a major statement-making opportunity to kickoff the 2022 campaign.
It won't be easy ironing out the kinks against a valiant Power Five opponent, and having to turn around and take on another top-25 team that early on in the season may be too much for Billy Napier's first go-round at UF. Winning in Gainesville at night will be no easy task, however.
Week 5: Ole Miss in Oxford
Ole Miss' SEC opener will come against the Wildcats inside Vaught Hemingway Stadium, a place UK has not played at since 2010 when Joker Phillips' squad fell 42-35 in what is now a vacated win for the Rebels.
There's no sugar coating this one — this will be the first real test of the season for Ole Miss. Aside from a visit to Atlanta to take on Georgia Tech in week three, there likely won't be many challenges facing Lane Kiffin's group before UK comes to town. This of course means I'm doubting Troy, Central Arkansas and Tulsa to get the job done.
The Rebels will also kick Kentucky's SEC schedule into full gear as the first of seven straight conference games. There will be plenty of tuning for Stoops to attend to, as Kentucky takes on Youngstown State and Northern Illinois before heading to Mississippi.
Kiffin has worked some magic in the transfer portal, but it remains to be seen if those pieces are going to be capable of replacing the offensive juggernaut he had a season ago. Regardless, Ole Miss should be undefeated heading into the game, and it will provide the Wildcats with an opportunity to prove it can be a permanent staple at the top of the conference.
The last time Kentucky defeated Ole Miss in Oxford? 1978. The 'Cats have claimed four home wins over the Rebels since then, and came ever-so-close to a fifth in 2020, falling 42-41 in a barnburner.
Week 6: South Carolina at home
This goes without saying, right?
It's been 10 years since the Gamecocks vanquished UK in Lexington, and Steve Spurrier versus Phillips is as big of a coaching mismatch as I can think of.
Spencer Rattler will be receiving quite the introduction to the SEC, as the Gamecocks head to Arkansas in week two, only to host Georgia the following week. South Carolina will have back-to-back tune-ups before making the trek to the Bluegrass, but a Gamecock win at home feels automatic at this point.
The 'Cats could be reeling from a loss to Ole Miss, but a loss to South Carolina would be a real punch in the gut at this point in the Stoops era. Oh, and no Darude Sandstorm.
Week 7: Mississippi State at home
Say what you will about the idea of revenge games, but boy would UK like to get a win back on the Bulldogs after last season's diabolical performance.
Luckily for UK, it'll be catching Miss State in the midst of its hardest stretch of the year. Mike Leach's team will head to Kroger Field following a two-game home stand against Texas A&M and Arkansas. Not to mention that following the game against Kentucky is a date with Alabama inside Bryant-Denny Stadium.
There's probably no bigger wildcard than the Bulldogs, but UK has found victory over them in the previous three meetings in Lexington. BBN would love nothing more than another 24-2 victory heading into a bye week.
Week 9: Tennessee in Knoxville
There are good memories associated with the last time UK visited Neyland Stadium. The Wildcats haven't won consecutive games in Knoxville since 1962-64, however.
Kentucky will have all of the prep time in the world, as it has its bye in week eight. The Volunteers will be battle tested by the time October 29 rolls around, having already squared off against Florida, LSU and Alabama.
As is the same with Florida, there is no set of stats in the world to make BBN feel good ahead of a trip to Knoxville. But like UF, the monkey is no longer on the back of UK, and beating the Vols feels like a very accomplishable feat, especially with an added week of rest.
There's no telling where UT will be in the rankings come the end of October, but if it's anything like last season, there will be plenty of points to go around in round two between Stoops and Josh Heupel.
Week 10: Missouri in Columbia
As easy as it is to point fingers and laugh at Mizzou, winning in Columbia has not been easy for Stoops, as UK is 2-2 at Faurot Field during his tenure. Three of the Tigers' four wins against UK have come at home, as well.
Kentucky returns home the following week to take on Vanderbilt, and assuming that Mizzou hasn't made a huge jump in year three under Eliah Drinkwitz, it SHOULD be business as usual.
That being said, UK will likely scathe out a win in the dying embers of one of the worst football games of the decade via a Matt Ruffolo field goal, because of course it will. Some things never change.
Week 11: Vanderbilt at home
It's currently a six-game winning streak for Kentucky against the Commodores. So it should turn into seven this season, right?
Because I must, I'll float out the idea of this being a trap game, with Georgia coming to town the following week. If the 'Cats are where they want to be at this point in the season, then obviously there should be no issues blowing by the 'Dores.
Playing Missouri and Vanderbilt back-to-back late in the season could be a blessing, but it damn sure could also be a curse.
Week 12: Georgia at home
Wouldn't it be nice if this game was for the SEC East?
On face value in the preseason, it's fine to think of this as a possibility. If you're wanting to catch the Bulldogs at a certain time, it probably isn't week 12. There's a solid chance a number one may be next to their name, and Kirby Smart will have the machine churning out touchdown after touchdown.
But think of the potential drama associated with a game like that. Last season's top-10 showdown was great in the lead-up, but there was so much more football to be played, and it felt like a formality that UGA would clean house.
There is a very real chance that this game means nothing more for UK than a chance to maybe snag New Year's Day bowl contention before taking on Louisville, versus maybe heading down to Nashville for some Music City action. That may be one of the worst-case scenarios, but you still can't rule out anything when it comes to UK Football.
If things go to plan, this could easily be the biggest game in the Mark Stoops era. IF, things go to plan.