How Kentucky Replaces Offensive Tackles Darian Kinnard, Dare Rosenthal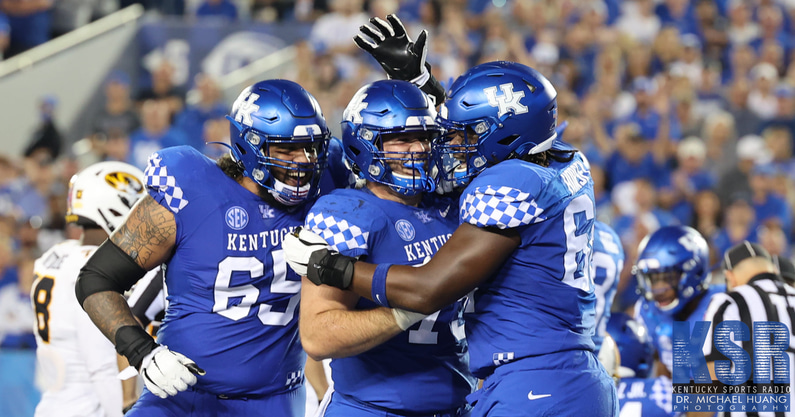 Once the strength of Kentucky's offense, the edges of the Big Blue Wall will be the biggest question mark for the Wildcats entering the 2022 football season.
Darian Kinnard's historic career has reached a conclusion following a Consensus All-American performance, just the 14th in UK history. In addition to losing the right tackle, offensive line coach Eric Wolford will be searching for a new left tackle. Former LSU Tiger Dare Rosenthal announced Wednesday that he will enter his name into the NFL Draft after one season at Kentucky.
Outside of Wan'Dale Robinson, Rosenthal's departure is the most significant loss of the offseason for the Wildcats. Unable to play in the Citrus Bowl due to injury, life without Rosenthal was difficult for Will Levis. The UK quarterback was sacked six times, putting the Cats behind the chains and stalling drives.
Wolford and the Kentucky offense had a week to prepare for Rosenthal's New Year's Day absence, kicking Kenneth Horsey from guard to tackle and entering redshirt senior Austin Dotson into the starting lineup as a guard. Now Mark Stoops' coaching staff has nine months to fill the void left by Rosenthal. Luckily, they have a few options.
Offensive Line Versatility
When Eric Wolford was introduced as John Schlarman's replacement, he shared an anecdote from his time in the NFL. To summarize it succinctly, he quickly learned that you have at most eight NFL players to fill five spots. If one a right guard goes down, the second string left guard must be ready to play the position.
Coach Wolf cross-trains all of his offensive linemen. Every interior offensive lineman should know how to play center, left guard and right guard. Some are learning all five positions, like David Wohlabaugh, the freshman that was recruited an offensive tackle.
Ideally, Wolford will have three offensive tackles ready to play in 2022, a starter at left tackle, right tackle and a reserve that can swing to either side.
Kentucky's Available Personnel
Kenneth Horsey — Even though he was beat badly on a speed rush by Alex VanValkenburg in the Citrus Bowl, Horsey held his own for most of the game. He has all of the tools to play left tackle and gained valuable experience when injuries limited Kinnard and Rosenthal last fall.
Jeremy Flax — A former four-star JUCO recruit, the 6-foot-6, 360 pound tackle has the measurables to play the position. Things appeared to click last spring, but he struggled to progress in fall camp. His development this spring and into the fall is essential.
Deondre Buford — A four-star composite recruit in the class of 2020, he was listed as the second team left tackle throughout the 2021 season but only appeared in two games. We'll know more about his progression as an underclassman this spring.
Kiyaunta Goodwin — It's a great time to sign the highest-ranked recruit in school history, one who plays offensive tackle. However, it's paramount to keep expectations in check. Few true freshmen possess the height, weight, athleticism and punch that Goodwin has at the position. Those are great tools for Wolford to sharpen this spring because Goodwin lacks experience. SEC defenders not only have speed and talent Goodwin has never faced, they will also throw stunts and blitzes at the freshman he has never seen.
Only two offensive linemen have started as true freshmen on the Big Blue Wall, Kinnard and Landon Young, two of the best ever to play at UK. Young was thrown into the fire thanks to an injury. Hopefully Goodwin can follow the Kinnard model, who rotated in regularly before finishing the season as a starter.
Unknown Transfer Portal Player — Without Rosenthal, Kentucky will be in the market for an offensive tackle in the transfer portal. Who could it be? Probably not someone currently in the portal. There will be a second wave of players entering the portal once depth charts are determined following spring practice. Waiting isn't necessarily a negative either, allowing inexperienced players on the roster to maximize reps during spring practice. Remember, Dare Rosenthal did not transfer to UK until July.
Culture Eliminates Serious Concern
Rosenthal's greatest strength as a left tackle is his ability to protect the passer. It's the most difficult task for a left tackle and can take time and reps to master, something he developed during his time at LSU. Protecting the passer at an elite level right away will be difficult for whoever fills his big shoes.
Luckily for Kentucky, the Wildcats have an established culture on the offensive line. A mean, physical unit, no matter who Wolford plugs into the equation will be able to get downhill in the run game. Chris Rodriguez's vision and strength will keep the Cats moving forward. Even in the worst case scenario for the offensive line, they're still going to be opening holes for C-Rod, who gains positive yardage on 97% of his career carries.
Kentucky Spring Practice Projected Offensive Line
If you clicked on this post just to see what the offensive line will look like when spring practice begins, likely prior to to the addition of a transfer portal player, have at it.
LT: Kenneth Horsey (former LG)
LG: Tashawn Manning (Auburn transfer)
C: Eli Cox (former RG)
RT: Jeremy Flax/Kiyaunta Goodwin
Replacing a center and two offensive tackles is no simple task. Luckily, Eric Wolford has plenty of quality pieces to complete the Big Blue Wall's puzzle in 2022.