How Kentucky WBB's precision passing is producing record results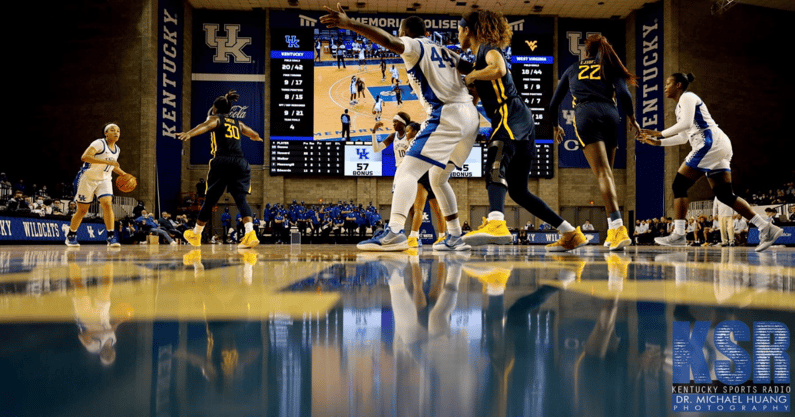 Passing is paving the way to success for No. 14 Kentucky Women's Basketball this season. After the first seven games, Kentucky's distribution is looking like a well-oiled machine. Nevertheless, the 'Cats pass more than just the eye test.
In the Wildcats' 90-56 victory over Merrimack on Sunday, the team recorded 30 assists. For reference, the last time UK had 30 assists in one contest was on Nov. 18, 2015. While UK is neck-and-neck with historic records, they're dominating the present competition.
Passing up the competition
Kentucky is currently averaging the second-most assists per game in the nation with 20.9. Last season, the team averaged seven fewer assists per game. Though most teams can put up great passing numbers, they can't do it with the efficiency of the 'Cats.
Kentucky leads the country in assist-to-turnover ratio with a 1.66; a feat that only six other programs have matched or surpassed in the past decade. The 'Cats jaw-dropping figure is a team effort.
In fact, only one player on UK averages more than two turnovers per game: Dre'Una Edwards. Even then, the star forward sits just over this distinguished mark, averaging 2.3 turnovers per contest.
Even with all these accolades, what's it matter if your slick passing isn't leading to open shots? Fortunately for the 'Cats, their ball movement is accomplishing just that. Kentucky's field-goal percentage ranks fourth in the nation, making 49.1% of their shots.
Of course, Kentucky's success is propelled by a couple of key 'Cats.
Kentucky WBB leading passers
Specifically, Kentucky's top distributor is Jazmine Massengill. Similar to her team, the starting point guard is top five in the nation in assist-to-turnover ratio, racking up 5.7 assists for every turnover committed.
Though this aspect of the game is important to all of the Wildcats, it is the game to Massengill. The self-described pass-first point guard discussed her dedication to being a reliable distributor after Kentucky's win against West Virginia.
"I'm glad because Coach (Kyra) Elzy has a lot of faith in me. My teammates have a lot of faith in me," Massengill said. "I pride myself on not turning the ball over and putting my teammates in positions to score."
Massengill isn't the only 'Cat finding impressive assists. Averaging the second-most assists per game on the 'Cats is Rhyne Howard. Who would have guessed?
Passing is just one more area of excellence for Kentucky's renaissance woman. Howard is averaging a 2.5 assist-to-turnover ratio while breaking scoring records seemingly every other game. Although Howard is happy to hit milestones, she's equally satisfied with feeding her teammates the rock.
"It's great to be able to have fun while I'm doing it," Howard said after Kentucky's victory over Merrimack. "Still achieving these goals and accomplishing all these accolades while helping my teammates."
UK's pretty passing will come in handy this week. Kentucky is set to face the DePaul Blue Demons (7-2) on Thursday at 7 p.m. ET in Rupp Arena. The game should be a shootout with DePaul currently averaging the most points per game in the country. The game will be broadcast on the SEC Network.