How Two Six Loss Teams Made KHSAA's State Championship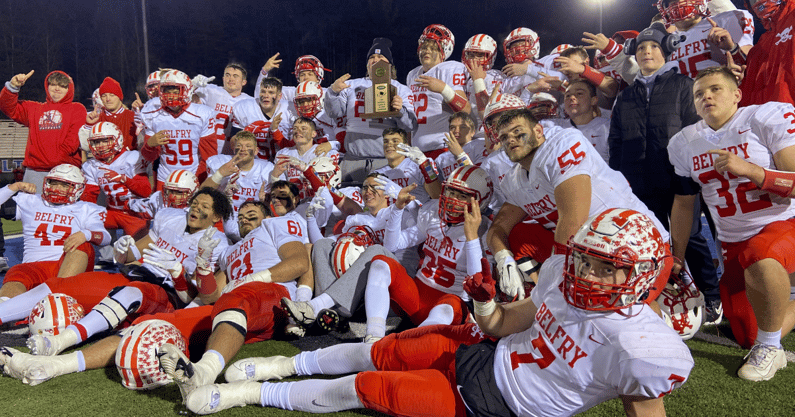 When you think of a team that hoists the State Championship trophy at the end of a long season, you picture a team that dominated their way through their opposition—a team that can't be beaten.
In KHSAA's 3A division, the two top dogs have lost six times apiece and share records of 8-6, a testament to the craziness that was 3A this season. Both Paducah Tilghman and Belfry went into the postseason two games below .500, but against all odds, came out unscathed and are now Kroger Field-bound.
Paducah Tilghman:
Both teams had equally disappointing starts to their 2021 seasons. With Paducah Tilghman starting the year off 1-4 (one loss due to COVID cancellation vs. South Warren), no one would've believed this would be the first team to make a state final since the 2009 championship-winning Blue Tornado squad.
Tilghman, however, went into the postseason with a 4-6 record, coincidentally the same record they went into the playoffs with during their 2009 State Championship run. 
"Why not us?" Paducah Tilghman head coach Sean Thompson said after defeating Glasgow 39-20 in the 3A semifinals.
With Tilghman dropping two of their last three regular-season games, it didn't seem as though the Blue Tornado had much of a run in them—but they thought otherwise.
"Coach Thompson kept telling us all year we were going to come together as a team and we've done that in the last few weeks," Paducah Tilghman quarterback Jack James said after the semifinal win.
Their road through the postseason has been as tough as any in the entire state. A decisive opening-round win against Trigg County turned into a second-round 31-28 thriller against the then-one loss Union County Braves.
They followed that up by knocking off 3A's No. 1 team in Christian Academy-Louisville and then defeating Glasgow, which was on a 12-game winning streak, in the semifinal by three scores—Tilghman is rolling and has no intentions of slowing down when they battle Belfry at Kroger Field for the State Championship.
"The kids have responded to adversity all season long, they have persevered through everything so they deserve it," Thompson said. "This is what you get when what you're playing for is bigger than yourself."
Belfry:
When you start a season 0-5, the critics will write you off—even when you've been a powerhouse in your division for over a decade. It's just an off-year, most would say.
Well, that off-year is finishing up at Kroger Field.
"At one point, I think we were the only ones that believed that because we didn't look good for a while," head coach Philip Haywood said. "But every week we kept getting better and I'm so proud of these guys."
Belfry would then find themselves on a four-game tear that began with a 43-0 shutout against Magoffin County and was capped by a 58-8 victory over Pike County Central. During the stretch, the Pirates outscored the opposition 192-27.
That streak would be ended by Johnson Central, who took down the Pirates 48-22 on their home field in their regular-season finale—but that would be the last loss Belfry would suffer. The Pirates are on yet another four-game winning streak and are now just one victory away from claiming their sixth State Championship since 2013.
The last time Belfry was in the 3A State Championship game, the Pirates defeated Bell County 30-20 in 2019. Coach Haywood now looks to add another ring to his laundry list of accomplishments as head coach of Belfry.
"I told you that last week and I'm just as proud this week because they just keep rising to the occasion," Coach Haywood said. "And I've told them at the beginning of the playoffs that if we can play long enough, we can get pretty good."
Click here to check out the preview for this game as well as for the rest of the 2021 KHSAA State Championship games.
A Message from Kroger:
We're excited to tell you about something new from our friends at Kroger. Did you know Kroger is America's largest grocery chain that started over 135 years ago? They are doing something they've never done before: bringing fresh groceries right to you with a new service called Hometown Pickup. 
That's right, for those of you in Cynthiana, Midway, Eminence, Bedford, McKee, Dry Ridge, Carlisle, Eubank, Georgetown, Mt. Vernon, Jackson, Frenchburg, Irvine, Mt. Olivet, and Paris, Kentucky you can now order all your groceries online and pick them up at a central location in your hometown. No more long drives into the city to get fresh food for you and your family. Now THAT is truly Fresh for Everyone. Thanks, Kroger. 
Learn more and place your first order at Kroger.com/hometown.