How Would You Like to Play "The U"?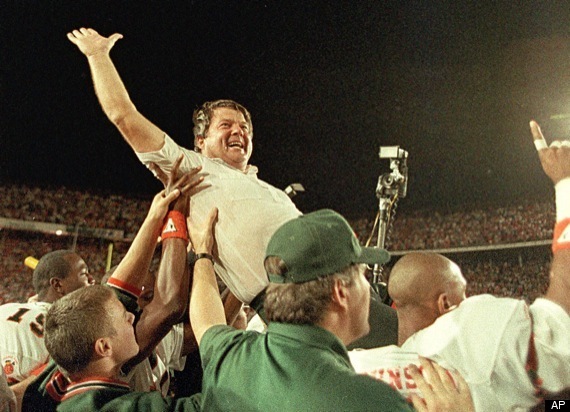 With a win assumed versus Charleston Southern on Saturday (the only other Division I team they have played is Hawaii and they lost 66-7), thoughts go to the final two games versus Tennessee schools. While it is widely assumed that if the Cats only win one of those games, they would slip to the Birmingham Bowl,
the reality is that what is most likely is another trip to the Music City Bowl either way
. Because three of the SEC teams are unlikely to get bowl eligible (UT, Vandy, Ole Miss) and two SEC teams are likely headed to the BCS (Auburn, Alabama), there arent enough slots for ANY SEC team to slip to the Birmingham Bowl. With the Liberty Bowl will be played at the same time as Kentucky-Louisville, thus the football Cats likely find themselves in Nashville yet again. This year however the opponent may not be Clemson...in fact, if current projections were to hold true,
the Cats would likely face "The U" in Nashville for America's favorite guitar.
If you are a child of my era, "The U" was football for our generation. From the mid 1980s until the beginning of the 2000s, Miami played football with excitement and a swagger that made them the favorite team of a certain type of fan (aka young and fun). Their appeal was perfectly shown in the ESPN documentary "The U" and there are many (myself included) who would love to see another program recreate that excitement (USC is as close as we have gotten since). While this "U" isnt the 80s "U", it would still be nice to go and get a win...in the same manner as the victory over Florida State a few years ago. I will grant you that the thought of another Nashville game is hard to swallow...but if it is going to happen, give me the "U". And in honor of the game, I will wear a commemorative Howard Schnellenberger moustache throughout.