Hump Day Practice Notes Featuring D.J. Eliot, Jordan Bonner, Derrick Baity and Courtney Love
Just Execute
Even though most people want to point fingers at the coaches for the defensive flubs in the first two weeks, Derrick Baity is pointing the finger at himself and his teammates.
"Coaches can only do so much.  We gotta go out there and play,"
Baity said.  "I feel like we're embarrassing him (Stoops) because we should hold ourselves accountable for our performances." The coaches' emphasis on simplification is their way of saying, "just play some damn football."  Regardless of the scoreboard, D.J. Eliot wants to see his defense execute on Saturday. "I want to see guys be in the right spots and I want to see guys execute the call and if they get beat, they get beat. I can live with that," he said.
Playing Angry
It was good to hear the anger in the voices of players.  
Derrick Baity looked ready to fight tonight
.  That attitude was more common than not amongst players. Courtney Love appropriately described it as "controlled anger."  The team is mad, but not so much at others; they're made at themselves.  "We're angry because we want to go out there and really just hit some people, get us a win and get over this hump," he said.
Hear from Jordan Bonner
The late arrival from Junior College shared how he got to UK for the first time today.  In the spring he was stabbed, setting him back physically, but he persisted until he arrived on campus.  While waiting for clearance to come to campus, he got to spend more time with his son, a rewarding experience that was difficult to describe.  Hear about that, the differences between UK and JUCO, and more... https://www.youtube.com/watch?v=hXSjGt3-vac
A "More Active" Role for Mark Stoops
Mark Stoops has been very mum on what exactly he'll be doing in this "expanded role" for the defense.  D.J. Eliot didn't reveal too much more either. "Now we're together on a lot more things.  He's helping us and he's doing everything he can as another coach on the defensive staff."  That description from D.J. is not the most insightful.
Doing Too Much
There are many problems that arise when you play with inexperienced players.  The biggest problem thus far is having players overextend themselves.  Instead of focusing on their job, they're worried about their teammate. When Derrick Baity became too conscience on the run, "I gave up a touchdown."  This Saturday he'll focus on his job to prevent catastrophic mistakes. "I've done it the past two weeks and it's really hurt me and hurt my team," he lamented.  "It shows on the film and it's showing up on Saturdays."
First Responders at Practice
[caption id="" align="alignnone" width="579"]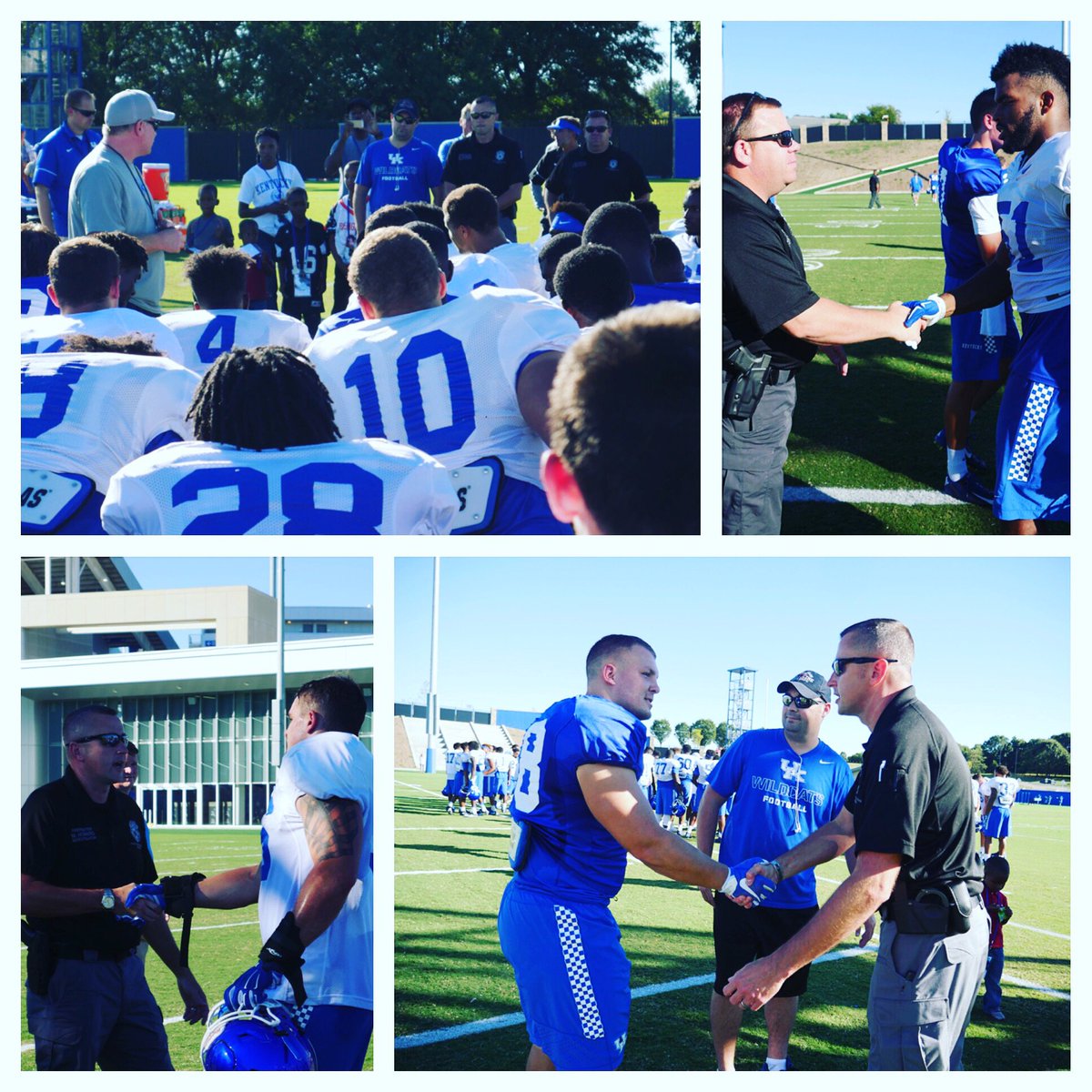 From yesterday's practice with the fire department, via @UKFootball.[/caption] Before they watch Kentucky take on New Mexico State for Heroes' Day, Mark Stoops has invited first responders to practice each day.  Yesterday, the fire department attended practice.  Today, it was the police officers' turn. Courtney Love said they were trying to recruit some of the players to join the force.  Firing range stories helped, especially when they talked about blowing stuff up.