"I feel like we taught them well;" Kentucky seniors lead by example in bowl win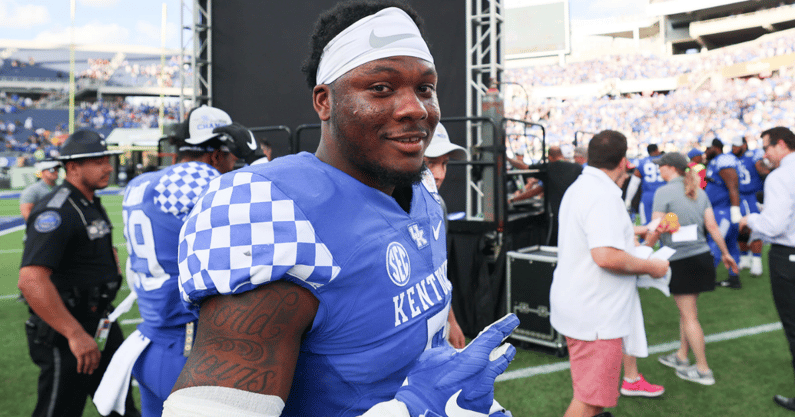 For this Kentucky team, experience is more than an asset. The pride and conviction that comes from winning bowl games in four consecutive seasons are stitched into the very fabric of their jerseys. Building a winning culture takes work, and UK's seniors have worked day in and day out to see it through.
On days such as Saturday, the reward for all that work is paid off in spades. But for all the smiles and jubilation that follow a dramatic New Year's Day bowl victory, the most rewarding sight of all is the next generation of signal-bearers earning their stripes.
Look no further than freshman DL Tre'Vonn Rybka, who stepped in for his first career start and made several clutch plays on defense; or D'Eryk Jackson, the sophomore ILB in the same situation who ended up with seven tackles and this critical interception:
Make no mistake, the kids weren't perfect. As the injuries to key upperclassmen piled up, Kentucky looked more and more overmatched. But the backups kept the 'Cats in the game long enough for Wan'Dale Robinson and the offense to strike back one more time. And with the smell of blood in the water, the veterans knew what to do. After all, hadn't they seen this movie before?
Kentucky's comeback win, capped off with Square's incredible Kirk Gibson-esque interception, was a perfect teaching moment. Leading by example is always the best method, and you won't find a finer example than that.
Still, it doesn't stop there. Every member of this historic senior class deserves credit for building the culture to what it is today — including senior captain Josh Paschal, who watched his final game from the sidelines on Saturday.
"These guys, the young guys, I feel like we taught them well," Paschal said after the game. "These guys have a lot of potential, and we're all proud of them. We're proud of the men they're becoming and the players they'll become in the future as well."
For the first time in maybe ever, Kentucky football is built for success in the present and the future. Now let's run that s#*t back.