Ian Jackson has mind made up: "I'm content with my decision"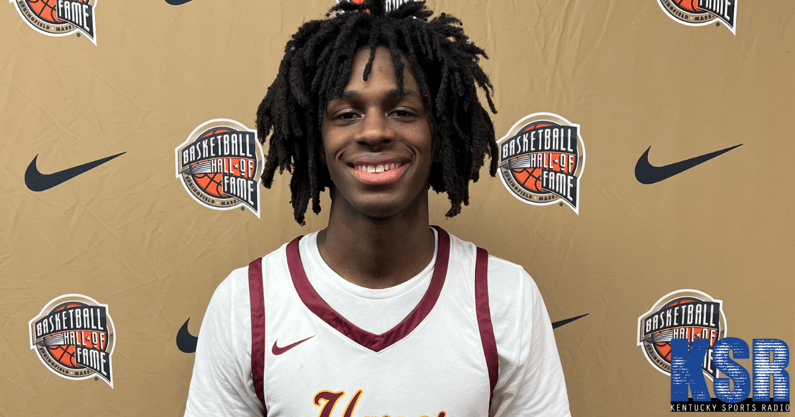 2024 five-star Ian Jackson has made a final decision, one he's ready to share with the basketball world Monday afternoon on national television.
The Cardinal Hayes (NY) High School standout has taken all of his visits — Arkansas, Kentucky, LSU, North Carolina and Oregon — with those five making up his finalists. The Razorbacks, Tar Heels and Wildcats, though, are seen as the top contenders.
Who will earn the 6-foot-5 shooting guard's commitment? He previewed his decision late Sunday evening following his team's loss in Springfield, Mass. at the Hoophall Classic. KSR was in attendance for the Q&A session the night before he becomes the first top-five prospect off the board in 2024.
---
Are you excited to get your commitment over with?
Up until this point I've been — I'm content with my decision. I appreciate every school that has been here. I feel like I've thought about it, evaluated every school thoroughly, enough to get to the point of making a decision.
When did you make your mind up?
It came to me earlier this week after sitting down with my parents, my coaches. Talking about each and every school, the pros and cons of each school, thinking about each school individually about how they can make me become a pro.
What separated your finalists from others recruiting you?
The majority of them come down to coaching. All schools have great coaches and all have history of putting kids in the league.
What intrigues you about Kentucky?
Their history of putting pros in the league, getting guys in the league. One-and-done guys, specifically, NBA guys thriving in the league.
Who was your favorite player from Kentucky?
Shai (Gilgeous-Alexander) is probably my favorite, a guy I watch a lot. I kind of try to model my game after him.
What do you like about North Carolina? How was the visit?
The family aspect with Coach (Hubert) Davis there, Coach (Jeff) Lebo there on the visit making me feel at home. Just being there, I didn't feel uncomfortable. I felt like that's where I should be, from what I thought.
How do you think this commitment will impact the rest of your high school season?
I won't say it'll affect it at all. I feel like there's still a lot of work to be done. Me committing doesn't change anything, doesn't guarantee anything. There's still a lot of work to be done, especially from tonight. Definitely more work to be done.
How are you feeling leading up to the announcement? What are your emotions?
I'm happy with it. I feel like it's a moment of every basketball player's career that they're looking forward to. Tomorrow, I'm going to be happy with it.
Does anybody know your final choice?
No, not even the coaches. I don't want any other opinions about it. I made a choice, I don't want to sway anywhere. Well, my parents know.
What separated that school from the other finalists?
Just where I picked, I feel like it's best for me. It'll be best for me. Individually, I feel like in their system, I'll thrive and be a one-and-done.
---
Jackson's announcement is set to take place at halftime of the 3 p.m. ET game between Montverde Academy and Sunrise Christian on Monday, televised live on ESPNU.
The five-star guard is rated as the No. 2 prospect and No. 2 shooting guard in the 2024 On3 Consensus.