Ian Jackson: North Carolina "felt like home," Kentucky "definitely" second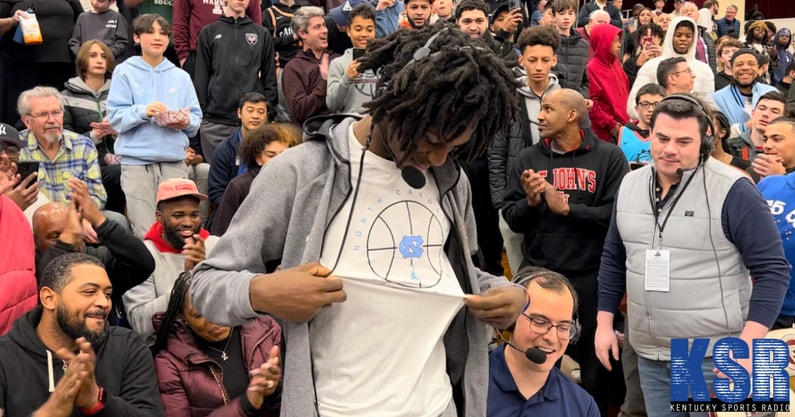 It was an official visit to Chapel Hill that sealed the deal for five-star junior Ian Jackson. Making the trip to North Carolina to open the month, he left convinced that head coach Hubert Davis had the best vision for his future.
That vision? Become the No. 1 pick in the NBA Draft as a one-and-done — the same pitch John Calipari has used at Kentucky from the minute he arrived. It's one that the UK coaching staff used on Jackson — and it worked for the majority of his recruitment.
The No. 2 overall prospect and No. 2 shooting guard in the 2024 On3 Consensus previously called Kentucky his "dream school" for that very reason. He once felt Lexington was his path to the league, learning and developing under Coach Cal for a year before shaking NBA commissioner Adam Silver's hand on draft night as a top pick.
"They were (Kentucky) one of my dream schools growing up," Jackson told KSR back in June. "That's a school I've been looking forward to going to, hopefully going to. That would mean a lot to me. … I would be able to play for John Calipari. There's a lot that he knows about making a pro and he would help me do what it takes to become a pro."
Seven months later, Jackson found his future home. It wasn't in Lexington, though. Chapel Hill was where he felt he needed to be.
"It's Coach (Hubert) Davis and the whole coaching staff," Jackson told KSR in an exclusive interview following his commitment on Monday. "It felt like home for me, I just felt comfortable there. … I just felt like it was the right moment for me to pick. I was content with where I wanted to go, understood where I wanted to go, so I decided to commit."
The moment hit him shortly after wrapping up his fifth and final official visit to Arkansas, another finalist. He also considered Oregon and LSU. After coming home from Fayetteville, he couldn't get his mind off of his time at UNC and the family relationship he had built with the staff.
"After I finished all five visits. I thought through each one thoroughly and UNC was on my mind since I stepped on campus," he said. "In my heart, it felt like the right place to go. So I said, 'Let's do it.'"
Jackson ultimately joined a recruiting class ranked No. 1 in 2024, teaming up with five-star guard Elliot Cadeau, four-star center James Brown and four-star guard Drake Powell. As for Kentucky, the blue-blood competitor is still searching for its first commitment in the junior class.
How hard was it to turn down his dream school, the program he grew up wanting to play for? A coach he felt would push him toward his goal of becoming a top draft pick in the NBA?
"Extremely hard. Coach Cal, Coach Orlando (Antigua), they're great people," Jackson told KSR. "Coach Cal was someone I wanted to play for for years, growing up and watching Kentucky, me liking Coach Cal. It was definitely hard to say no to him. …
"It was difficult, but at the end of the day, I had to do what was best for me. I know I have a good chance at UNC and I felt like it was the best decision for me to make. That's what I decided to do."
Fair to say Kentucky was a close second when it came time for a decision? "Definitely," he stressed.
And that's not to discredit Arkansas' late push, either. The Razorbacks were in the thick of things, as well, with the five-star guard considering them right up until the end. He's a big fan of Eric Musselman and what he's got going down in Fayetteville.
"Coach Muss was great," Jackson said. "Coach Muss is a great coach and him having that NBA experience, that was definitely difficult to turn down."
But his love for Kentucky and the intrigue of Arkansas simply weren't enough to overcome. He simply fell in love with North Carolina.
"Me and Coach Davis, we talked about my plan there. That plan is to be the No. 1 pick and be a one-and-done," he told KSR. "We just have a mutual understanding, to put me in the right spots so I can do what I've got to do there. I feel like there, I can show each part of my game. You know, the facilitating, sharing the ball, defending, all of the things that can help make me No. 1."
Now, his focus is on pushing other high-profile recruits to join him in North Carolina's top-ranked recruiting class and winning a title with the Tar Heels.
"I'm trying to keep it that way (No. 1)," Jackson said. "And win a national championship."