In-state WR Jakob Dixon sets Sunday commitment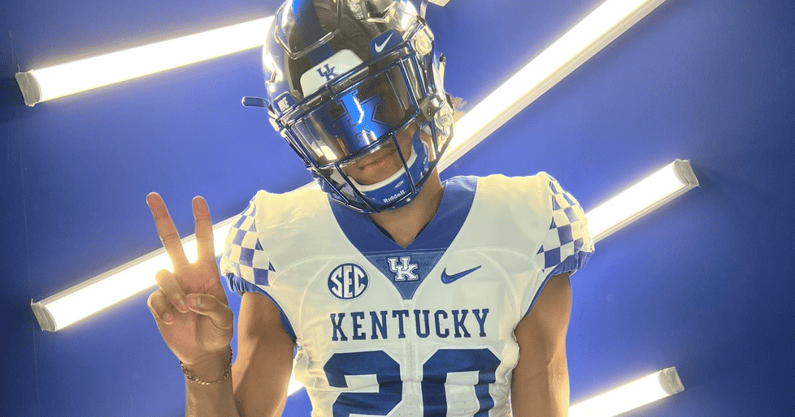 Could Kentucky football add its fourth commitment in a week? Three-star OL Koby Keenum, three-star RB Khalifa Keith and four-star DB Avery Stuart all joined the program's 2023 recruiting class in recent days.
Now, in-state athlete Jakob Dixon could be joining the fold on Sunday.
Dixon, a 6-foot-5, 200-pound wide receiver out of Pleasure Ridge Park (Louisville), tells KSR he will be announcing his college decision at 2 p.m. ET on Sunday.
The announcement comes after receiving a scholarship offer from Kentucky back on June 15. He previously earned offers from Eastern Kentucky and Eastern Illinois and has since added scholarships from Dartmouth, Murray State and Tennessee State.
"I have 6 offers," he told KSR late Saturday evening. "I feel the school I'm choosing tomorrow is the best school for me."
His offer from Kentucky came following two exceptional performances at camp in Lexington this summer.
"It was honestly a sudden change, but I always had confidence in my skill and what I do," Dixon told KSR in June. "I obviously thought going in I was going to get more exposure than anywhere else."
Dixon is a three-sport star at PRP, playing basketball and running track on top of his success on the football field. He showed off an impressive 4.5 40-yard dash, just one of many highlights during his time at camp.
"After a couple one-on-ones, I could tell I was starting to get their attention," he added.
What is Kentucky's vision for him in Lexington? To bulk up and join Vince Marrow's position room to play a role similar to Izayah Cummings as a hybrid tight end.
"They wanted me to work on playing different positions because they feel like I can be very versatile on the field; I can play tight end," he told KSR. "They want me to put on more weight, because obviously in college you're going to have to be a little more stronger than you are in high school."
Will Kentucky land the versatile pass-catcher out of Louisville? We'll find out Sunday afternoon.