LOOK: Indiana fan finds Kentucky-themed restaurant in Japan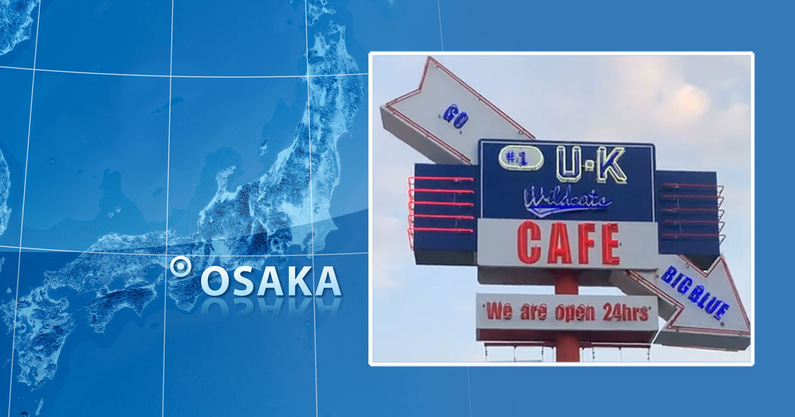 Imagine riding your bike around a foreign country, thousands of miles from home, and finding a restaurant dedicated to the rival of your favorite sports team. That's exactly what happened to Matt Lukens, an Indiana fan and contributor/podcaster for IndianaHQ and The Hoosier Sound. Lukens just moved to Japan and visited "No. 1 UK Wildcat Cafe," a University of Kentucky-themed restaurant in Osaka. We've actually written about No. 1 UK Wildcat Cafe before, back in 2013, but seeing it through the eyes of a Hoosier is just priceless.
"I moved to Japan and here I am, a proud Indiana fan, thinking I am safe from our rivals Purdue and Kentucky," Lukens says. "I haven't seen anything Purdue yet. I'll let you know when I see it but much to my dismay, I'm online and I see this abysmal sack of — what is this doing in Japan?!"
The camera turns around to reveal the sign for No. 1 UK Wildcat Cafe. From my previous research, I can tell you (with the help of Google Translate) that the owner studied at UK and upon returning to Osaka, opened the restaurant in honor of his alma mater.
Once inside, Lukens takes a seat and inspects the menu. While pointing at the name of the restaurant, he sends a message home to his mom.
"I feel I'm going to get poisoned at this restaurant so Mom if I die, it's the UK Wildcats Cafe's fault."
His cheeseburger and chips arrive on a UK plate with a card that says "Special thanks for visit. No. 1 UK Cafe Lexington, Kentucky. You've got super meal and drink for be strong by No. 1 UK Wildcats. Thank you."
As Lukens leaves, he shares a final look at the cafe and reflects on his experience.
"As I leave this place, I'm going to be kind of sad because it's not often you run into college basketball things in the middle of Japan," he says. "Last departing message: Kentucky and [John] Calipari: stop being a b*tch and play us."
You know Calipari won't do a home-and-home, but Osaka is a neutral site. I know where we can pregame.
UPDATE: There are actually THREE UK Wildcats Cafes in the Osaka area. You can read more about the history of the cafe in this 2018 article by Kentucky fan Chuck Clenney.