Initial Thoughts on the Duke Blue Devils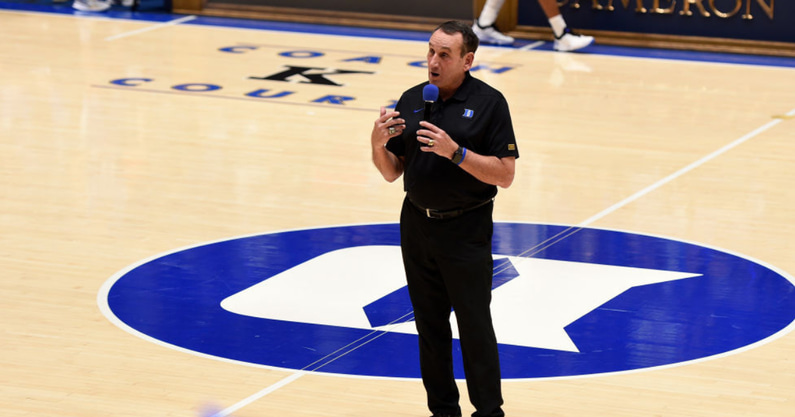 We are officially two weeks away. The #9 Kentucky Wildcats will take on the #10 Duke Blue Devils on November 9th at Madison Square Garden. Much of Big Blue Nation is still in football mode thanks to a 6-1 record and #12 national ranking. Additionally, many fans are taking a "wait and see" approach to basketball after a historically bad 9-16 season. However, the fact remains that there is a marquee non-conference game in just 14 days.
Having watched Duke's Countdown to Craziness, an intrasquad scrimmage, and limited highlights from a "secret" scrimmage against Villanova, it is time to lay out some initial thoughts on the Duke Blue Devils. We will get one more look at them on October 30th when they play an exhibition game against Winston-Salem State. A full scouting report will be released prior to gameday, but it is time to at least start getting to know the Blue Devils.
Paolo Banchero is a Star
It may be the first game of the season, but Paolo Banchero will probably be the best player Kentucky faces all season long. He is that good. The 6'10" 250 pound freshman forward can absolutely do it all. Banchero is incredibly physical, flashes elite athleticism, and has the skill to create his own scoring opportunities. One of the best college freshman I've evaluated in many, many years.
Banchero will start at the "4" for the Blue Devils which means, on paper, it would be Keion Brooks' matchup (assuming he starts for Kentucky). In theory, this would be a perfect situation to use Jacob Toppin because he is the Wildcats most physically ready player to go against him. However, as his status remains unclear, it will take a team effort to contain Banchero. Brooks will have the length and athleticism to keep up, but the strength differential will be a concern. Oscar Tshiebwe's rim protection, and ability to stay out of foul trouble, will be put to the test in game one.
Blue Devils Returners Look Improved
You know how we Kentucky fans overreact to how guys in look in the Blue-White Game? That isn't unique to Big Blue Nation. Every fanbase in the country is making those same early season leaps with the limited live action they have seen. However, there are two projected starters that do appear to have improved from a year ago.
Wendall Moore Jr. started 18 games for the Blue Devils last season averaging 9.7 points per game. The 6'5″ junior guard is looking like an All-ACC performer heading into this season. He has the size and physicality to really bother opposing guards and should take another jump as an outside shooter.
On the interior, look for sophomore center Mark Williams to become a true force around the basket. The 7'0″ big man averaged 7.1 points, 4.5 rebounds, and 1.4 blocks per game as a part-time starter last season. Williams will be one of the premier rim protectors in the ACC, if not the entire country, this season.
The development of returning players like Moore Jr. and Williams will help complement the influx of talent from Duke's freshman class. Paolo Banchero and AJ Griffin will be as good as anyone in the country, but the veterans will go a long way towards helping Coach K and the Blue Devils make a deep run in the NCAA Tournament.
Strong, Physical Roster
There is only one scholarship player on the Duke Blue Devils roster under 200 pounds. Likely starting point guard Jeremy Roach checks in at a thin 172 pounds, but every other rotation player can pack a serious punch in terms of physicality. Impressively, the Blue Devils three coveted freshman are as strong as anyone on the team. Trevor Keels, Griffin, and Banchero check in at 221, 222, and 250 pounds respectively. These guys are ready for the college game.
Kentucky is certainly more physically equipped than a year ago. That is one of the benefits of having older guys. However, Duke will definitely have the advantage when it comes to physical size and strength come November 9th at Madison Square Garden.
Early Look at Blue Devils Offense
We will leave most of this for the scouting report closer to game time, but there are a few early tendencies forming from the film we do have on Duke.
A lot of possessions are going to include a ballscreen for either the point guard Jeremy Roach or wing Wendell Moore Jr. Both appear very comfortable playing off of the ballscreen and big men Mark Williams and Theo John are excellent on the roll. The Blue Devils will set more "spread" ballscreens than high middle, meaning they like to ballscreen on the wing with shooters spaced on the weak side. This opens up more room to hit the roll man as well. From there, Duke generally flows into 4-around-1 motion offense.
In terms of set plays, Coach K has shown a few "Horns" and "1-4 High" sets so far in scrimmage action. These plays are generally designed to get Paolo Banchero the ball in a specific area. They will allow him to isolate from the elbow, pop to the wing to drive it, or come off of a cross screen to catch the ball on the block. Banchero is also a very effective motion scorer because he is so hard to defend in space. He gives the Blue Devils a dynamic scoring option from anywhere on the court.
Duke is a good offensive team. Despite missing the NCAA Tournament, the Blue Devils were 18th in adjusted offensive efficiency last season per KenPom. They have more talent now and bring back some of the most efficient pieces from last season. This group will spread you out, use their physicality and size to their advantage, and should be one of the best in the country at finishing around the rim.
Duke Blue Devils Projected Lineup
Starters
#3 Jeremy Roach: 6'1″ 172 lbs, Sophomore Point Guard
#0 Wendell Moore Jr.: 6'5″ 213 lbs, Junior Guard
#1 Trevor Keels: 6'4″ 221 lbs, Freshman Guard
#5 Paolo Banchero: 6'10" 250 lbs, Freshman Forward
#15 Mark Williams: 7'0″ 242 lbs, Sophomore Center
Bench
#21 AJ Griffin: 6'6″ 222 lbs, Freshman Forward (will start for Keels if fully healthy and ready)
#2 Jaylen Blakes: 6'1″ 208 lbs, Freshman Guard
#12 Theo John: 6'9″ 242 lbs, Graduate Student Forward
#13 Joey Baker: 6'6″ 206 lbs, Senior Forward