Injury Updates for Wheeler, Collins, Wallace ahead of Georgia Game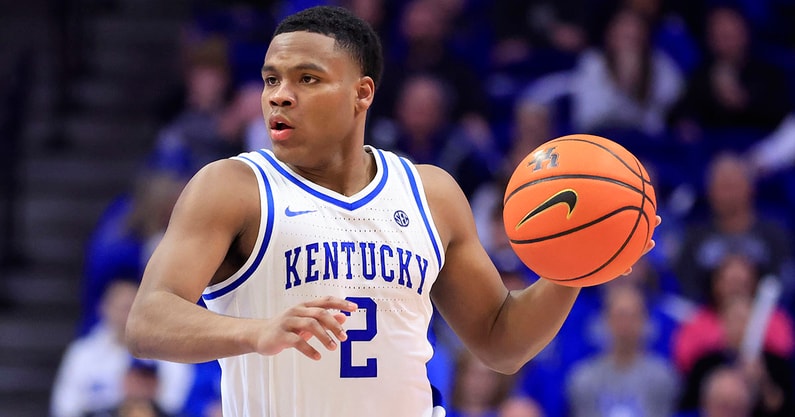 The shorthanded Wildcats won at Tennessee without a couple of healthy contributors. John Calipari believes at least one Wildcat is getting better before Kentucky hosts Georgia at Rupp Arena Tuesday night at 9 pm.
An ankle injury sidelined Daimion Collins and Sahvir Wheeler missed the Tennessee game with a shoulder injury. It forced Cason Wallace, who has been dealing with nagging back spasms, to primarily play point guard. Adou Thiero, CJ Fredrick and Antonio Reeves also had to take over ball-handling duties at times.
On Monday night's John Calipari Show, the Kentucky head coach sounded confident Wheeler will return after only one game on the sideline. As for Collins, well, we'll see.
"Both of them practiced today," Calipari said, generally a sign each player will be ready to go. "I had to keep asking, 'Is your shoulder good? Are you good?' Sahvir kept telling me 'yes.'
"I think that Daimion may have tweaked that ankle again. Think he stepped on a foot, but he was fine. I mean, I looked at him and it was swelled before Tennessee, but we'll know tomorrow. The game's not till 9:00 so they get some time. But they they did practice today and you know we kind of got after it so it was pretty good."
As for Wallace, those back spasms aren't going away overnight.
"You can tell. That's why I took him out (at Tennessee)… When he shot the air ball, you knew he's suffering. But he wants to win. That's all that kid cares about and he's starting to take on some leadership responsibility. He's starting to talk and he's not afraid to speak up, where he (previously) stayed back and listened. Now it's like, 'okay, I'm going to take some of this on,' so it's pretty good.
Calipari: Kentucky Still Needs Sahvir Wheeler
Following the Wildcats' win without Wheeler at Tennessee, the college basketball hot take artists were ready to pounce. Jeff Goodman was the first talking head to call for Calipari to bench the SEC's assist leader, followed this morning by Seth Davis. Monday night Kentucky's head coach said he plans on playing more of the Wallace-Reeves-Fredrick backcourt, but he believes they need contributions from Wheeler.
"I like that group, but Sahvir, again, he adds to our team," said Calipari. "He adds speed. Another guy that's tough. But again, we we have different combinations that we can play."