Interesting things from teams other than Kentucky at SEC Basketball Media Day
I made the long two-mile trek to Bridgestone Arena this morning to cover SEC Tipoff 2017, aka SEC Basketball Media Day. I've covered a few SEC Football Media Days before, and man, the two events are about as different as, well, SEC football and SEC basketball. By now, you've read most of what John Calipari, Isaiah Briscoe, and Isaac Humphries had to say during Kentucky's turn on the floor, but throughout the day, I did my best to write down some interesting things about the other SEC teams. It wasn't always easy.
LSU: No one was saying last year was a disappointment, but last year was a disappointment
LSU failed to make the NCAA Tournament last year despite having the number one pick in the NBA Draft in Ben Simmons, which many pinned on head coach Johnny Jones. Jones accepted criticism for the Tigers not making the Big Dance, but insisted that the season wasn't a disappointment. "Not getting to the NCAA Tournament was a disappointment for us, but we don't consider it a disappointing season," Jones said, touting the team's 8-1 record at home, including a win over Kentucky, and the increase in attendance. What went wrong? "Well, Ben Simmons doesn't have healing powers," Jones said, rattling off the team's multiple injuries throughout the year. Sure. That was the only problem.
Tennessee: Rick Barnes is in a sling
Barnes had rotator cuff surgery recently and was wearing a very complicated sling, which he took off for his interview with Andy Katz. Katz was nice enough to help him back into it afterwards:
Meanwhile, Tennessee guard Robert Hubbs said last year's win over Kentucky in Knoxville was a landmark moment for the Vols under Barnes. "It meant a lot," Hubbs said of the win. "We knew we had a great fanbase coming to the game, everybody was excited, talking about it. It definitely showed what we're capable of. That win right there set the standpoint for what Tennessee is going to be about in the future." I'm still recovering from that game in Knoxville.
Florida: Mike White is turning to sports psychology to help his team at the free throw line
White seemed really into the sports psychology stuff, which he hopes will cure the Gators' woes from the charity stripe. Other than the fact he looks young enough to be a team manager, that's all I got from him.
South Carolina: Frank Martin was so depressed about his frontcourt that he lost 35 lbs. over the summer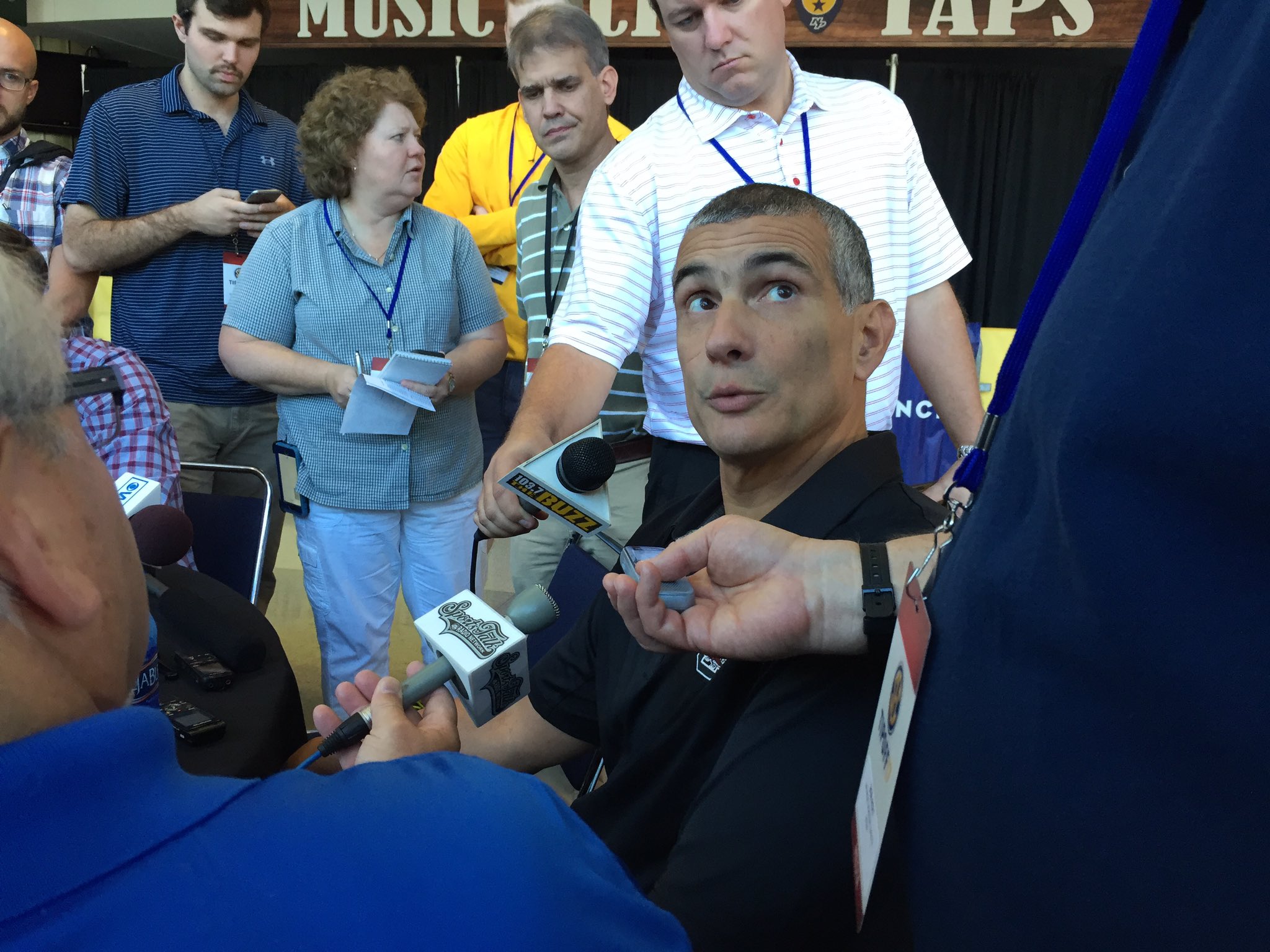 The ever-entertaining Martin said he's slimmed down from 296 lbs. to about 260 this summer. Why? "I was depressed after watching my [frontcourt] play," he quipped. Georgia's Mark Fox said he lost 20 lbs. this summer as well, which I'm interpreting to mean that coaching college basketball makes you fat.
Georgia: Mark Fox made a weird comment about girls in winter coats
A common question today (and every other SEC Basketball Media Day) was how the national media focuses on Kentucky and not the rest of the league. Mark Fox likened the rest of the teams in the SEC to "a pretty girl in a big winter coat," meaning the media needs to give them more than just a passing glance. (At least I think that's where he was going with that.)
I walked up right as Jerry Tipton said to Fox, "Pretty girl, why don't you take that coat off!"
Needless to say, I was confused.
Auburn: Bruce Pearl thinks this Kentucky team could be as good as the 38-1 team
I posted this earlier, but Bruce Pearl was the latest to compare this Kentucky squad to the 2015 team that went 38-1. "This is another special group. This could be another Karl Towns type group. It could be. Great players, great characters, great work ethic. They could be a really fun team and an exciting team," Pearl said. "We beat Kentucky last year at Auburn. It was a great win for our program. That was not one of John's better teams. It just wasn't. This has got a chance to be one of his better teams." Either Bruce truly believes that, or he's trying to put even loftier expectations on Calipari's squad in hopes they fail. I'll let you decide which in the comments.
Missouri: There is nothing interesting about Missouri Basketball
There really isn't. I sat down and listened to Kim Anderson for about three minutes and almost fell asleep.
Alabama: I got Avery Johnson to talk about John Petty (without talking about John Petty)
Kentucky and Alabama are locked in a two-way battle for five-star shooting guard John Petty, and although coaches can't discuss recruits by names with the media, I did manage to get Johnson to talk indirectly about Petty by asking him how he feels about his in-state recruiting.
"We feel very strongly about the kids in our state. We want to try to keep the really good players and players that have strong character and we think that could be competitive int he classroom, we want to try to keep those players in our state. And we want Alabama to be a destination for those kids and not necessarily leave our state and go to other programs and be part of championships at other places or NCAA teams. So, we feel we are very competitive."
I prodded the issue a little further by asking how Avery and his staff compete with schools like Kentucky and Duke for five-star recruits.
"Our pitch, we don't mention other schools on our recruiting visits. We just talk about Alabama. I talk about my resume. If it's about NBA, I have a little bit of an idea what that's all about," the NBA champion and Coach of the Year said. "We tell them you can come to Alabama and be part of something different. You can be the first to help lead us to the Final Four. That's our sell."
Fair enough.
Mississippi State: Ben Howland doesn't like talking about his own team
I sat with him for ten minutes, and all he talked about was how underrated Georgia's Yante Maten is and how Calipari keeps getting #1 recruiting classes. I guess if I lived in Starkville, I'd want to talk about other stuff too.
Ole Miss: Andy Kennedy compared Sebastian Saiz to a labrador
Kennedy immediately won me over when he turned and saw Jerry Tipton sitting next to him and exclaimed, "Hey, Jerry. Boy, you slipped in there, you sly fox!" It got even better when Kennedy compared Spanish native Sebastian Saiz to a labrador retriever.
"He's always bouncing and loving and for a while, he couldn't speak very good English -- now his English is pretty good -- and when he was freshman or sophomore, we would be in a timeout and we're in a pretty tenuous situation -- I know that's a shocker at Ole Miss -- but we were in kind of a tight game and I looked at him, and he's just foaming at the mouth like a lab and I'd say whatever I'm going to say, and he'd look at me and say, 'Coach I want to win!' And I'm like, 'Yeah, bro, me too, but here's what you've got to do to help us.' That's a true story. He said it every game because he only knew that little English. He wanted to win." After that story, Jerry jabbed back at Kennedy when he joked, "Did you go to a bar before coming here?" (A pretty ballsy question considering Kennedy was arrested for punching a cabbie while drunk on the way home from a bar a few years ago) "I was thinking about this Hap & Harry's," Kennedy said, pointing to the beer concession stand behind the pool of reporters. "That's right up your alley." "Oh, definitely," Jerry said drolly.
Arkansas: Mike Anderson didn't take my bait about Malik Monk
Malik Monk choosing Kentucky was a tough pill to swallow for Mike Anderson and the Razorbacks, and when I asked him if he thought Malik coming to UK would reignite the rivalry even more, he didn't take the bait. "I think that our rivalry already has been [taken to another level]," Anderson said. "It's got nothing to do with any particular recruit. As a matter of fact, when I think of Arkansas, it's pretty good. Obviously, Kentucky has always been good. I think it's good for the SEC. I think that's when the league is at its best." Yeah, he's still mad.
Vanderbilt and Texas A&M: ?
I was too busy trying to transcribe Calipari's stuff to hang out with the Commodores and the Aggies, so I guess we'll just have to wait until the season starts to find out. Finally, you know it's an SEC Media event when these are the soft drink offerings: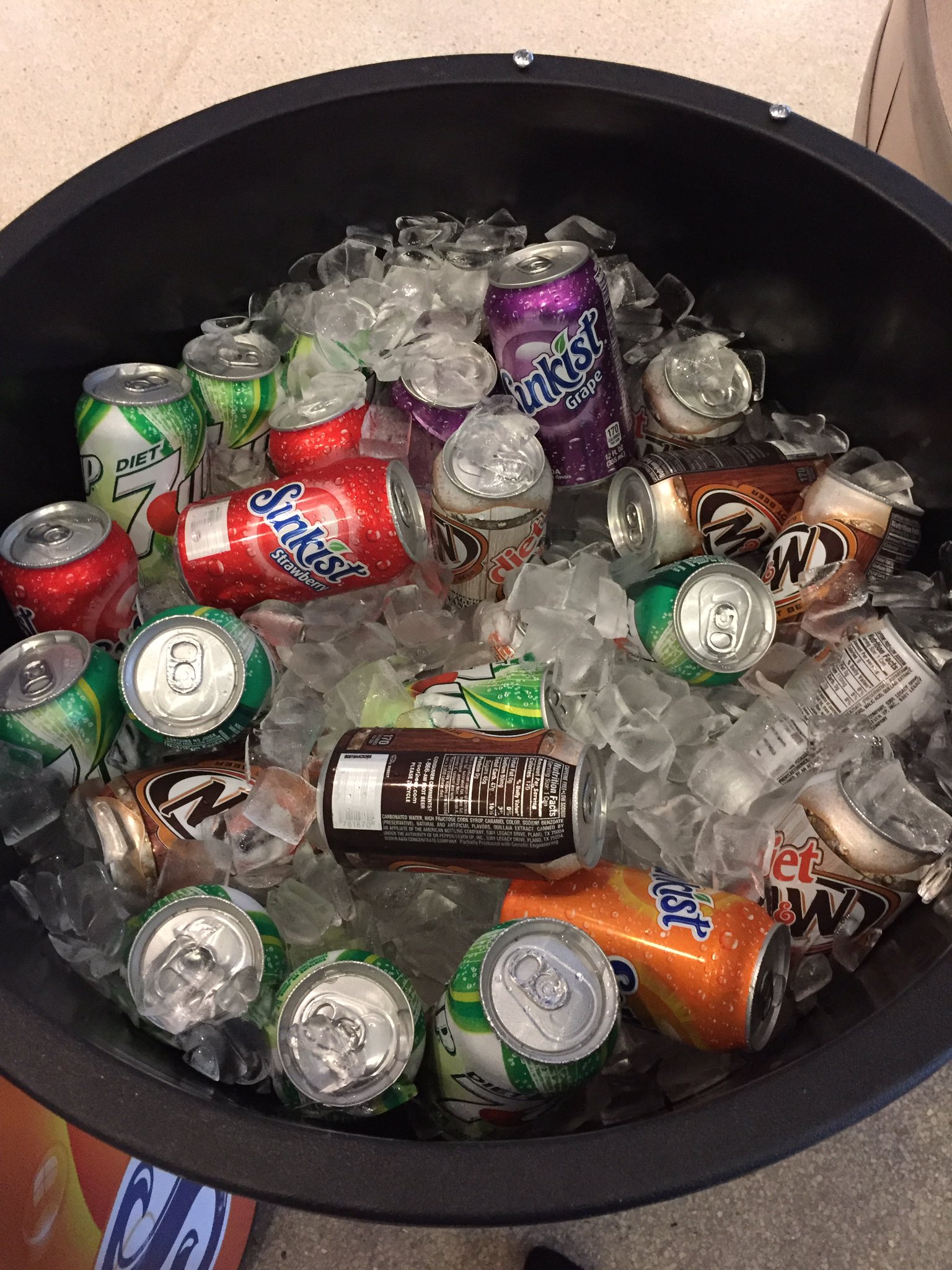 Just water for me, please.