Iowa Bio Blast: Five things to know about the Hawkeyes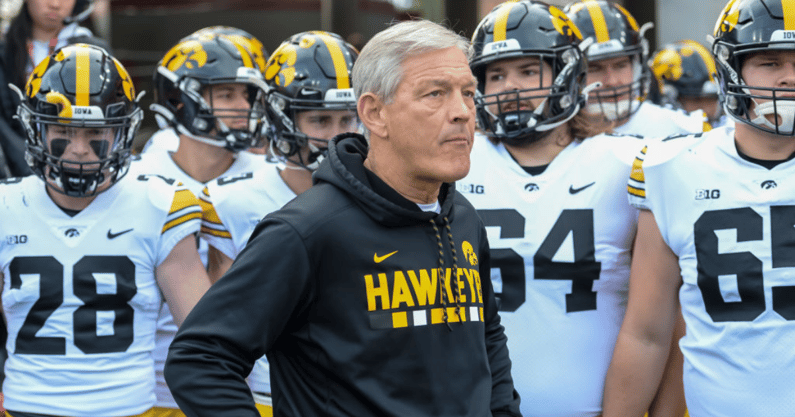 For the 76th edition of the Citrus Bowl, No. 15 Iowa will face No. 22 Kentucky on New Year's Day at Camping World Stadium in Orlando.
For the second time in four seasons, the Wildcats will be playing in the Citrus Bowl. Meanwhile, the Hawkeyes will be making their first trip to this bowl game since 2005.
The low-hanging fruit is already out there — Mark Stoops is set to play his alma mater. That will get a lot of oxygen as we move forward with the bowl prep. Instead of getting into those storylines at the moment, KSR is going to dig a little deeper.
Here is a quick scouting report on the 2021 Iowa Hawkeyes who will head to Florida with a 10-3 record and a Big Ten West title on their resume.
Elite defense and special teams
The Iowa football program has a brand under Kirk Ferentz. In his 23rd season in Iowa City, that has not changed. The Hawkeyes win by playing complementary football. To accomplish the mission, this program leans heavily on defense and special teams.
That has remained the same this season.
Defensive coordinator Phil Parker's unit ranks No. 10 nationally in yards per play allowed (4.72) and No. 14 in scoring defense (19.2) The Hawkeyes lead the country in interceptions (23) and are only allowing 6.3 yards per attempt as opponents complete just 55.7 percent on their passes. Both of those numbers rank in the top-15 nationally.
On the ground, the Hawkeyes have also been elite as opponents average just 3.21 yards per rush and 113.9 yards per game. Once again, Iowa ranks in the top-15 nationally in both metrics.
Meanwhile, the special teams are superb. Tory Taylor is averaging over 45 yards per attempt. He's seen 50 percent of his punts downed inside the 20, and 32.9 percent have traveled 50-plus yards.
At placekicker, Caleb Shudak is 22 of 25 this season while being 11 of 13 from 40-plus with four makes from 50-plus.
The Hawkeyes want to beat you by getting stops and playing the field position game. Kentucky will face the best defense they've seen since the 30-13 loss to Georgia on the road. Meanwhile, the third phase at Iowa is the best the Wildcats have seen all year.
Anemic offense
To say the offense for Iowa in 2021 is bad would be an understatement. Kentucky fired Eddie Gran for having an offense that ranked 95th in yards per play (5.15). This season, the Hawkeyes have won 10 games despite sitting at No. 122 in yards per play (4.55).
The Hawkeyes have a 1,000-yard rusher in tailback Tyler Goodson, but there are still major issues. Under offensive coordinator Brian Ferentz, Iowa is inefficient in every area and struggles to create explosive plays.
Entering the Big Ten Championship, Iowa ranked just 111th nationally in success rate (34.9%). The offense was No. 121 in points per drive (1.44). The Hawkeyes fall behind the chains, have limited big-play pop, and do not finish drives ranking No. 128 in red zone touchdown rate (40.91%).
Iowa will be one of the worst offenses that Kentucky has seen all season.
Tyler Linderbaum is elite
When looking for the best player in the Citrus Bowl, he will be wearing Iowa gear and touching the ball on every play.
He is not the quarterback.
Tyler Linderbaum is the best center in college football and could be a top-10 draft pick by the time the NFL Draft rolls around. At 6-foot-3 and 290 pounds, the redshirt junior out of Solon (Iowa) High was a top-500 prospect in the class of 2018 who has developed into a dominant force in the Big Ten.
Watching him and Marquan McCall battle in the trenches will be must-watch television for many in the scouting community. Seeing these two battle will be a highlight of the Citrus Bowl if there are no opt-outs
Turnovers, turnovers, turnovers
Heading into the postseason, Kentucky sits at No. 127 in turnover margin (-13). Iowa sits at No. 2 (+14). The Hawkeyes lead the Power Five in turnover margin. The Wildcats are only ahead of 1-11 Arizona.
Ball security will be pivotal at the Citrus Bowl.
The Hawkeyes have had some issues with 16 lost turnovers, but the defense has been elite by forcing 30 takeaways. In regular-season losses to Purdue and Wisconsin, Iowa was minus-three in both games.
Playing to a draw in the turnover column would give Kentucky a significant advantage. Iowa has some ballhawks in the secondary with four secondary players with at least three interceptions.
If Iowa is going to beat Kentucky, it will be due to takeaways.
Tight end is WR1
When looking for Iowa's best option on offense, you do not have to look very far. Sam LaPorta is a legitimate weapon at the tight end position.
The Hawkeyes have long been known as being Tight End U. George Kittle is a beast for the San Francisco 49ers. T.J. Hockenson (Detroit Lions) and Noah Fant (Denver Broncos) were both first-round picks who played together in Iowa City.
LaPorta appears to be the next guy in line.
The 6-foot-4, 249-pound tight end leads the Iowa offense in receptions (46) and receiving yards (548). Expect quarterback Spencer Petras to target the junior early and often.
Iowa's passing game is at its best when LaPorta is getting touches.
.