Iowa Quarterback will Transfer to Kentucky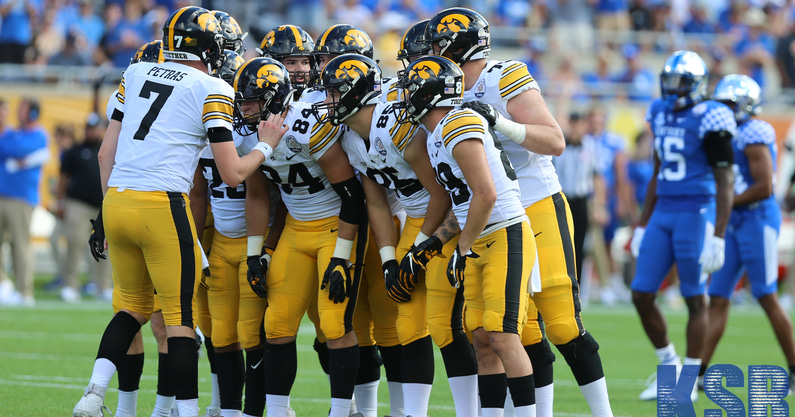 Kentucky beat Iowa in the Citrus Bowl. Now one of its quarterbacks wants to play in Liam Coen's offense.
KSR has learned that Deuce Hogan will transfer to Kentucky. A reserve quarterback for the Hawkeyes, he spent his first two college seasons backing up Spencer Petras and Alex Padilla. Hogan will be a walk-on for the Wildcats.
A 6-foot-4, 200-pound passer from Grapevine, Tx., he was a four-star recruit at Faith Christian (Southlake). Hogan led his team to a state title as a freshman and threw for 8,192 yards and 100 touchdowns in his prep career. Rivals ranked Hogan as the No. 12 pro-style passer in the 2020 recruiting class.
Story Behind Hogan's Departure
Hogan announced he was leaving Iowa's program in December. He kept it professional, but his mother shared why her son was leaving the program — Kirk Ferentz. The head coach made a joke in a press conference at Hogan's expense, one that did not amuse his family.
Ferentz was asked in November if Hogan would play when both quarterbacks were battling the flu. "If it was Deuce, with all due respect to Deuce, I might've stayed in Iowa City," he said after the away game, per The Gazette's John Steppe. 
"Deuce did not leave Iowa because of playing time… The head coach slandered him in a press conference," she wrote in a Facebook post. "Very out of character for the coach… he was trying to be funny… unfortunately, there was no backtracking on his mistake. He has since apologized to Deuce, the team, and the media. But Deuce cannot play for him… and everyone in the facility understands why."
Deuce Hogan will get a fresh start at Kentucky, providing more depth in the quarterback room without taking up a scholarship that UK can use to address other positions of need.