Is that Derek Willis or Dirk Nowitzki?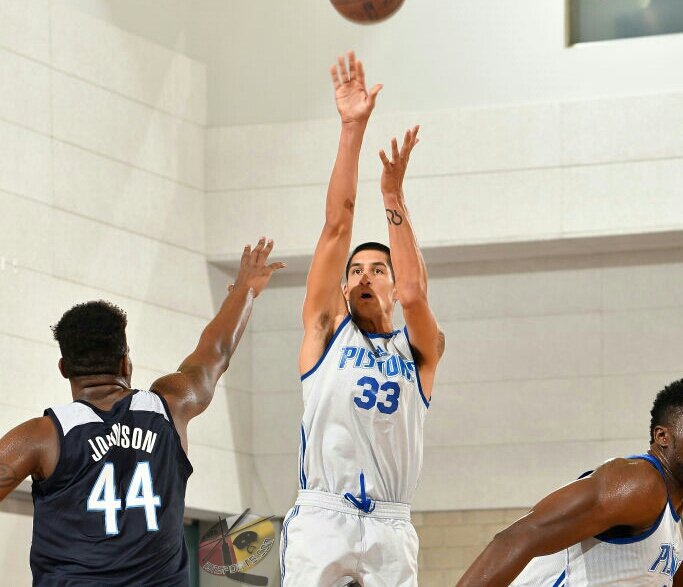 Derek Willis finished with 8 points, 3 assists and 1 rebound in 11 minutes of play in his second summer league game for the Detroit Pistons. Willis went 3-of-5 from the field and 2-of-4 from three-point range. The Piston defeated the Knicks 103-78. Willis' most impressive point of the game came with this one-footed shot, doing his best Dirk Nowitzki impersonation.
Derek Willis getting his Dirk on in Orlando #NBASummer League. pic.twitter.com/pBJBQKepoK

– NBA TV (@NBATV) July 2, 2017
Here are videos of Willis' two three-pointers via @Scott_Charlton.
Derek Willis with the deep 3 pointer. pic.twitter.com/3brWpzFBtN

– Scott Charlton (@Scott_Charlton) July 2, 2017
Tough corner 3 by Derek Willis to beat the 3rd quarter buzzer. pic.twitter.com/4Sjbir5Lxa

– Scott Charlton (@Scott_Charlton) July 2, 2017
ICYMI:
Willis finished with 2 points
(o-for-1 from behind the three-point line), 2 rebounds, 2 steals & 1 assist in ten minutes of action in his NBA summer league debut yesterday. Willis and the Pistons next summer league game is on Tuesday, July 4 at 5:00 p.m. ET.