Is This the New Tennessee Coach?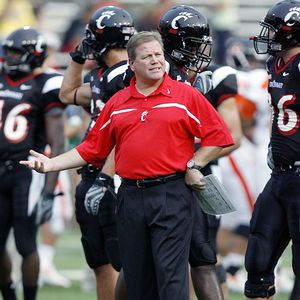 That is what the folks in Knoxville seem to be suggesting.
Brian Kelly, the fireball coach from Cincinnati
is apparently the leader at this point for replacing Fat Phil in Rocky Top. Kelly, for those of you that dont follow Big East football....and you shouldnt, has built the Cincy program and now stands on the precipice of a BCS bowl. Kentucky fans may already like Kelly, as he supposedly refused to shake Steve Kragthorpe's hand after the Louisville game (although that is now disputed) and his humor and overall loud style makes him a bit like Bruce Pearl. His hiring may be the best Tennessee can do, as the big names have turned them down, and he would be a bit of a risk. But his upside is huge and he has shown the ability to build a program. No word on whether he gets to bring Kenyon Martin and Danny Fortson with him....