Is this the next Kentucky Wildcat?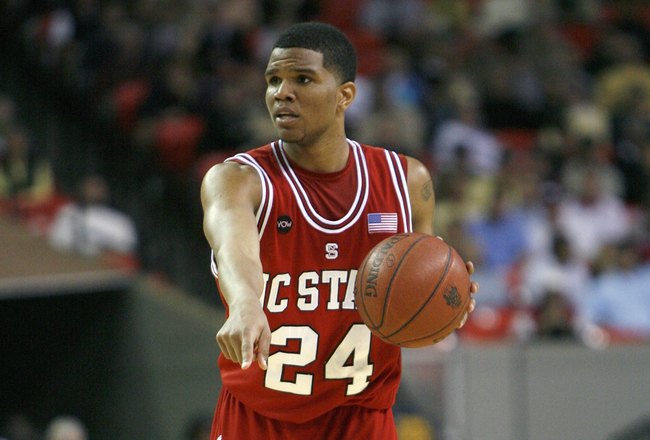 Out of all the names floating around out there as potential additions to UK's 2012 recruiting class, Julius Mays is
the one most likely to end up on Kentucky's roster
next season. And we still don't know a lot about him. Ask any true blue Kentucky fan about Mays and you'll get two answers: (1) He hosted Ryan Harrow on Harrow's official visit to NC State; (2) He shot 42% from beyond the arc at Wright State last season. Those two facts seem to repeated over and over when talking about Mays, but there is a lot more to his story. Let's get educated. He comes from the 2008 recruiting class that included names like Brandon Jennings, Samardo Samuels, Tyreke Evans, Kemba Walker, DeAndre Liggins, and Darius Miller. An
unranked combo guard
, Mays committed to Sidney Lowe and NC State in October of his junior year of high school in Marion, Indiana, despite growing up a diehard Purdue Boilermakers fan. At the time of his commitment to NC State, he held other offers from Ball State, Western Michigan, and Xavier, but nothing from Purdue, the school located less than two hours away from his hometown. Mays emerged as one of the top players out of Indiana during his senior season, leading Marion to the state championship where his Giants lost to Brownsburg on a buzzer-beater by a young man named Gordon Hayward. You might've heard of him. He panned out pretty well. During his freshman season at NC State, Mays got lost in the shuffle with Wolfpack guards Farnold Degand and Javier Gonzalez. He did, however, find a few bright spots that freshman season, including a game-winning three to beat Miami in overtime and a team-high 18 points in the ACC tournament loss to Maryland. He would return to NC State for his sophomore season, but only saw minutes as
the backup point guard
behind Gonzalez. With Gonzalez set to return in 2010-11 and two new highly touted young guards in Ryan Harrow and Lorenzo Brown coming in, Mays decided to
transfer for his junior season
to a school where he knew he'd see the floor. Insert Wright State. Mays
started 28 games for the Raiders
last season, averaging a team-high 14 points while shooting...
wait for it...
42% from beyond the arc. He earned Horizon League Newcomer of the Year honors, but more important than that, he found his game again. "I really improved here," Mays told the News Observer. "I
got my confidence back
when I came here. After my two years at N.C. State, that's what I needed more than anything else." With the improved numbers and newfound confidence, the soon-to-be fifth-year senior decided he was ready to get back to a major program to play at a higher level of competition. That brings us to where we are today, where he is towards the top of the list of the
hottest available names in college basketball recruiting
. He said he knew schools would come calling once he announced his transfer, but he never thought it would "blow up like this." Although he's considering Purdue, Illinois, and Michigan State, John Calipari is hard after Mays to fill that third guard spot and it appears the love is mutual. Could we see two NC State guards reunited in UK's backcourt next season? "It's a really small world," Mays said
"It's amazing how things can happen."
Now, we just need it to actually happen.