Isaiah Elohim building relationship with Kentucky following offer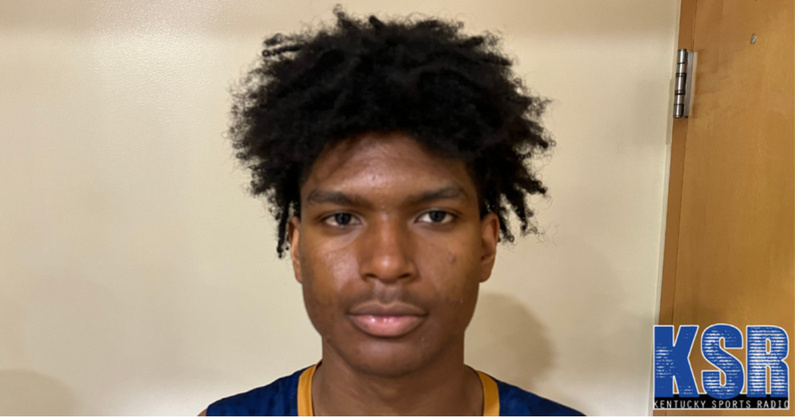 Coming off a busy June that resulted in new scholarship offers from Kentucky and Louisville, 2024 five-star guard Isaiah Elohim was unable to show his abilities on the national stage this week at the 2022 NBPA Top 100 Camp in Orlando. Invited to participate, the top-10 rising junior was forced to miss the event with a knee injury. As the rest of the nation's best competed in front of coaches and pro scouts, he was stuck at home getting an MRI done and learning how long he'd be sidelined with the injury.
"I'm feeling decent, wish I was there," Elohim told KSR. "But it's just a bump in the road."
He may have had to hit pause on the floor, but his recruitment isn't slowing down anytime soon. Leading the charge among schools? The Kentucky Wildcats, led by two of the program's assistant coaches.
"Things have been good (with Kentucky)," he told KSR. "Coach Chin (Coleman) and Coach (Orlando) Antigua communicate with me a lot."
Kentucky was one of the first schools to reach out when the direct contact period opened June 15. The Wildcats then extended an offer to close out the day, making Elohim one of four players at the time to earn one, joining Ian Jackson, Tre Johnson and Karter Knox. Lyon County's Travis Perry has since scored an offer, as well.
"I wouldn't say I was expecting it for sure but I definitely knew they were interested in me," Elohim told KSR upon receiving the offer. "Coach Chin (Coleman) had been in communication with my dad for two years I think even when he was at Illinois so I knew they were interested. My reaction when they offered after speaking with Coach Cal, me and my brother just looked at each other in shock and were extremely happy. I work extremely hard so for it to not go unnoticed and to receive an offer from a school like that is a blessing and I'm grateful."
What is it about Kentucky that stands out from the competition? It's Kentucky.
"Kentucky's history and what Coach Cal and his staff have done speaks for itself," Elohim told KSR this week. "Helping players reach their dreams and his players having success in the league says a lot."
It's not just UK and UofL battling for his commitment, either. The Wildcats have made him an early priority, but so have other top programs in the country.
"The other schools besides Kentucky recruiting me the hardest are UCLA, Gonzaga, Kansas, Arkansas, Baylor, Arizona and Texas off the top of my head," he said.
Elohim is rated as the No. 5 overall prospect and No. 3 shooting guard in the 2024 On3 Consensus. Standing 6-foot-5, 205 pounds, the Sierra Canyon (CA) standout is a strong, physical guard capable of playing the one or two at the next level.
What is he looking for in a school when it comes time to make a college decision? Fit and relationships are at the top of his priority list.
"What I'm looking for in a school is mainly fit, culture, opportunity and a great relationship with the coaching staff," he told KSR. "I want to go to a school where the coaches allow the guards to be themselves."
Kentucky likes the five-star guard, and the interest is clearly mutual.