Isaiah Epps, Izayah Cummings Score First Career Touchdowns vs. Chattanooga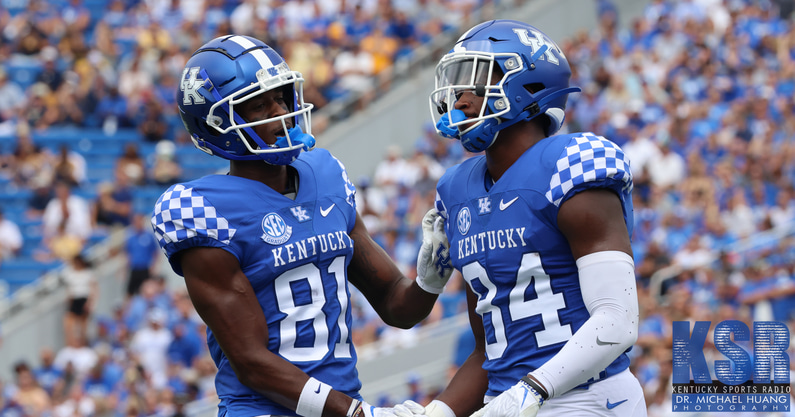 It was a banner day for Kentucky's two Isaiahs. Isaiah Epps and Izayah Cummings each scored their first career touchdowns in the Wildcats' 28-23 win over Chattanooga.
Epps' Long Road to the End Zone
Isaiah Epps arrived on campus with Josh Ali in 2017. When the wide receivers were prepared to become playmakers, Ali took a step forward, while Epps struggled to stay healthy. A lingering foot injury prevented him from playing at 100% for two years.
"Me and Epps have been here since the beginning, since in the dorms. I'm real happy he got his first touchdown," said Josh Ali. "He went through a lot. I had to be there to tell him everything is going to be alright, just fighting his foot injury. Even this year he had to not go too hard on his foot. Like when we go to practice in the indoor he can't really even practice and that hurts him also. I just had to give him encouragement and tell him everything's going to be alright. He made it happen today."
Epps finally entered the end zone on a beautifully designed play. Will Levis threw a pump-fake at an outside wide receiver screen, then connected with Epps who was running free down the sideline for a 20-yard score.
Izayah Cummings' Big Switch
The high profile prospect from Louisville Male was billed as a go-to outside receiver when he was recruited. Ahead of his sophomore season he switched to tight end after Keaton Upshaw suffered a season-ending injury. Today once again proved that he made the right choice.
"I was happy for him," said Wan'Dale Robinson. "I've seen how much he worked, especially switching positions and things like that, so it was exciting to see him score his first touchdown."
The score was exactly what Kentucky needed. Trailing in the fourth quarter, Will Levis said they called a play the team struggled to execute all week. This time it worked to perfection.
"Yeah, I thought I under-threw him. I thought he was going to be able to make a play on it so, we were in that high safety in the post that took them away, and we had Izayah over the top play that we had actually struggled with all week. That was the cleanest we repped it by far in the game. It was good to get the rep when we needed it. We could have gotten that a little earlier, but I had the time, got it out, he made the catch and it was a big play for us."
The 31-yard score gave Kentucky the lead for good.