It was ugly, but Kentucky held off Vandy to keep bowl hopes alive
[caption id="" align="alignnone" width="2047"]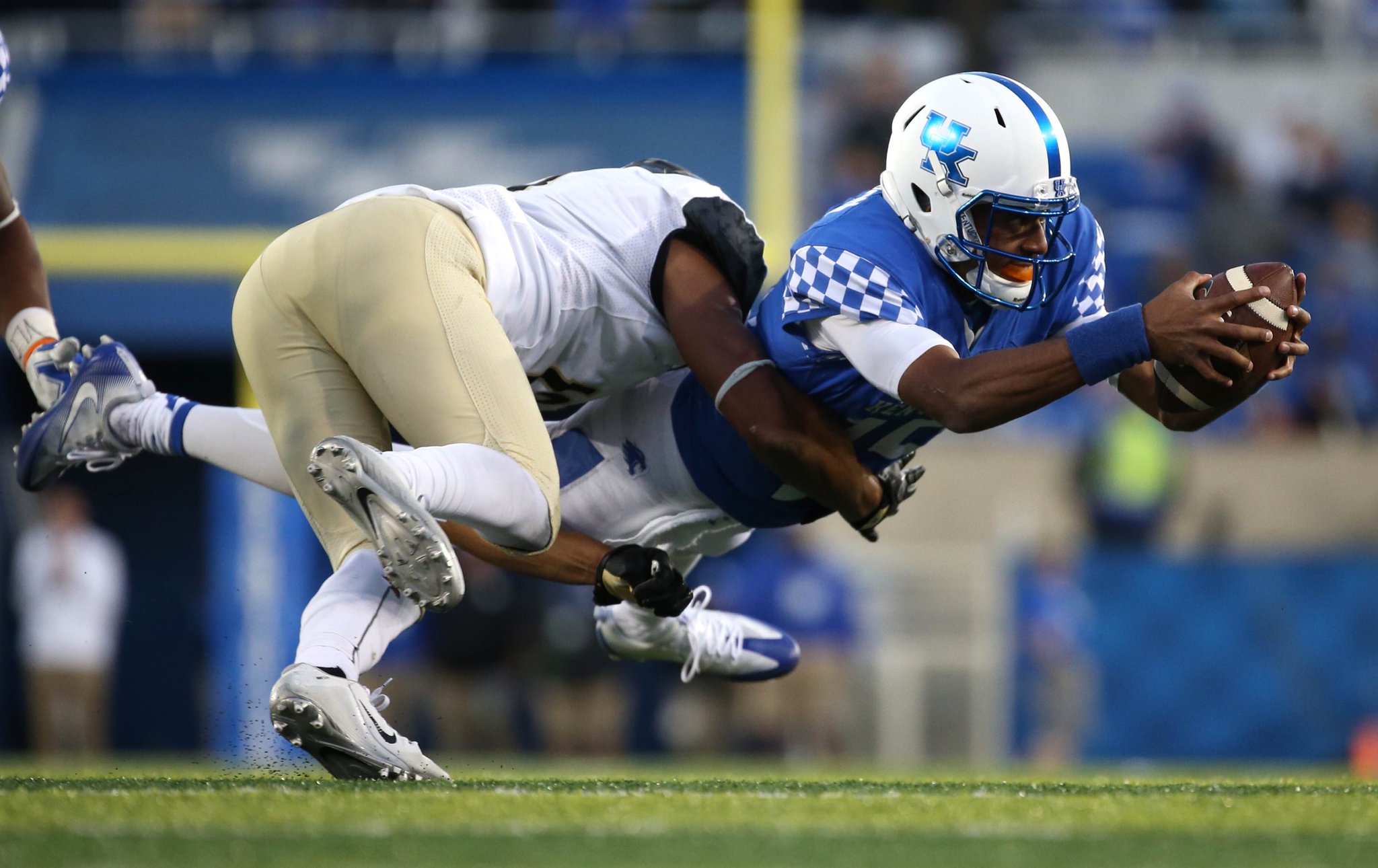 Photo by UK Athletics
[/caption] It's only fitting that Kentucky/Vanderbilt came down to the last second. In a must-win game for both sides, this time, Kentucky was the last one standing, albeit just barely. Everything was coming up Milhouse in the first half for the Cats, who took a 17-3 lead into the locker room, but, as they often do, things fell apart in the second half. It seemed like the demons were rising from the ground at Commonwealth Stadium when Boom Williams' fumble resulted into a Vandy touchdown, and a drive later, when Stephen Johnson threw an interception. Admit it, at some point in the third quarter, you said, "That's so Kentucky Football"; however, the Cats managed to hold on for the 20-13 win, even if it came down to the bitter end. Mark Stoops summed the game -- and this season? -- up perfectly afterwards when he told reporters, 
"You always want to make it look easier but we're not built that way."
Let's go over it, good, bad, and ugly.
Kentucky is very good at running the football
Why did Kentucky win the game? The ground game. Benny Snell, JoJo Kemp, Boom Williams, and Stephen Johnson combined for 258 yards rushing and two touchdowns against a Vanderbilt defense that's allowed only 160 rushing yards per game heading into today. To put the Cats' ground prowess in perspective, they came close to that mark in the first half alone. "The run game helped us win this football game," Mark Stoops said. "If we weren't able to run the football, it would have been very difficult to win this game." Boom and JoJo took care of business in the first half, but in the second, Benny Snell kept the Cats alive. In what is becoming a pattern, Snell dominated the second half, accounting for 8 of Kentucky's 12 plays on that crucial final drive. Snell is quickly become the darling of the Big Blue Nation, and after the game, Stoops raved about the hard-nosed freshman, who finished with 20 carries for 94 yards. "I really have a lot of confidence in him and, for being a true freshman, it's amazing, but you love that," Stoops said of Snell. "He changes a lot of things. That's, I touched on it before, but he's, when you recruit, he's what we thought he was going to be, but it just is a little faster than maybe you anticipated. But that hard nosed, great balance, tough runner, tough mindset, tough attitude, no BS about him. He's here to work and win football games and get better. And I love that." We do too. I mean, just look at him go: https://vine.co/v/5gI2D3Wnx1t If you don't love Benny Snell, we can't be friends.
Kentucky is not very good at passing the football
Thank goodness the running game was working, because the passing game was not. Stephen Johnson went 10-24 for 49 yards, zero touchdowns and one interception, the second game in a row he's struggled. Thankfully, Johnson was able to make some plays with his feet, but if he continues to chuck the ball up with abandon, the running game might not always be able to bail him out. (Or, we all need to invest in some TUMS.) Stoops chalked Johnson's issues up to nerves. "I think when the game tightened up and you put the ball on the ground and it gets close, and Stephen was getting a little antsy, he will settle down, I just told him that right now, just relax, you can see on his face, and he's a very good conscientious young man and he needs a little break right now," Stoops said. "We all know we need to throw the ball to win some football games as we move forward, and we will." When will Drew Barker be back? Good question, and one that Stoops refused to get into tonight. Ask after the bye week.
Kentucky was good at defense
Kentucky's defense has been subject of a lot of criticism this season, but they should be commended tonight. Sure, Vandy isn't an offensive juggernaut, but the defense stepped up at key moments, specifically, Kengera Daniel's fourth down stop, forcing Vandy to kick a field goal, Jordan Jones' huge sack on third down, and, of course, stopping the Commodores on their last drive. Kentucky held Vandy to 3-12 on third down, a spectacular stat given all the ire the defense has drawn this season. There are still frustrating moments, but there's no denying that since Stoops took over play calling, the unit has been much more efficient, specifically the linebackers. After the game, Stoops said the adjustment has benefitted everyone, including DJ Eliot. "I want to be very clear about this," Stoops said. "There's no way we would have this success without Coach Eliot putting a lot of this together. I really helped eliminate some of that, some of the pressure of calling the game, because we work well together. We always have. So the structure of it is very good." Hey, whatever works.
Kentucky still has a path to a bowl game
If Vandy's Kalija Lipcomb had caught the ball in the end zone with seven seconds left to force overtime and the Commodores had gone on to win, this would be a very different recap. Kentucky needed a win to keep bowl hopes alive, the fan base on board, and Mark Stoops as coach. Thankfully, the football gods switched things up today and smiled upon us, and although the path to six is still tough (how much does that Southern Miss loss sting now?), at least the path is still there. You think you were relieved? Check out Mark Stoops when all was said and done: https://vine.co/v/5gtZigxtVbg That relief carried through to Stoops' postgame remarks, and after acknowledging the criticism his team has taken this season, he went on the offensive. "I told them in the locker room, after the Southern Mississippi game, first thing I told them, I grabbed them up, I wanted to see the whites of their eyes, and I told them to stay the course. I said, every son of a gun outside of this room right here will be attacking you and me," Stoops said. "When you deserve to be criticized, you take it like a man and move on. But the toxic, negative stuff, very hard to turn a program when people turn that way, and turn on the kids and turn on the players. Coaches deserve to be criticized. That's our job, it's part of our job, but the players and getting toxic and negative and being all that, that's not going to help get this program to where we want it to go. I promise you." There's going to be a lot of chatter about that quote in the coming days, but for now, let's just be happy with a win.