Izayah Cummings may be a major factor in Kentucky's run game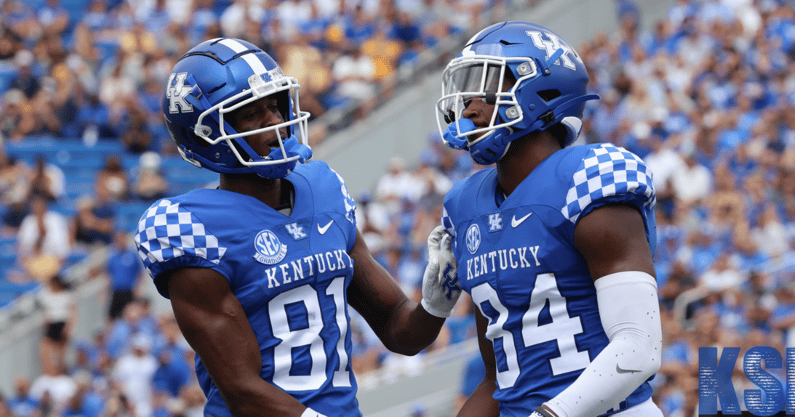 The buzz around Izayah Cummings during the offseason was centered around his switch over to tight end. Cummings got barely any run at wideout last season, but then again, no receiver really got any run last year. The position switch was lamented as a big body receiver who could now come in and beat linebackers on routes to help add versatility to the offense.
Mark Stoops and co. may have inadvertently unearthed another gem to this offense, and it has nothing to do with his pass-catching ability.
You win in the trenches
The whole point of bringing in Liam Coen was to move this offense into the 21st century. The attempt is clear to see, there's obviously more of an emphasis on the passing game and trying to break open big plays. It just hasn't flourished like they envisioned it would yet. That's okay though, it was never meant to be the most seamless transfer, it takes time.
Lucky enough for the 'Cats, when that's not working, they have a head coach who has made his money off running the ball down the throat of the opposition and holding out with his own defense. With Coen, the run plays become more complicated and have a prettier feel to them. Unbeknownst to anyone before the season, this is where Izayah Cummings might actually flourish.
This was just one of the multiple times where Cummings was a menace to defensive players in the run game. You have to give credit to Coen with the play call–having the tight end come around as a lead blocker against a second-level defender is brilliant.
The play doesn't work though if Cummings doesn't execute his block, it was perfect execution on his part. He also followed up with multiple blocks on screen plays that directly lead to first downs. And if you watched the game last night, Kentucky needed every first down they could get.
Izayah Cummings brings real versatility
Our first introduction to Cummings as a tight end over the past few weeks has brought some real optimism. Understandably, he's not yet taking full-time reps with the starters as the primary tight end. The 'Cats still have Justin Rigg and Brenden Bates as their go-to tight ends, which makes sense giving their experience and comfort at the position. Cummings is seen though as the most versatile and has the most potential out of the group. He's only seeing roughly a catch a game, but it's easy to see where the future is going. If they have a tight end who can break open a defense like THIS, watch out pal.
It's going to be a gradual increase of production and opportunities for the sophomore. I wouldn't expect him to be a major part of the passing attack for most of the season. If he can continuously block like he did last night, however, it's going to be impossible to keep him off the field.