J.B. Holmes clears up local golf club scramble controversy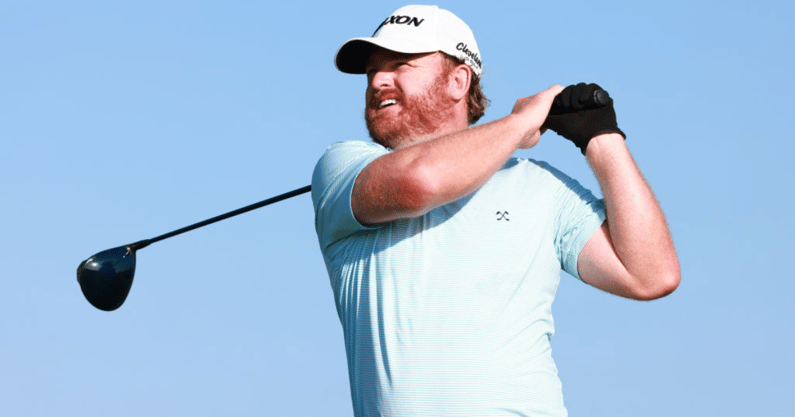 In a nice change of pace, the biggest scandal in golf did not revolve around anyone involved in the LIV tour. Instead, golf's most tantalizing drama took place last weekend in Franklin, Tennessee, and centered around the pride of Campbellsville, Kentucky, and former Wildcat, longtime PGA professional J.B. Holmes.
In a local golf club's "Bring your best" scramble, one team did not mess around and took that phrase to heart. It just so happened that these guys knew a fella by the name of John Bradley Holmes, five-time PGA tour winner, and two-time Ryder Cup participant.
Purportedly as a joke, the friend entered his name into the tournament by his first and middle name, John Bradley. The rules permitted each team to have two plus golfers (meaning they average below par). They marked John Bradley's handicap down as a +4, despite the initial rumor that the team assigned his handicap at an amateur level, 8 or 9.
Ultimately, the tournament did not take handicaps into consideration for scoring in this scramble, so it really didn't matter.
Then there was the issue of the Calcutta. Because golf wouldn't be golf without gambling, a Calcutta is a way of driving up a pot by bidding on the team you think will win the tourney. Holmes claims that he and no one on his team actually bought his team, a practice that is actually very common. A few did, however, partially buy in from the original purchaser after the first day, when they led the field with a decently impressive score of -21.
How J.B. Holmes and crew got caught
On day two, the club's owner watched the group tee off on the third hole. "That looks like J.B. Holmes," Brooks T. West thought to himself, as he told the story to Golf.com. "And then he hit, and I'm like, 'That's J.B. Holmes.'"
West allowed the team to finish the tournament and, as you might have guessed, they won. However, the man who purchased the team in the Calcutta did not take home the $21,000 payout. He did, however, get his money back.
West said if the team had entered their guest as his widely known name of J.B. Holmes instead of John Bradley, then everything would have been fine. However, the club perceived the joke name (that is also his real name) as a bit too deceitful for their liking.
In J.B. Holmes' words
When the KSR radio crew discussed this story on Friday's show, I was crying a hard foul. The way it was initially characterized, the event sounded like some kind of organized hustler scheme designed to line the pockets of shysters on the mean cart paths of Tennessee.
However, after reading Holmes' side of the story, the truth seems to be much duller than the big fish version that some sites and anonymous Twitter accounts reported.
It also did not make a lot of sense why someone who has a career PGA winnings of more than $25 million would go to great lengths for a cut of $21,000 split six ways.
The way he tells it:
"John Bradley +4 handicap was [what] my friend turned in as a joke without my knowledge. Handicaps were not used in the event. No strokes were given to any team. The event did not check anyone's name or GHIN to see if they were correct because the premise was [to] bring your best. Each team was allowed to have 2 plus golfers on the team, we had 1, me. We had a +4, 1, 4, 11, 12, and 14 handicap that were correct and turned into the event. Guessing at mine since I don't have one. When I play at the member guest at my club they play me at a +4 so that's what I used. Neither I nor anyone on my team bought or bid on our team at the Calcutta. I was not even present for the Calcutta. I was playing for fun with my friend and had no intention to, nor did I attempt to make money at [the] scramble. The next day the person who bought my team found one of the guys I was playing with and asked if we would buy half the bid. I did not buy in but the other members did. They did not let us participate in the Calcutta even though no rules were broken. The man that bought our team got is money back. Unfortunately, what was meant to be a fun golf outing with a friend has turned into a compilation of inaccuracies."

John Bradley Holmes, Twitter
So, there you have it. A juicy story ruined by facts.
On a side note, I actually played golf against Holmes in High School. At the time, he went by John Holmes, so if going by a different name can get you disqualified, I'm wondering if we can get those Pikeville Invitational Tournament titles vacated. Also, for what is worth, I soon learned the hard way when a friend told me to search the Internet and find out why he ultimately decided to go by J.B. as a professional. Those 1970s adult entertainers are not people you want to get confused with.
Discuss This Article
Comments have moved.
Join the conversation and talk about this article and all things Kentucky Sports in the new KSR Message Board.
KSBoard